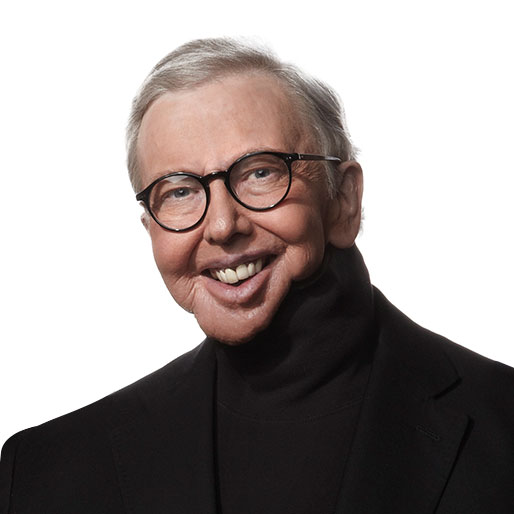 The first thing you notice about the main amphitheater of Champaign, Illinois' historic Virginia Theatre is how complete it is. Unlike so many other ornate movie palaces of the '20s, The Virginia is in impossibly pristine condition. The beautiful Spanish Renaissance-style frescos on the ceiling look like they were painted yesterday. Not a single plaster fixture is missing or damaged.
If you're looking for a person to credit with the theater's appearance in 2013, start with Roger Ebert. The legendary film critic grew up in Champaign's twin city of Urbana. Ebert spent his childhood attending shows at The Virginia in the '50s and '60s and kept going through his graduation from the University of Illinois. It was this venue that he chose to house his first "Overlooked Film Festival" in 1997, an event now known simply as "Ebertfest." Without that first event, The Virginia could very well be a parking lot today.
"I fully believe Roger and this festival saved this place," said Ebertfest director Nate Kohn, a close friend of Ebert's. "When it began, the theater had been dark for several years. After our first event here, the park district bought the theater the next year and began restoring it into what it is today."
That was the spirit of 2013's Ebertfest in a nutshell, a combination of respect and commemoration of Roger Ebert's life and recognition of his contributions to both national criticism and the localized film community of Central Illinois. In the first year without its figurehead, and occurring a mere two weeks after the critic died, the festival thrived.
Much like the critic himself, Ebertfest has always had an unpretentious tone to it. People with impressive industry credentials sit wherever they can snag a seat. From the nosebleeds, I see Chicago Tribune film critic Michael Phillips crammed into a corner balcony seat, viewing the screen from a near 30-degree angle. It's probably the worst view in the entire house, but he doesn't seem to care.
Listen a little closer, though, and one begins to hear a different sort of chatter than in previous years, a running commentary on Ebert from a crowd of people who by and large considered him nothing less than a god of movies. In line for the bathroom (where all the best conversation happens), I can hear a man who looks to be in his 60s telling his friend that Ebert was a long-time drinking buddy. "Back when he was an alcoholic," he says. "We hit all the north side bars together."
I like to think this guy wasn't too disappointed to lose his wingman when Ebert became a member of Alcoholics Anonymous, a subject the critic discussed in several long blog posts. It was simply time for him to move on to a different phase of his life, to focus himself fully on his passion for film while also allowing time to meet a woman like Chaz Ebert, his wife of more than 20 years. Without that transition, and especially without Chaz, the festival may never have come to be.
She's at the festival, of course. Although it's not been two weeks since her husband passed away, I don't think anyone ever doubted that Chaz would be in attendance, not just as an observer but a leader. Before every film, she's out there on stage with a unique address to the crowd, dredging up powerful and heartbreaking memories. There's no reason she needs to do any of this, and no one would dare say a thing if she took the year off, but it seems she's getting as much from the experience as anyone else.
"This festival really does seem like a gift to me as well as to you," she said to a Saturday afternoon audience. "In previous years I spent more time helping select movies with Roger, but this year I did not. And so, as I see them with you, I can see why Roger fell in love with them."
Even the film slate is a sadly appropriate reflection. Certainly, the selections chosen by Ebert are somber enough. The festival's sole comedy, Bernie, is about a funeral director who murders a senior citizen. The next day, The Ballad of Narayama is shown, a Japanese film about 70-year-old community elders being carried into the mountains to die. Ebert was 70 himself when he passed, and the coincidence doesn't go unnoticed.
If the movies are sobering, however, the festival guests buoy attendees' spirits. The emotional catharsis reaches its zenith Saturday morning when Tilda Swinton, at the event to represent her film Julia, dances her way into the audience to lead them in a conga line while Barry White's "The First, The Last, My Everything," blares over the theater speakers. The 1,000-plus people in attendance stand, clap along and sashay up and down the aisles after one of Ebert's favorite actresses in a surreal spectacle.
It's probably safe to say there will never be another film critic with such a universal appeal as Ebert. It's telling that after he was the first to win a Pulitzer for movie criticism in 1975, it didn't happen again until 2003 with Stephen Hunter. Film criticism today is largely the stuff read by other would-be critics and cinephiles, not the general public. Ebert, with a simple "thumbs up" or down, was one of the few to be taken seriously by audience members who typically oppose the very idea that a movie can be objectively judged.
That's why Ebertfest will remain so important as it continues on without its founder. Guided by minds like Nate Kohn and Chaz Ebert, it has the best possible chance of retaining the magic that has carried it forward in Champaign, Illinois for the past 15 years. Audiences give thanks to Ebert for both the festival and its venue—the house that Roger (re)built.
Got news tips for Paste? Email news@pastemagazine.com.
Others Tagged With