Family Tree Review: "The Box" (Episode 1.01)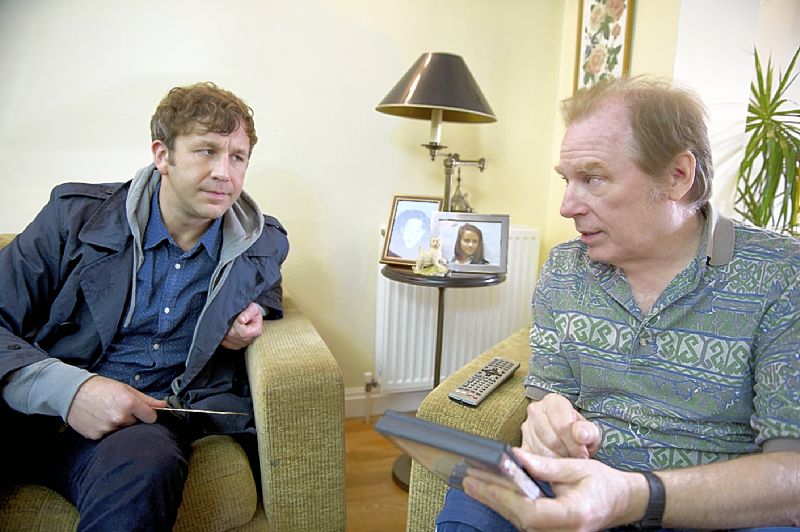 If you're a Christopher Guest fan, you probably think you know what you're in for with Family Tree, his new eight-episode series for HBO. He's a comic auteur if ever there was one, and his films always take place in clearly defined worlds: the hyper-competitive dog handlers of Best in Show, the folkies of A Mighty Wind, the community theater wannabes of Waiting For Guffman and the Oscar-obsessed Hollywood crowd of For Your Consideration.
But Family Tree is different. Yes, many of Guest's usual actors turn up—though most don't until the second half of the season—but the formula's shaken up a bit this time around. For one, it's a TV series rather than a feature-length film. The weekly half-hour time constraint means some of the surreally hilarious improvised scenes Guest is known for eliciting from his actors (as with all Guest productions, all of the show's dialogue is improvised) must be cut short, but for the most part his standard mockumentary format works here. But the real change is that while his characters have always existed in very distinct communities, Family Tree's main character is trying to find his.
The show follows Tom Chadwick (Chris O'Dowd, who Americans will probably recognize best from Bridesmaids, This is 40, Girls or The IT Crowd) as he attempts to trace his genealogy after inheriting a box of his recently deceased great-aunt Victoria's old family mementos. Tom's got the "lovable loser" thing on lock—he's reeling from a recent breakup with his girlfriend, and he's jobless after being fired from his risk assessment gig. His parents divorced when he was nine, and he went to Ireland to live with his mother for the next nine years before returning to London—which conveniently explains O'Dowd's Irish brogue but also his distant relationship with his father, Keith (Michael McKean, doing a Nigel Tufnel-worthy English accent).
O'Dowd brings just the right amount of sadness to the role, but he's also extremely quick, reacting to the zany characters who surround him much in the same way Jason Bateman did in Arrested Development. And this wouldn't be a Christopher Guest production if there weren't quite a few oddballs to react to. In this case, there's his sister Bea, who communicates via her sarcastic, often-foul monkey puppet, Monk (played by ventriloquist Nina Conti, who also appeared with Monk in Guest's For Your Consideration). There's his best friend, Pete (played by Tom Bennett, who seems to be doing his best Ricky Gervais—or perhaps, more accurately, Ricky Gervais-as-David Brent—impression). And of course there are all the weirdos we meet along the way.
"The Box" sacrifices some jokes to make room for the necessary plot exposition, laying the groundwork for the rest of the series, but it's a strong start nonetheless (the blind date scene where Tom discovers the model he's been paired up with believes dinosaurs still exist was nothing short of hysterical). And Family Tree only gets stronger from here on out—the next three episodes see Tom continuing his search for past relatives and some sort of sense of identity in England, and the final four take place across the pond as his quest takes him to California (where, presumably, he'll run into Fred Willard, Bob Balaban and the usual Guest crew). Like anything Guest does, the show expertly blends pathos into its comedy, and we can't wait to see what hilarious family secret our poor hero uncovers next.
Stray observations:
-"I am brave, I was the first of our group to wear skinny jeans!"
-Jim Piddock steals every scene he's in as Mr. Pfister, Tom's neighbor.
-The fake sitcoms Keith watches are on par with any of the genre parody Guest's done in his films.
-One has to wonder how much—if any—of this was inspired by Guest's own family history. Like Tom, he's got British relatives and American relatives. In fact, Guest actually is The 5th Baron Haden-Guest across the pond and has been active in the House of Lords in the past.
Others Tagged With