How I Met Your Mother Review: "Something New" (Episode 8.24)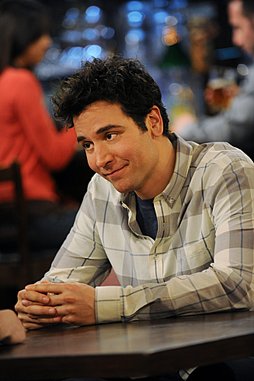 The eighth season finale of How I Met Your Mother sure didn't feel like a season finale. Not at first anyway. It felt like any other episode from this uneven season. There were moments that were pleasant, but then there were a lot that weren't. However, the season ended on a great moment that will please all of the fans who have stuck with the story since the very beginning.
What didn't work was Barney and Robin's plot. They are celebrating the completion of their wedding preparation when they meet an obnoxious couple at a restaurant. They decide to sabotage the couple's evening, which made the episode feel like a mid-season throwaway. It did prove that Barney and Robin are a good couple, but what the episode didn't tackle—and probably should have—was Robin's doubts that she began to feel last episode. While her story was weak, the rest of the gang had some nice moments between the three of them.
The first was Marshall, who flew to Minnesota to spend time with his mother before leaving for Rome. The actual plot of his mother freaking out about them leaving wasn't all that funny, but there was a big reveal that would have only worked if he was not around Lily. He finally gets a phone call about a judge position opening up, which means he can't leave for Italy. He's conflicted over what to do throughout the episode, but in the end it is made known he decided to take his dream job and hasn't told Lily yet. While I'm glad that this will sort of resolve the ill-fated Rome plot, I'm worried that it will create a maelstrom at the beginning of next season for the couple and feel that if the plot isn't done correctly it will kick off the final season on a bad note.
While all of this is going on, Lily and Ted visit his recently renovated upstate house where it's revealed he is putting the house up for sale and is moving to Chicago. Ted finally gave up on love. He feels like he'll never get over Robin (mere days before he meets the love of his life, but whatever) and that he needs to not be in their lives. It wasn't heartbreaking because we all know he's going to meet his wife and fall in love. This is one of the times that HIMYM's flash-forwards really make what we're watching not that emotional.
Even though the episode didn't drag me through the gutter with Ted, it did stir emotions. The season ends with a shot at the Farhampton train station where Ted will eventually meet his wife. There is a girl in pretty boots (something Lily says is a prerequisite for whoever Ted marries), carrying a guitar case and a yellow umbrella. She buys a train ticket to the wedding, and it reminds us that we're this close to the big reveal, but also that there's no time for a flash-forward. So we're lead to believe it's just going to end with another faceless shot of the Mother—except it doesn't. The mother is revealed. Well, her face is. She's played by Cristin Milioti and is credited as The Girl with the Yellow Umbrella. You might know her as the star of the Once Broadway musical. It was a big reveal that will amp up fans for the next season and it saved the middle-of-the-road finale. In the end, it proved HIMYM is near the end, and we're all grateful for that.
Others Tagged With