John Grant: Pale Green Ghosts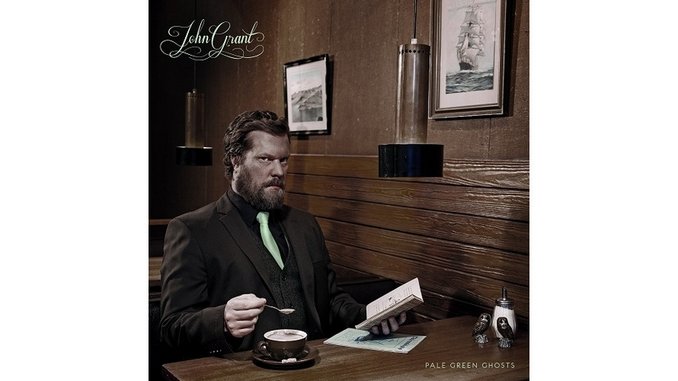 John Grant is one of the most enigmatic, endearing vocalists making music today. That's a bold statement, certainly; but boldness is a virtue that Grant doles out in droves through candid, insightful and matter-of-fact lyricism so raw at times you nearly forget the breathtaking baritone it's being delivered through. Pale Green Ghosts, Grant's second solo album and first since 2010's brilliant Queen of Denmark, ratchets up his affinities for the somber anti-power ballad, but also showcases a newer sonic territory: that of the '80s dance club variety.
If that last sentence frightens you, be cool. Grant has enough of the effortless verve so evident on the '70s FM radio vibe of Queen… to offset his forays into beat-heavy thumpers like the opening title track. "Pale Green Ghost" opens with a sultry, percussive synth, making jagged Grant's softer edges with string swells, tense brass and minor-note ominousness. It's a head-scratching way to open an album so heavily steeped in lovelorn missives that, even if they're not as overtly so, certainly toe the line of the thematic arc of Queen. It's obvious from the onset that this is an entirely different artistic statement, though, and especially as Pale Green Ghosts progresses, there do seem to be a few tracks that very well could have been Queen… B-sides.
That timeless vibe, however, is pretty much completely void from the first two tracks on Pale Green Ghosts. The second tune, "Black Belt," is a sexy dancefloor groover hell-bent on regaling an unidentified, posturing bullshitter, replete with dark synths and sparse beats while Grant croons "You got your grip all fine tuned and sparkling/Yeah you got your bored look all worked out/What you got is a black belt in BS."
When Grant's not calling out bullshitters, he's reviling ex-lovers, lamenting his age or questioning his morals in a kind of on-record therapy session that shouldn't be as fun to listen to as it is. That's where the endearing part comes in: Grant's neuroses arrive dripping with honesty and forthrightness, mostly expletively and with alarming impact. Grant writes marvelously personal lyrics, full of gusto and self-awareness and a semi-hidden sneer that make even his demure compositions seem like some kind of super-mature punk rock performance art.
Even when he's essentially coming to terms with his career with lines like "If I think about it, I am successful as it were/ I get to sing for lovely people all over this lovely world… I am loved by all my friends and family/though there have been lots of raised eyebrows, hints and glances lately," there's an expectation by virtue of the presumed campiness of it that things are about to devolve into something dark, which they usually do. His openness about his sexuality is one thing, but his ability to articulate vitriol in such back-handed elegance is when Grant's Hyde takes over. To wit, the track "Ernest Borgnine" deftly weaves Grant's mastery of self-deprecation, humor and humanity in an on-record admission that he's HIV positive.
Other tracks, like "GMF"—which features one of two vocal cameos by Sinead O'Connor—liven things up with acerbic refrains like, "I am the greatest motherfucker that you're ever gonna meet, from the top of my head down to the tips of the toes on my feet." Grant's frank musings resonate further on "Why Don't You Love Me Anymore," wherein he explains, "I am ashamed 'cause I don't know myself right now and I am 43/I feel like telling everyone to fuck off all the time."
With Grant's new Icelandic roots and electronica loyalties as a foundation for the sonic properties of Pale Green Ghosts—likely a far cry from the Midlake-backed organ-roots rock of Queen…—the album somehow retains everything that's made Grant such an anomaly in the underground pop world. Here's to hoping his committing of these songs to record in such earnest confession brings him more peace than pain, because no matter the musical tinsel he decorates them in, there's a lot of both.
Others Tagged With