New Girl Review: "Elaine's Big Day" (Episode 2.25)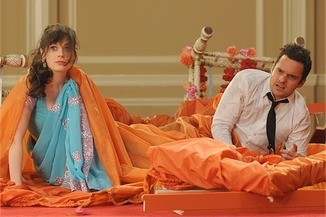 While "Elaine's Big Day" is technically the finale of this incredible second season of New Girl, there have been plenty of episodes that could have also been suitable finales. Take for example the climactic kiss at the end of "Cooler" or the first time Nick and Jess had sex at the end of "Virgins;" these would have marked perfect moments for a cliffhanger until season three. But this is a show that ended its first season with an impromptu dance party, so a cliffhanger really isn't New Girl's style.
Instead of leaving the audience questioning what is next, "Elaine's Big Day" represents the natural progression of exactly where these characters should and deserve to be. There aren't going to be huge surprises here (well except for maybe Winston in an air duct with a badger, but more on that later), but it does set up where everyone might be when we return to them in a few months.
As per the usual finale rules, the season has to end on a big event, which for the second half of this season has clearly been Cece's wedding. Schmidt accidentally walks into the room where Cece is getting prepared, and he receives a stare from Cece that is interpreted as "I've made a huge mistake." With the help of Winston, Schmidt tries to sabotage the wedding, even though he came with Elizabeth. When Jess sees the duo's stunts of scaring off Shivrang's horse that he rides into the wedding on and playing "Cotton Eyed Joe" as Cece walks down the aisle, Jess immediately assumes that this is just the type of childish behavior that Nick would be in on. After being blamed for all the pranks, Nick joins in, only to forget that Winston's pranks are the worst, and he and Winston end up getting ready to set a badger loose on the priest of the wedding.
Now I don't think anyone expected Cece and Shivrang to actually get married, and I had posited that even if they did, it wouldn't last for very long. So Cece calls the wedding off, not because of the pranks, but because she is still in love with Schmidt, leaving Schmidt to pick between Cece and Elizabeth. But he can't make that decision and runs off.
Meanwhile Nick is getting tired of being considered childish, so both he and Jess decide to call it off. After a talk with a badger-bitten Winston, Nick realizes this is foolish and goes after Jess, who has also figured out that they too have made a huge mistake, as they drive off together.
What has been so fascinating and extremely enjoyable to watch in this second season of New Girl is how this show has evolved its characters in a realistic way. Consider who these characters were in the first half of last season, and it's incredible how far these five have come.
When we first met Jess, she was a broken woman, hiding behind her quirkiness. Now, she is a strong, brave character who is able to take control of hectic situations, like in last week's "Winston's Birthday," or stand up to her father about who she wants to be with. Zooey Deschanel has been astounding this season, making Jess much more independent and courageous in who she is.
Last season was by far the breakout for Max Greenfield's Schmidt, and he's done a great job of being a strong comedic presence while also not overshadowing the rest of the cast and having Schmidt become more self-aware of his douchey characteristics. Lamorne Morris as Winston has always been catching up as the newest cast member, and the humor he brings, especially in this episode, has made him a joy to watch, even when Winston has had less to do than most of the rest of the cast.
Speaking of having less to do, not enough credit is given to Hannah Simone as Cece. In the first season, she was little more than the pretty girl who was the object of Schmidt's affections. In this season, she also has become more of an independent character, not reliant on the whims of Schmidt, and has set herself apart as the character with the strongest idea for her future.
But season two's VIP is without a doubt Jake Johnson as Nick Miller. Nick's main characteristic has been that he is a mess, and this season has attempted successfully to have Nick grow into a true adult, even if it is gradually. So much of this season has seen all these characters dealing with expectations from parents and trying not to become like them, but no one has had to deal with this more than Nick, whose dad always ran away and had a drinking problem.
"Elaine's Big Day" deals with both of these head-on, as he runs away from Jess and runs straight to a bottle. But Nick is growing, and he abandons his usual crutches in favor of something more important to him: the love of Jess. Johnson has been phenomenal this season, and it'll be great to see how he further grows along with Jess.
In just two seasons, New Girl has grown from a show whose quirks overwhelm everything else to become a show with one of the most well-rounded casts on television, while also navigating a difficult romantic path, but handling it beautifully and together creating probably the best season of any comedy this year. As some of the best comedies in recent memory have or are coming to a close soon, like 30 Rock, The Office and How I Met Your Mother, New Girl is quickly becoming one of the great comedies worthy of being placed along these others and is on track to even possibly surpass them.