Between the "eye tracking," air view, air gestures, Easy mode, IR Blaster and endless camera features, the Galaxy S4 is a marketing director's dream come true. This smartphone does it all—and every feature is surely destined to be the star of some spunky marketing campaign at some point. And even as far as the end experience for the user is concerned, being overwhelmed by features isn't necessarily the worst thing in the world either. Really digging in and exploring all the features will take you days, if not weeks—as will going through the rows and rows of pre-installed apps in the app drawer.
But the elephant in the room question remains: Is the Samsung Galaxy S4 a phone you should buy instead of an HTC One or an iPhone 5?
Hardware: A brain, a body, but no soul
With the Galaxy S4, Samsung is moving its line of flagship smartphones into the yearly smartphone update, a trend set by Apple and the iPhone just a few years ago. That means a significant hardware update might not come until 2014, while the Galaxy S4 is a software-minded, backend update (much like the iPhone 4S was). Very few Galaxy SIII owners are going to be out there wanting to update. After all, the two phones look almost identical.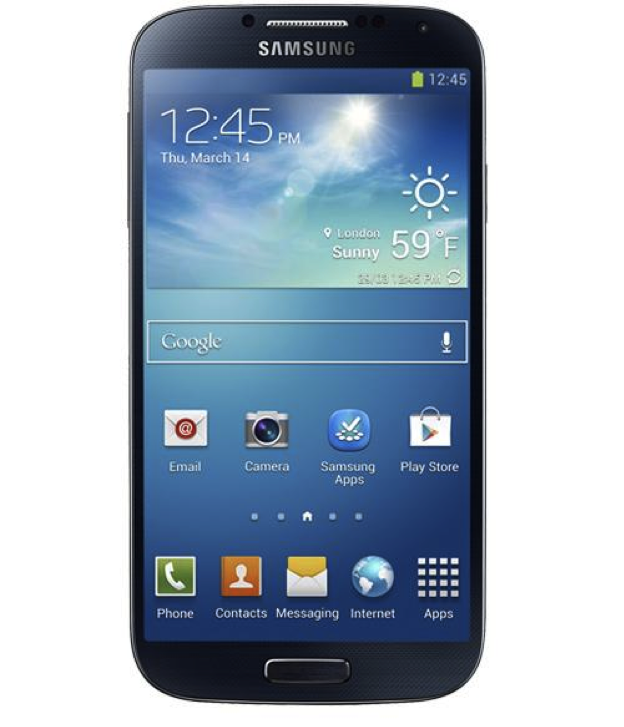 Unfortunately, in terms of how this thing is put together, that's not meant as a compliment.
With its slippery, fingerprint-attracting plastic casing and altogether flimsy build, the Galaxy S4 feels disappointingly cheap. When you tap on the back of the phone, it reverberates in your hand as if it's hollow. It's a brain and body with no soul. While it's fantastic how thin and light they trimmed the Galaxy S4 down (although it is still not as thin or light as the iPhone 5), it comes at the expense of the feel of the phone. This has always been one of Samsung's problems and the Galaxy S4 makes no effort to feel more like a robust, premium smartphone. Handsets like the HTC One, the iPhone 5, or even the Lumia 920 are just on a completely different level in terms of design and build.
That being said, the Galaxy S4 most definitely is not hollow. This handset comes with a killer quad-core Qualcomm Snapdragon 600 and 2GB of ram that compete neck and neck with flagship competitors at almost every turn. In other words, there is almost nothing you can do to slow this machine down. Apps open quickly, the keyboard is responsive and video plays flawlessly. I tried my best to make the system stutter—even splitting the screen between an HD YouTube video and scrolling through my Twitter feed at the same time felt snappy.
Equally impressive is this phone's display. When the hordes of contract renewers make their way through the Verizon or AT&T store, the Galaxy S4's 5" 1080p display alone will catch people's attention. AMOLED screens aren't for everyone and Samsung's "Super AMOLED" display has some of the same screen quality quirks such as the unnaturally high contrast and funky color accuracy. Furthermore, I found that the screen had a hard time shining through sunlight despite the fact that Samsung claims that their Super AMOLED screens reflects five times less sunlight than its predecessors. But between the HD resolution and the super thin bezels, the Galaxy S4's display packs a punch that is sure to make good first impressions with buyers.
Software: Overwhelmed by features and cheesy graphics
Of all the OEM Android skins out there, Samsung's "TouchWiz" GUI has always been one of the most intrusive. Everything from the twinkly unlock screen to the cheesy 3D homescreens insist that TouchWiz isn't poised to make a major move in the direction of stock Android anytime soon. Minimalist design has never been Samsung's strong suit and the cluttered UI of the Galaxy S4 is apparent right from the get-go.
When you start up the phone for the first time, you are greeted by a host of help screens and tutorials, all of which are necessary if you hope to get through the host of Samsung and carrier apps. As with many Android phones, the battle for content hosting is displayed within the phone itself. Samsung, Google and your carrier all want you to buy your next movie or song out of their own app store and all want an app presence on your home screen. Opening the app drawer on a brand new Galaxy S4 is like opening the drawer in your desk where you keep all the random things that don't belong anywhere. It's a total mess. So take my advice here: Uninstall what you can and move all the Google apps to your home screen. There's absolutely no reason to get involved in Samsung's ecosystem or work through any app that Google has a version of.
The home screen widgets in TouchWiz are similarly distasteful. Many of Samsung's own widgets such as the clock, weather, calendar and app shortcuts look like they are screenshots of an image. Strangely enough, Samsung's comprehensive graphic overhaul of Android doesn't cover the widgets because many of them stand out like a sore thumb. No matter how hard I tried, I couldn't find a combination of stacking and placing these widgets together to make them not look totally out of place. Samsung might be the only company who grossly overdoes skeuomorphism more than Apple.
The confusion goes beyond the app drawer and home screens however. Even the functionality of the phone is a bit obscured by Samsung's desire to push Google off their phone. Whereas Android 4.1 made Google Now always just one swipe from the bottom of the screen away, Samsung puts its own voice recognition / assistant software front and center instead. A double click of the physical home button will bring up S Voice, while Google Now is accessible by a long press of the menu soft button. Which to use? Despite S Voice being considerably better than previous iterations, it is still unfortunate to see Google Now pushed out of the spotlight.
There are a few standouts from Samsung's app arsenal, though, most notably S Health, the WatchOn TV app and the camera app. S Health is a nicely designed health and exercise app that has a lot of potential (despite it needing some additional peripherals). Meanwhile, the WatchOn TV app turns out to be a really convenient way to control simple things like volume and channel on your television. And then there is the 13 megapixel camera that takes beautiful photos and includes a number of wacky features that are all fun to play around with. Throw in a great multitasking split-screen mode and you've a handful of features that add small but overall beneficial functions to the smartphone. These are the features that show the wide appeal and ambition of the Galaxy S4.
On the other hand, seeing the Galaxy S4 as a "phone for the masses" is still a bizarre notion to me. It's not straightforward in any real way. It's not easy to just pick up and use and I would never recommend it for anyone who isn't already very comfortable with a smartphone. But even still, don't be surprised when Samsung sells record-breaking amounts of these devices this year. After all, there is very little that this phone can't do. I am still left wondering who exactly the Galaxy S4 is made for.
This is the best I can come up with: If you want a solid Android phone with a removable battery, expandable storage and an impressive display, or even if you just really want a phone that you can control by waving your hand, the Galaxy S4 is for you. However, if you are average Android user looking to upgrade, I would take a serious look at the HTC One or even the Nexus 4 before picking this one up.
Others Tagged With