Street Artist Hanksy's Pun-Inspired Gallery to Open in L.A. This May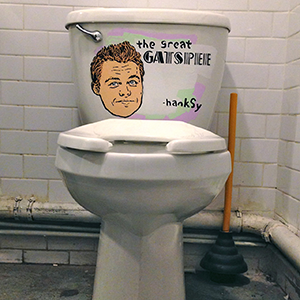 We don't know much about the L.A.-based pun-master/graffiti artist Hanksy (not to be confused with the also-famed-and-incognito-graffiti artist, Banksy). But what we do know, other than his undying affection for his namesake Tom Hanks, is that he's mildy obsessed with celebrities.
He most recently hid "Walter (egg) Whites, Mi(shell) Obama, and Wayne's World (Party time, EGGcellent)" painted eggs all over the White House lawn for its annual Easter egg hunt.
As a promotion for his upcoming gallery exhibition in L.A. at Gallery 1998, the self-dubbed "street fartist" set out to tag various walls, doors and even toilets with his plays on celebrity names (we especially enjoyed "The Great Gatspee" and "Daft Skunk").
See a selection of the artist's works below, and if you're in the L.A. area, head to Gallery 1998 to check out his exhibition, "How The West Was Pun," which opens May 24 and runs through July 15.
Others Tagged With