The 10 Best Comics Marvel Currently Publishes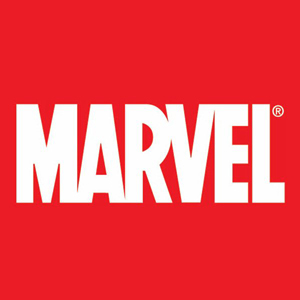 The comic medium had a lot to celebrate last weekend. Not only did Iron Man 3 usher in blockbuster season with our favorite exoskeletal superhero, but Saturday saw all of the major publishers unleash a metric ton of pro bono product on Free Comic Book Day. With all of these reminders of how fabulous the printed and digital panel can be, Paste decided to sit down and take inventory of the titles that make our Wednesday comic shop jaunts an addictive necessity.
Today we're taking a look at our ten favorite comic books from Marvel, with lists from the other prolific publishers to follow on Tuesday and Wednesday. And though these are our favorites, we realize that The House of Ideas releases many comics from many talented creators; let us know yours in the comments.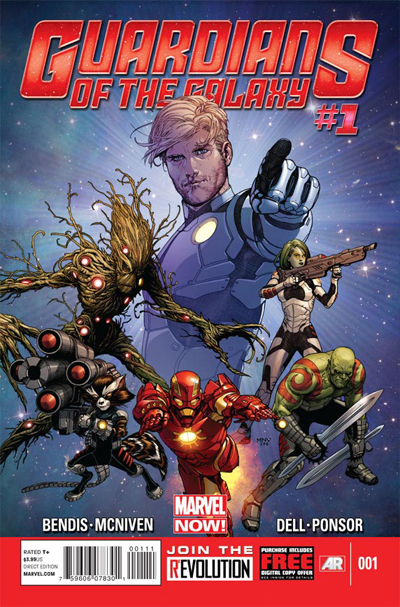 10. Guardians of the Galaxy
Writer: Brian Michael Bendis
Artist: Steve McNiven, Sara Pichelli
Dan Abnett and Andy Lanning did an exemplary job of weaving a dense narrative tapestry into Marvel's cosmic nooks and crannies for years, and now the publisher is giving its oft-neglected sci-fi kids the love and attention they deserve. Guardians of the Galaxy #.1 (don't ask about the numbering) was a genre palate cleanser full of rockets ships and childhood nostalgia, merging the domestic and fantastic in ways that only the best grade school escapism can. The book hasn't quite figured out its identity yet, but the characters are interesting, the art is gorgeous, and there's an anthropomorphic space raccoon that kills evil aliens. You had us at anthropomorphic space raccoon. (Sean Edgar)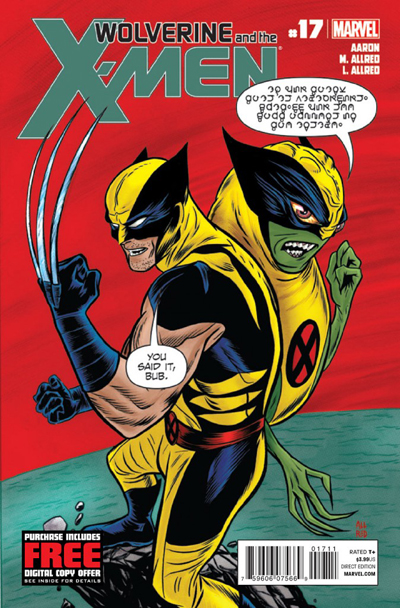 9. Wolverine and the X-Men
Writer: Jason Aaron
Artist: Nick Bradshaw, Ramon Perez
Jason Aaron keeps a tight balancing act with the X-Men's flagship title, recalling the coming-of-age nostalgia that brightened Chris Claremont's legendary run on the title while blazing into the future with beats from Grant Morrison's time with the merry mutants. Always fun and often funny, Wolverine and the X-Men takes full advantage of the entire property's eclectic history and emerges with some inspired twists. Where else can Quentin Quire, a feral pet island, and Doop from X-Statix coexist so beautifully? The storytelling also keeps things loose and varied, veering into space casinos and The Savage Land before returning to the main stage where a group of evil billionaire children create weapons to annihilate the mutant race. Fine by us as long as we can see Doop rock another bass-off with Satan. (Sean Edgar)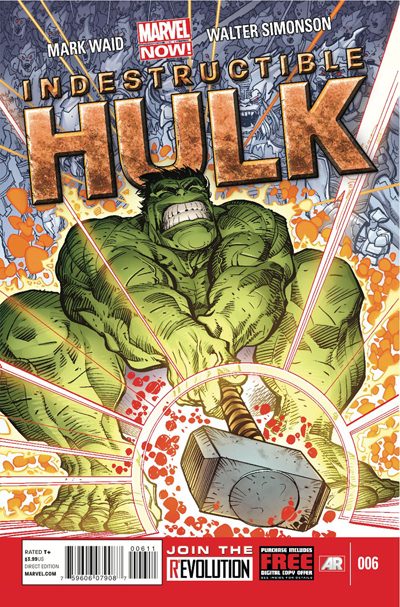 8. Indestructible Hulk
Writer: Mark Waid
Artist: Leinil Francis Yu, Walt Simonson
Despite being one of Marvel's most iconic characters, The Hulk has long been a major headache for anyone assigned to write the not-so-jolly green giant. After all, when your main character is an unstoppable rage machine capable of destroying whatever obstacle is placed in his path, one's choice of viable conflicts becomes dangerously limited. Writer Mark Waid's answer is to turn the book into a kind of a heightened procedural, focusing more on Bruce Banner and his team of S.H.I.E.L.D.-approved scientists than simple action set pieces. And while Leinil Yu's artwork can feel a bit awkward at times — especially during fight sequences — the addition of the legendary Walt Simonson in recent issues brilliantly captures the look and feel of the artist's legendary Thor run from the '80s.  (Mark Rozeman)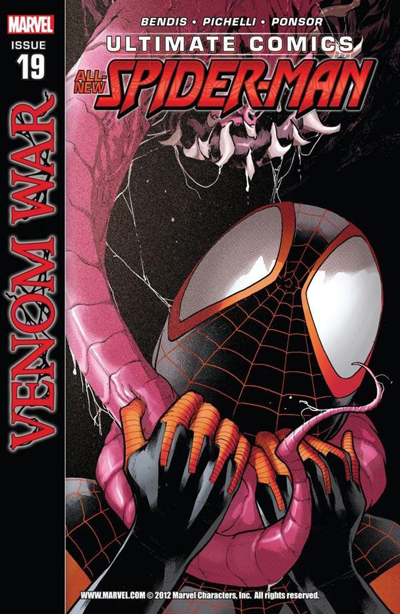 7. Ultimate Comics: Spider-Man
Writer: Brian Michael Bendis
Artist: Sara Pichelli, David Marquez
Nearly two years after the Ultimate Universe's Peter Parker shuffled off this mortal coil, his replacement Miles Morales has proven a more than worthy successor. After proving his salt by fighting alongside The Ultimates in the "Divided We Fall" crossover, Miles finds things hitting much closer to home with the current "Venom War" arc, which features the feral symbiote targeting the entire Morales family. Despite numerous years on the project, writer Brian Michael Bendis continues to churn out fresh, fun stories that capture the best of what Spider-Man comics have to offer. When the Ultimate project first launched, Spider-Man was hailed as its finest achievement. More than ten years later, I'm happy to report that not only does Ultimate Comics: Spider-Man remain the best ongoing series in the Ultimate series, it stands as one of the most consistent, emotionally engaging long-form comics in recent years. (Mark Rozeman)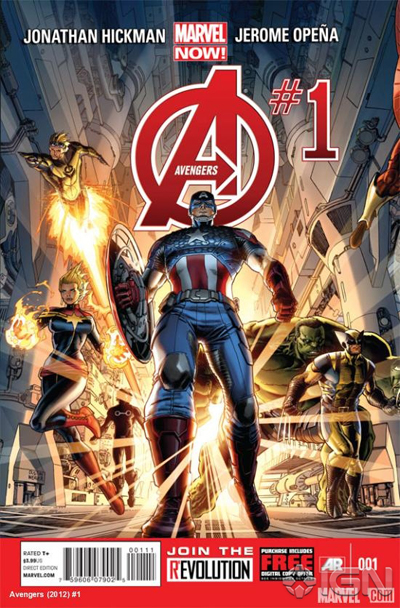 6. Avengers
Writer: Jonathan Hickman
Artist: Mike Deodato, Dustin Weaver
Let's all give Marvel a hearty pat on the back for taking its marquee title (that also happens to have the same name as the 3rd highest-grossing film of all time) and turning it into an experimental, fearless exploration of the 616 universe. In a year when editorial/creative conflict has reached all-time public high, Avengers shows that some publishers are still willing to hand the keys to their properties to incredibly creative people with visionary plans, reductionist branding be damned. In this case, that creator is Jonathan Hickman and those plans include world-renovating supervillains and a new lease on the New Universe characters from the '80s. The core organization of Captain America and friends is only a framework for the weird innovation populating every new panel. Ten issues in and we're still grasping at the moving parts and hidden trajectories of this dark sci-fi ensemble epic. (Sean Edgar)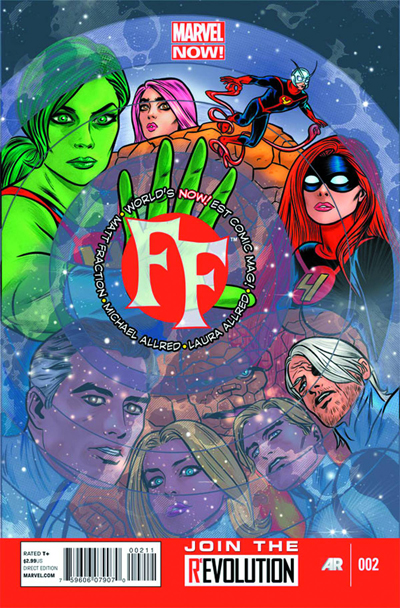 5. FF
Writer: Matt Fraction
Artist: Mike Allred, Others
Replacements never last long in the Fantastic Four, and Matt Fraction's FF immediately acknowledges that truth in its initial setup: The Four's hand-picked backups are only supposed to stand-in for four minutes as the main team embarks on a space-time field trip. Things go wrong, those four minutes stretch into weeks, and the "Fantastic Faux" struggle with their unexpected responsibilities. With typically wonderful art from Michael Allred, FF is a funny, character-driven take on Fantastic Four's cosmic tradition, with the viewpoint characters of Scott "Ant-Man" Lang (newly non-dead) and Darla "Miss Thing" Deering (Johnny Storm's non-hero girlfriend) injecting some genuine pathos into this rich title. (Garrett Martin)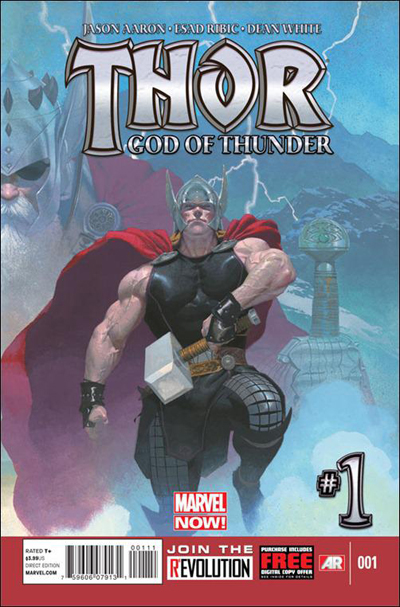 4. Thor: God of Thunder
Writer: Jason Aaron
Artist: Esad Ribic
Of all the Marvel NOW! launches, Jason Aaron's Thor: God of Thunder has been the most ambitious. Alternating between three different timelines in the Norse god's life (his pre-Mjolnir days, his present incarnation, and his future as a battle-scarred veteran), Aaron has spun an epic, sprawling tale centering on Thor's confrontation with the villainous Gorr, aka the "God Butcher." Esad Ribic's haunting artwork perfectly complements Aaron's beautifully flowing writing style. Aaron's true accomplishment, however, is embracing Thor's otherworldly nature while allowing his turmoil to feel all too human. And, if that weren't enough, the battles scenes are a glorious sight to behold. (Mark Rozeman)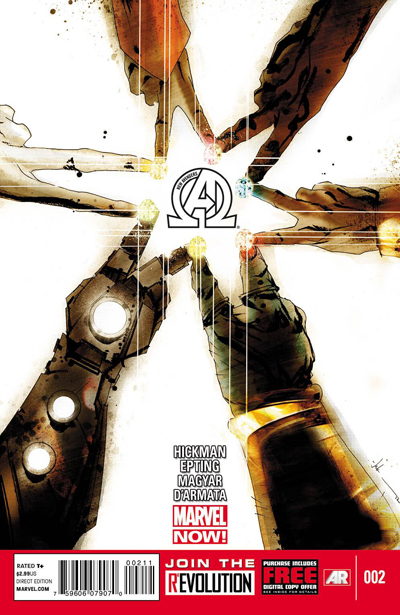 3. New Avengers
Writer: Jonathan Hickman
Artist: Steve Epting
The original WildStorm Universe didn't quite survive its transition into DC's consolidated playground, which is a damned shame: Warren Ellis, Alan Moore, and Joe Casey reinvented the superhero concept for the modern age, with the politics and intensity to match. Marvel certainly kept an eye out, and it's not hyperbole to say the imprint has adopted as many of Wildstorm's virtues as possible. New Avengers reads like a perfect evolution of Warren Ellis' runs on Stormwatch and The Authority without feeling derivative. The book takes a pressure cooker of the 616's top minds — Iron Man, Black Bolt, Captain America, Mr. Fantastic, Black Panther, Beast, Doctor Strange, and Namor — and pits them against universe-ending odds. Big science, acidic personalities, and nose-bleed stakes converge into one of the most addictive, challenging experiences in comics. (Sean Edgar)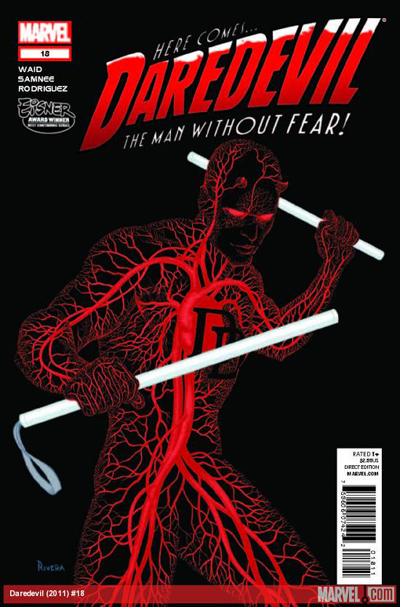 2. Daredevil
Writer: Mark Waid
Artist: Chris Samnee, Others
Mark Waid continues to flaunt his incredible skill at mixing the swashbuckling and smart with Matt Murdock, proving that the horned one doesn't have to be a spandex pity party to sell books. Despite losing artist extraordinaire Marcos Martin, Daredevil has maintained its vibrant, art-deco mystique with Chris Samnee, creating a kaleidoscope of bright color and movement. Waid's proclivity for lush palates and adventure doesn't mean that he's been going easy on the Man Without Fear, especially in recent months: issue #25 introduced new villain Ikari, an insidious mimic who proceeds to do terrible, terrible things to our hero for many panels. Though Daredevil constantly teeters on the edge of falling into the infernal depths he channels through his alter ego, his struggles haven't been this entertaining in years. (Sean Edgar)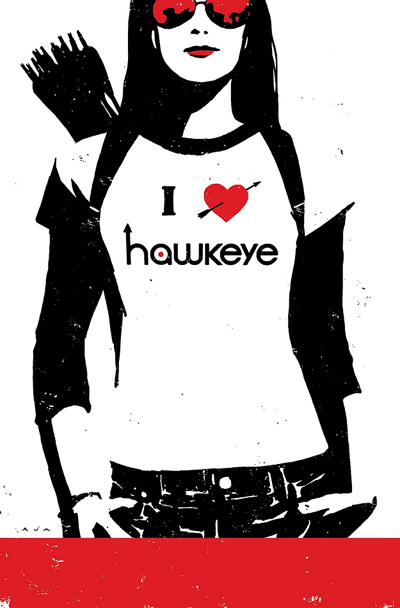 1. Hawkeye
Writer: Matt Fraction
Artist: David Aja, Others
The knock against Hawkeye has always been that he's just a regular guy. He's not a supersoldier or thunder god or even a dude with a fancy suit of armor— he's just a guy with a weapon that's been obsolete for centuries, and he doesn't even use the thing for what it was created to exclusively do (i.e., kill other guys). The genius of Matt Fraction's Hawkeye is that it celebrates the character's regular guy-hood. Clint Barton is just a man trying to help people out as much as humanly possible, and he happens to be so good at it that he's been an Avenger for like 50 years in the real world. Hawkguy Hawkeye isn't just an atypical superhero comic — it doesn't even feel like most comics about similar so-called "street-level" heroes. It proves that Fraction can write small-scale character studies as well as the epic sci-fi craziness he made his name on. (Garrett Martin)

Got news tips for Paste? Email news@pastemagazine.com.
Others Tagged With