We Steal Secrets: The Story of WikiLeaks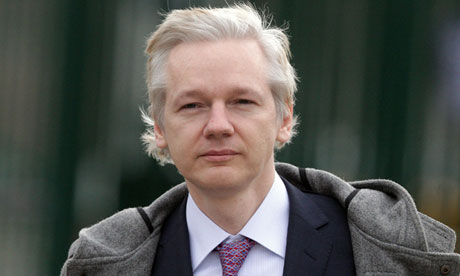 Alex Gibney—the prolific documentarian behind Enron: The Smartest Guys in the Room, the Oscar-winning Taxi to the Dark Side and Mea Maxima Culpa: Silence in the House of God—turns his lens on WikiLeaks, the nonprofit website dedicated to making public secret and classified materials from anonymous sources. At the center of Gibney's latest exposé is the enigmatic Julian Assange, founder and editor-in-chief of the site. But unassuming Private First Class Bradley Manning, who launched the organization into the big time when he allegedly leaked hundreds of thousands of documents from classified U.S. military and diplomatic servers, gets equal time in a film that examines privacy and secrecy in the Internet Age and questions whether those who expose them are heroes or villains—or a bit of both.
Unable to interview either Assange, who's sequestered in London's Ecuadoran Embassy in order to avoid extradition for U.S. espionage and Swedish sex charges, or Manning, who was in seclusion under military arrest, Gibney turns instead to friends and colleagues of both men to paint parallel portraits as well as to government insiders for analysis and parses of existing footage for insight. Meanwhile, a voiceover offers clear explanations of not only how the Internet works but the political context in which the events take place.
Most compelling, though, are Manning's own words, in the form of Internet chats he engaged in with Adrian Lamo, a lethargic hacker who uses Star Trek's Kobayashi Maru scenario to explain the conundrum he faced when he betrayed the lonely kid with gender-identity issues. Typed across the screen, Manning's thoughts and feelings engender profound sympathy for a clearly unstable individual with perhaps the noblest motives in the whole scandal. On the other hand, Assange starts out as a brash idealist but by the end of the doc comes off as greedy, paranoid and egomaniacal—all things he railed against throughout his early career.
We Steal Secrets unfolds as a stylish spy thriller, but Gibney is at a disadvantage because the story's not over, and Manning's leak, while integral to WikiLeaks' notoriety, overshadows the organization's other activities. Indeed, the film leaves the impression that WikiLeaks flamed out after the Manning episode, when in fact the organization is alive, if not well—most recently launching a campaign to debunk Gibney's doc. Still, the film is fascinating and provocative, deftly navigating complex personalities and shifting allegiances.
Director: Alex Gibney
Starring: Julian Assange, Bradley Manning, Adrian Lamo
Release date: May 24, 2013
Others Tagged With