Wondermade: There's More to Marshmallows than a Bunch of Fluff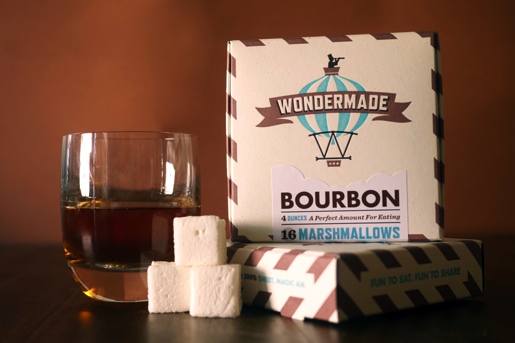 "I always liked the idea that people are beautifully and wonderfully made," says Orlando-based minister and Wondermade co-founder Nathan Clark. "I love that connotation that with great intent comes great wonder."
It all started with a Christmas gift. A few years ago, Nathan wanted to satisfy his wife Jenn's sweet tooth with something special. So, he bought her a thermometer and recipe card for marshmallows. And then… magic. "We just stumbled onto something," says Nathan, who says he never realized how much he loved marshmallows until he started making them. Now, after a year of selling these boxed beauties, the duo is approaching their half-million marshmallow mark this summer—a huge feat for this mom-and-pop biz.
Wondermade's fluffy, sugar cane-sweetened cubes boast a range of seasonal flavors—summer flavors include orangesicle, root beer, lemonade and sangria—with fan favorites of bourbon, s'mores and Guinness staying in rotation year-round. Developed in the Clarks' home at their Wondermade Laboratory, the confections are crafted and cured in batches at the Wondermade Factory five blocks away, before being lovingly packaged inside letterpressed, keepsake-worthy boxes.
"Marshmallows used to be a special confectionary treat someone in the neighborhood would make. Our focus is on creating the ideal," says Nathan. "It's not just about making really incredible marshmallows; it's about creating an amazing experience… from us to you."
Wondermade is available in boutiques across the U.S. and ships globally from wondermade.com. A box of 16 runs $7.50.
Marshmallow addict? You're in luck. Wondermade is getting ready to launch its Taste Adventure Club, a weekly subscription service where foodies can gorge on short-run flavors like Sriracha, coffee and peach cobbler every week. Diet, blown.
Quick Tip
"These marshmallows are best enjoyed with friends… they also make killer s'mores."—Nathan Clark
Jenn and Nathan's Marshmellow-Making Playlist
Since Jenn and Nathan have four children, the duo often combines date-night with their marshmallow-making escapades. A typical playlist? Macklemore, Lighthouse and The Whaler, Refused (specifically, The Shape of Punk to Come) and Matt Pond PA.
Others Tagged With