Andrew W.K. Attempting to Break Drumming World Record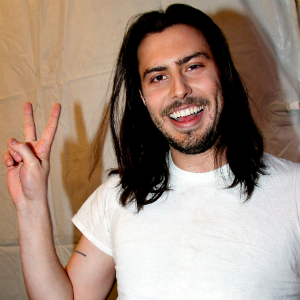 The reigning party king Andrew W.K. has dreamed up his flashiest party trick yet: play the drums for 24 hours straight. According to Hollywood Reporter, Andrew W.K. will partake in Viacom's O Music Awards, hoping to set a record for the longest drum solo in a retail store.
The O Awards—part of Live Music Day-are a 24-hour live special that streams from the Oakley flagship store in Times Square. It has become a tradition for O Awards artists to set their own personal best and to strike world records. Previous record-setters include The Flaming Lips-who broke performance ground for most multi-city shows played in 24 hours-and Chiddy of pop-rap group Chiddy Bang setting the record for the longest freestyle rap in history.
A day-long endurance test, the drumathon will begin streaming at 7 p.m. EST, where W.K. will also be joined by Roots drummer Questlove for a while as moral support, along with a host of others drummers to help him keep going.
How is W.K. preparing for the gig? He's been air drumming-with weights. "I want to feel like it's harder than it is," he told THR. "I'd rather be over-prepared."
We'll see how he holds up this Wednesday, June 19. For now, check up on updates of the artists lined-up for the evening at the O Awards website.
Update:
It's more than halfway through Andrew W.K.'s 24-hour drumathon and though the man is dressed in all-white, he doesn't appear to have surrendered by any means. Still going on with a smile, he's been joined by Daren Taylor on the drums as he heads into the sixteenth hour of his solo.
W.K. said in a statement earlier, "I've stayed up many times for much longer than 24 hours in a party atmosphere, but what will keep me going for this drumming feat is interaction with other people- their energy, them cheering me on. This feat of rhythmic endurance is going to push me to my party limits. Pounding out a beat for an entire earthly rotation will be a life-changing and life-threatening adventure!"
Keep pace with W.K. by streaming his set here and send him some positive thoughts via Twitter.
Got news tips for Paste? Email news@pastemagazine.com.
Others Tagged With