Bryan Cranston Dishes on Breaking Bad in Reddit AMA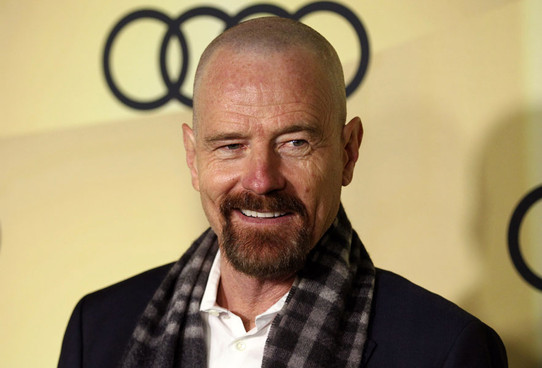 Bryan Cranston has one of those minds in Hollywood that any fan of cinema or television would love to pick. Fans and redditors got that opportunity last night when Cranston sat down at a computer in the Breaking Bad writer's room and hosted his own Reddit AMA.
Cranston covered everything from his favorite TV shows & movies and his humble upbringings to the winner of a fight between Frankie Muniz and Aaron Paul ("the woman who would throw them both out of the bar"). The results were terrific, just as expected.
Like most of the shows' fans, one of Cranston's favorite show is Breaking Bad. "I don't know if you guys have heard of it before," he said. "When you say the Godfather, everybody says 'oh the Godfather,' but it was really remarkable. I loved the Andy Griffith show for its simplicity and warmth, but I also love Louis for its sardonic humor."
Most of the conversation was focused on Breaking Bad and Cranston's insight on the show. A Reddit user asked when he thought Walter White officially "broke." Cranston answered with "My feeling is that Walt broke bad in the very first episode. It was very subtle but he did because that's when he decided to become someone that he's not in order to gain financially. He made the Faustian deal at that point and everything else was a slippery slope."
He talked about retuning characters and how some steered the plot's course. "Jesse was not supposed to survive after the first year," he said. "He was a character that was need to introduce me into that world and then he was going to die. But Aaron Paul captured something in him that was so necessary to the fabric of the show that it was a no brainer to keep him. They knew in broad strokes where the character was going to go, but they kept resetting after each season."
He also talked to a fan from Albuquerque who praised how Breaking Bad used the city as a character. "Albuquerque became a very important part of the show and I really enjoyed my time there. I look forward to going back at some point. You know, strolling central in Nob Hill, Church St. Cafe in Old Town, El Pinto is another place I go. And I ride for miles along the Bosque."
When asked about the finale of the show, he said "In a way I'm sad to see it go but in another way I'm so proud of it. To me it's like retiring after winning the Super Bowl.
"Breaking Bad ended the way Vince Gilligan wanted it to… which is exactly what I wanted."
At the end of his AMA, Cranston posted a video on YouTube thanking all of the viewers who tuned in and asked questions. You can watch the video below.
Bryan Cranston, ladies and gentlemen. The sixth and final season of Breaking Bad is set to make its premiere on Aug. 11.
Got news tips for Paste? Email news@pastemagazine.com.
Others Tagged With