Catching Up With Deer Tick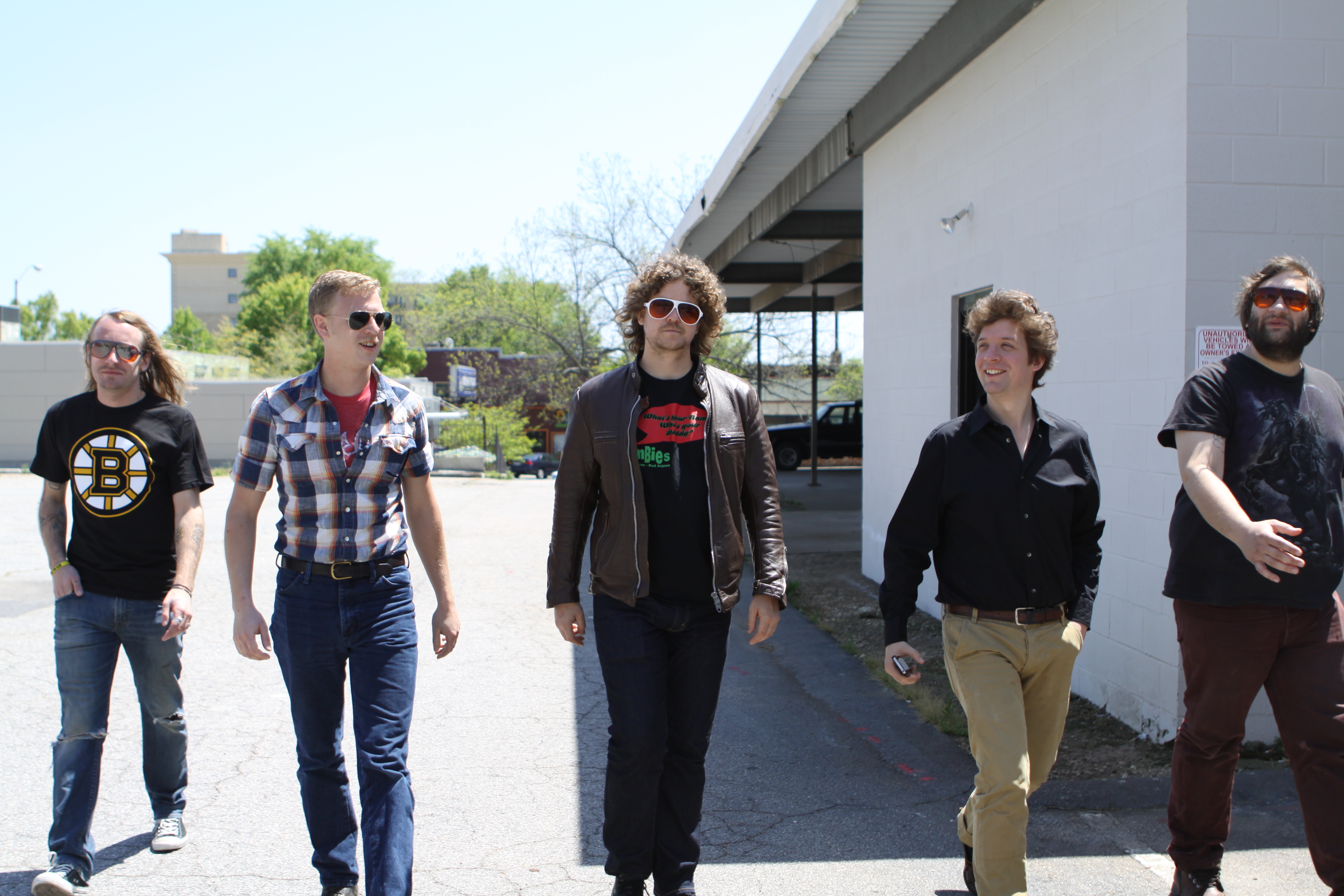 Providence, Rhode Island's country/folk rockers Deer Tick are known for their rollicking live shows and party animal aesthetic. But there's more to this fivesome than their hard-partying reputation gives them credit for. Their forthcoming album, Negativity, promises a dark and searching take on topics such as heartbreak and exhaustion. Laced with string and horn accompaniments, it's both a departure from the band's previous output and a natural step in the progression of a group that has morphed with every release. Recently, Deer Tick sat down with Paste in Athens, Ga., to talk about the album's new direction, the truth about their reputation and what band they'd most like to cover.
Paste: So, what's new?
Dennis Ryan: Our booking agent just showed us a TV show called Nathan for You. He tried to go skydiving—
Ian O'Neil: That's the guy who did the tweets!
Paste: Yeah, the one where he got people to text their parents "I've got two grams for $40."
Chris Ryan: I'm gonna do that [texts his mother].
Paste: I can't wait to hear what your mom says.
Chris Ryan: She doesn't really know how to respond to text messages.
Dennis Ryan: You've got to tell her, "Sorry, ignore that. It wasn't for you."
O'Neil: I can't see your mom getting mad at you about that, even if you were smoking weed.
Paste: You've added horns on this album and a Top 40 singer [Vanessa Carlton]. Is it very different from what you've done before? What was the impetus behind exploring those sounds?
John McCauley: We tried to have horns on the last album. They're there. They're just buried in the mix.
O'Neil: We've definitely tried and failed and kind of not had the right resources for 'em. It can be hard to find horn players who are worth playing with, who you can afford.
Paste: How did you hit the sweet spot this time around?
O'Neil: Through Steve [Berlin's] connections. He just produced an album by Grupo Fantasma, and they have a really kickass horn section, and Steve says they're his favorite horn section ever.
Chris Ryan: They're from Texas, and the horns kind of sound like they're from Texas.
O'Neil: They're really good R&B players, and they kind of have this mariachi flair.
Chris Ryan: They played with Prince.
Dennis Ryan: They're the ones who told me about Prince renovating this club. Prince was playing in Texas, and it was like, the aftershow he does. Like, he'll do an arena, and then he'll do a secret show later on. This one place he was playing an aftershow, he didn't like the way he was going to have to enter the building, so he made them remove the entire back wall and remodel the back of the bar and set up a tent city outside. He's fucking crazy, but he's awesome.
Paste: He sounds like the ultimate perfectionist.
O'Neil: He's completely insane, but he's a killer dude.
Dennis Ryan: If anyone else did that shit, he'd be an asshole, but because he's Prince, it's awesome.
Paste: Being an asshole is part of his persona.
O'Neil: He's great.
Paste: Are you guys gonna tour with horn players?
O'Neil: We haven't really talked about it.
McCauley: We may use some guys up on the East Coast who we used for Divine Providence.
Chris Ryan: I think we should. And we also put strings all over the record, too.
Paste: Man, if you tour with strings, it'll change the whole vibe of your shows.
O'Neil: It would change, but the songs are particular to that vibe. We've always been a band that kind of—our lives shows are somewhat of a mixtape anyway. We have a lot of stages in the band's career where we've done a lot of different things. So I think it could work seamlessly from one to the other. It'll make more sense when you hear the album.
Paste: This album is called Negativity, so it's pretty dark. What was going on in your lives when you were writing it that put you in the headspace?
McCauley: A lot of stuff. The two biggest things that happened in my life that I wrote a lot about on the record was splitting up with my fiancé. I didn't write about it for a couple of years. I just kind of blocked it out. But I guess I started examining my feelings [laughs]. It was pretty inspirational for me, when I finally took the time to think about it. And then my dad went to jail this year. He'll be gone for a while, and I knew that was coming. That really changed my family dynamic. I had that to work with.
Paste: How long is he away for?
McCauley: Two years.
Paste. Damn. I'm sorry.
O'Neil: You asked the question.
McCauley: Ian and Dennis each have a song on the record that seem to fit in with the general theme of negativity. I don't know where they were coming from writing their songs.
O'Neil: I think just exhaustion. I think we've been putting ourselves though too many long nights for too long. So that kind of became an inspiration of mine for a song called "Dreams in the Ditch." It kind of felt like wringing ourselves of all that we could give and not feeling like we were getting much further than we were before that. Which is different now. I feel different now. I just think in between records when you're touring incessantly, and we had a lot of inter-managerial issues going on with the people we worked with that were hurting our self-esteem a little bit. And so, I guess that was a topic that I wrote about. Dennis, what did you write about on "Time"?
Dennis Ryan: Being whored out. It's about prostitution, but not prostitution in the sense of being a prostitute. Just kind of that trade.
Paste: Is there a particular instance that you feel really captures that feeling for you, or a relationship?
Dennis Ryan: It's about four different things all at the same time that I can keep relating it to, so I just don't know. I know, but I feel annoying talking about it.
Paste: You said something about long nights a minute ago. And I've been thinking about going out too much and having fun and then you wake up and you feel sad about it all of a sudden.
O'Neil: I've thought about it, but in our line of work, there's really no other way to survive being on tour for nine weeks without kind of numbing all of your emotions with substances and exhaustion and things like that. You can get wrapped up—we get off work at 2 a.m. every night.
Dennis Ryan: You need a period of unwinding, so then it's 4 a.m. And then, you need a period of unwinding, and then it's six…
Chris Ryan: We have so many friends we see on tour, and so having people you see in different cities, it seems to perpetuate that, and it's exhausting.
John McCauley: It's hard, you know. You know somebody in a town and you get drunk with them and then next time you come through town, they encourage you to drink more and more. You do coke with somebody once and the next time you come through town, they got you an eight ball.
Paste: And they're trying to do something nice—"It's for you!"
Chris Ryan: That's the thing. You seem them twice a year, and you've been doing this every night, but for them, it's an occasion. For them, it's like, "Oh my god, I haven't seen them in forever." They probably haven't partied too hard for a week.
McCauley: Some of our friends are funny, though. We'll have a show, and they'll get so drunk, they get kicked out before we even go on.
Paste: I have a friend that happened to.
Rob Crowell: Oh no!
McCauley: Deer Tick weekend warriors.
O'Neil: That's also not all of our fans.
Dennis Ryan: Who was that guy who opened up for us the other day? He was like, "I thought you challenged your opening bands to drinking contests! I wanna challenge you!" We don't do that.
O'Neil: They were nice guys though.
Dennis Ryan: Some people have this perception of us. I don't know where it comes from.
O'Neil: I never drink competitively.
Dennis Ryan: None of us do!
McCauley: I think a lot of people love the idea of us getting into a beer chugging contest.
Paste: Do you think you could do this sober?
O'Neil: I did that for a year!
McCauley: I've gone like four days before.
Chris Ryan: We've all done it individually. But I think… like if people try to quit smoking on tour. You can't quit smoking on tour.
McCauley: I'm trying to watch my intake.
Crowell: I definitely think if we all tried to quit drinking, it would be really easy. We could do other things together.
Paste: If your fan base decided to stop drinking with you, do you think they'd have the same experience?
McCauley: I think 90 percent of our music you can have a good time to not matter what.
Paste: But, like, having a drink and enjoying the music go hand in hand.
Dennis Ryan: That's like going to a Wu-Tang show and not having a blunt.
Crowell: You may think that's true, but we were playing a show in Las Vegas last year and there was this wasted guy up front, and there were some other people there more or less sober, and he was ruining their good time. But they were enjoying the music. Some people who don't drink, I think they live vicariously through the music.
McCauley: If I were to quit drinking—and I would never be happy with myself if I couldn't have a glass of wine with dinner—but I wouldn't advertise it. I wouldn't be like, "Hey look at me! I'm sober!"
Crowell: I think advertising it either way is lame. I don't think we've ever done that, but the stigma has stuck. We've never gone out and said, "We're a drunk band!"
McCauley: I've done some incredibly stupid things [he pauses to grab O'Neil's attention as he goes inside]. Will you grab me another Amstel Light?
Crowell: We get a lot of really exaggerated reports of our drinking, which doesn't help us at all. I came out with a couple of beers and a bottle of Bulleit, and I think I had one of the beers and poured a little Bulleit into a glass. And then I read this review that said, "And during the course of the show, Robert drank an entire bottle of Bulleit and a six-pack."
Paste: That's just bad journalism.
Crowell: That's the sort of thing that perpetuates that. You don't have time to drink that much during a show!
Chris Ryan: We played a show in Denver, and between every song, someone would go "Chris, I brought you these beers!" And I'd go and take three beers and put them in the back of the stage, and by the end of the show, I had, like, 18 beers sitting back there.
McCauley: Maybe we should go on tour where we don't even play. We just sit at a bar and drink. People can figure out our true drinking habits.
O'Neil: Let's do a tour where we drink and our fans play for us.
Crowell: We'll supply the backline and people have to sign up to play.
Paste: I wouldn't enjoy that show.
O'Neil: No, nobody would.
Paste: You guys are masters of creative tour ideas.
McCauley: If only that meant we could make money.
Paste: Y'all did a few shows of just Nirvana songs, [Deervana]. Is there another band you'd like to do that with?
Crowell: Def Leppard.
Dennis Ryan: Would that be Deerf Leppard?
[everyone laughs]
After some more light banter and a few last swills of beer, the band prepared to walk a few blocks down the road to a nearby supper club house, where some local friends were getting a 191 lb. hog ready for a pig roast the following day. As Chris Ryan stood up to leave, his phone buzzed; it was his mother, responding to his prank text from earlier in the day—"I don't even want to speculate," was all she said.
Others Tagged With