Disney Eyeing A Muppets Broadway Production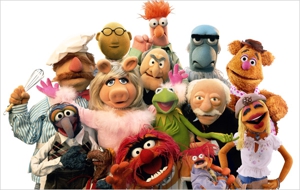 Miss Piggy just might be able to live out her dream of stardom—in the form of a Broadway production. Disney Theatrical is attempting to put together a live stage show featuring the Muppets.
Disney quietly assembled a short test-run of a production last month with a brief but elaborate showcase that was presented to a few Disney Theatrical staff members and select others attached to the project, Variety reported. The show used more than 85 Muppets and was meant to test whether a Muppets live-theater performance would even be feasible.
"It was a test of concept," said Thomas Schumacher, president of Disney Theatrical Group. The 15-minute show featured pre-existing Muppet material such as Kermit's "Rainbow Connection."
The Muppets were most recently featured in their self-titled 2011 film featuring Amy Adams and Jason Segel. The sequel, The Muppets…Again! will be released March 21, 2014 and will star Tina Fey and Ricky Gervais.
We can't know yet whether a Muppets Broadway show will actually happen, but Shumacher said he was "very intrigued."
Got news tips for Paste? Email news@pastemagazine.com.