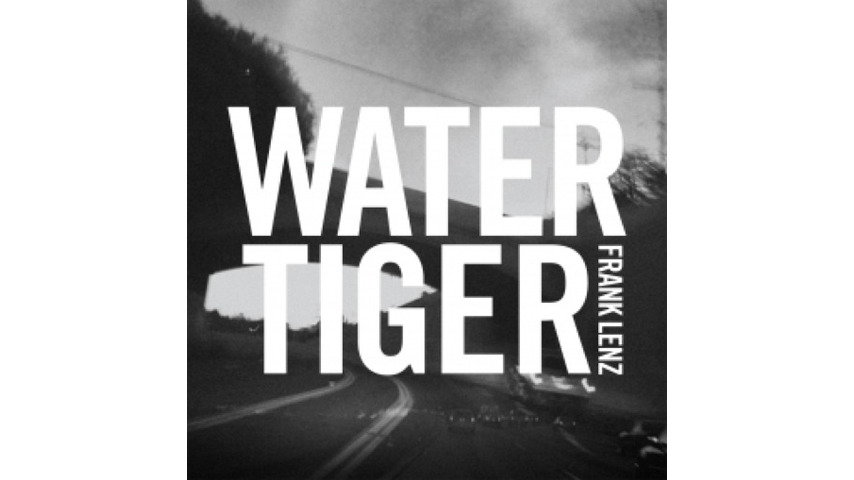 For as long as there have been rock and roll bands, there have been jokes about rock and roll drummers. While a select few such as Keith Moon, John Bonham and Stewart Copeland are given near-God-like reverence, countless drummers—talented ones, at that—often toil in anonymity as they pound out a song's backbone. Furthermore, jokes frequently concern their disposability, whether this means they quit, are fired or—in the case of This is Spinal Tap—spontaneously combust.
California musician Frank Lenz has, for more than a decade, made a living as the drummer for a variety of different bands. With his latest solo release, Water Tiger, however, Lenz more than proves that he's much more than just a beatmaker for hire.
A seasoned session musician, Lenz has made a name for himself contributing his drumming skills to the likes of Richard Swift, Pedro the Lion, Starflyer 59 and The Weepies. Besides his work behind the drum kit, however, Lenz has amassed several solo albums, most recently his 2012 Vacation EP.
While Vacation demonstrated Lenz's love for classic, catchy pop hooks, Water Tiger finds Lenz pursuing a much more unconventional project—a (mostly) vocal-free instrumental record whose tracks boast such outrageous, joke-y titles like "Make a Fist and Punch a Raccoon," "Jolly Sassy Opera Singer," "Oh Key Dough Key," etc.
Water Tiger kicks the proceedings off with "Complex Miles and His Undersea Adventure," a jaunty yet atmospheric number that builds upon layers of synth sounds before making several brief respites into a ethereal electronic wailing. As strange as it is charming, the track is one part Zen garden music and one part quirky, indie movie soundtrack.
The soundtrack element certainly makes sense given that Lenz has previously contributed music to several smaller independent features such as the Jesse Eisenberg-starring comedy Holy Rollers. Here, Lenz's most immediate influence appears to be Jon Brion, specifically the kind of offbeat numbers Brion composed for the early films of P.T Anderson like Boogie Nights, Magnolia and Punch-Drunk Love.
After "Complex…" and the equally upbeat "A Kill, He's Healed," the album slows down with the aforementioned "Make a Fist and Punch a Raccoon" and the lovely "Pentasynth."
Overall, there is much to like in Water Tiger. Unfortunately, as the 15-track album reaches its mid-point, the compositions soon begin to feel more and more like background music, and the songs start to mush together into an indecipherable mass. While the sheer oddity of songs like "Two Nudes Make a Right" and "Bare Knuckle Uncle"—which sound the illegitimate spawn of Jon Brion and Sufjan Stevens— are engaging enough to break the mold, other tracks like "Smooth 90s," Hey Be Us Corps Us" and "Oh Key Dough Key" serve as lovely tracks that nevertheless quickly fade from memory.
The rest of album continues in this ambient, synth-heavy manner right up until the final track, which tosses the listener such a curveball that many will no doubt be checking to make sure their player did not switch to an entirely different album.
Entitled "Debts Lance (for bella)," the track sounds akin to something one would hear at a beach party in the 1960s. Anchored by a surf-rock riff and some old-fashioned, propelling drums, the song features Lenz and what sounds to be a random gathering of singers blurting out the lyrics like a group of drunken friends at karaoke night. The song's simplistic, slightly sloppy, yet fun-loving approach is certainly far from the meticulously constructed soundscapes that have defined the previous 14 tracks. While its placement on the album is questionable, to say the least, the absurdity is a more than welcome departure from the sameness that defines the album's latter half.
Water Tiger marks a fascinating experiment for Lenz and one that helps demonstrate the scope of his already established talents. While a tighter runtime might have benefited the overall product, the album's occasional lapses only help to further highlight the successes. Drumming may be Lenz's call to fame, but Water Tiger shows without a doubt that he's as far from disposable as one can get.
Others Tagged With