The Daily Show with John Oliver Review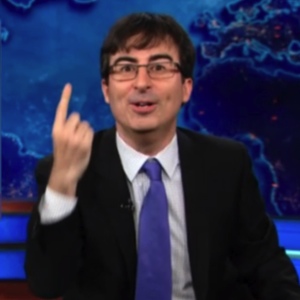 First day on the job, and there was really no time for jitters. Jon Stewart may be off directing a movie (or off in Italy "to learn how to cobble shoes"), but the news doesn't take a vacation. Thankfully Stewart didn't take The Daily Show's crack writing staff with him during his 12-week hiatus to direct the drama Rosewater. And John Oliver's first episode had plenty of laugh-out-loud moments, several at his own expense.
Most of the show was devoted to Oliver's first new segment, "Good News: You're Not Paranoid," a response to the revelations that the NSA is monitoring Internet activity along with millions of phone calls of U.S. citizens and foreigners alike.
The show took an almost defeated approach to government spying, punctuated by guest Seth Rogen admitting he wasn't really surprised or worried and honestly hadn't thought about it until that very second. There was criticism in the form of exposed hypocrisy (the Moment of Zen showed a then-Senator Joe Biden complaining about what an intrusion of privacy the collection of meta-data would be, even if the government wasn't listening to calls), but there was little of the thinly veiled anger that such hypocrisy often elicits from Stewart. Instead, Oliver played everything for the (often-funny) joke.
The correspondents looked like they were enjoying themselves, taking shots at Oliver for landing the gig they were all passed over for instead of reporting on the actual NSA story. Particularly funny was Samantha Bee's over-the-top Cockney accent.
What mattered in the end, though, was that Oliver grabbed the mantle with both hands and assured the show's legion of fans that even though the government may be watching us a little too closely, The Daily Show is keeping an eye on them, too.
Others Tagged With