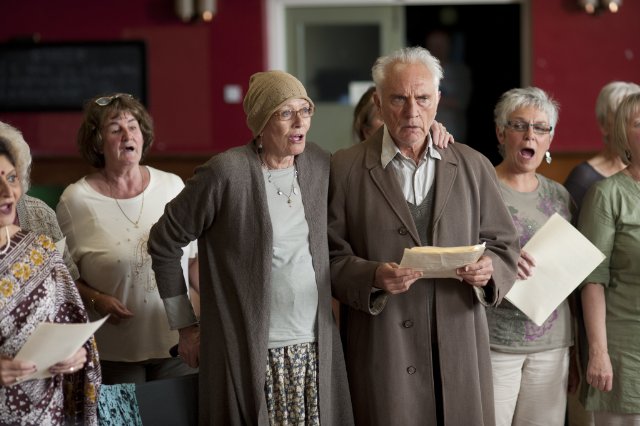 Unfinished Song, written and directed by Paul Andrew Williams (London to Brighton, The Cottage), is a British film that's sure to fly under the radar this summer, which is a shame since it's an entertaining little story about love, regret and aging. The always-stellar Vanessa Redgrave stars as Marion Harris, a British pensioner (retiree) who's fighting cancer. Her favorite respite is the time spent at the local community center with her friends in the senior choir, something her grumpy, but doting, husband Arthur (Terence Stamp) can't quite grasp.
The choral group is led by the plucky director Elizabeth, played with a pleasing earnestness by Gemma Arterton. She picks unconventional pop song choices for the choir, such as "Crazy" by Gnarls Barkley and "Let's Talk about Sex" by Salt-N-Pepa. She even names them the OAP'Z (Old Age Pensioners). The "z," she says, is to make the name "more street."
While the choir is there largely for comic relief, playing up the senior shenanigans and joint-pain jokes for laughs, the film really focuses on the family dynamic between Arthur, Marion and their son, James, played by Christopher Eccleston. Marion serves as a buffer between father and son, who bristle in each other's company. (Arthur has always been closed-off emotionally with everyone but Marion.) This focus allows Unfinished Song to explore different territory than the 2007 documentary Young@Heart, which covered the triumphs and troubles of a pop-singing senior choir.
When Marion's health takes a turn for the worse, Arthur becomes more reclusive and cantankerous. He pushes his own son away, but odd-duck Elizabeth, who seems to have no friends her own age, refuses to let Arthur go gently into that good night. She helps him find his way through her (and Marion's) love of music.
Without giving anything away, the script takes an approach to the story that is decidedly more British than American. Yes, there are maudlin moments (and how could there not be when you make a film about senior choirs, cancer and family relationships?), but there are many other scenes that help keep things grounded in reality.
First, the singing isn't pitch-perfect. Like many of the church choirs and community chorales we've heard, there are members who can keep a tune and others who can't. Together, these seniors sound good, but their vocals aren't mind-blowing. There's not a camera-ready songbird like Lauryn Hill or Anna Kendrick among these blue-haired members, either.
Second, you won't find a thrown together or forced love story in Unfinished Song. In an American version of this film, we'd envision a romance springing up between single-dad James and Elizabeth, just to market to a younger audience. But Williams keeps the love story centered on Marion and Arthur, who argue and fight and love, well, like an old married couple.
Unfinished Song is a semi-autobiographical film for Williams, but the themes are universally appealing. Many people can relate to the father-son dynamic in the film, as well as how cancer—or any serious illness—can change a family for better or worse. Redgrave and Stamp are terrific together as a couple who've been together long enough to overlook Arthur's faults. In a pivotal scene, she pours out their story in song before the whole community, with Redgrave taking a solo turn on a Cyndi Lauper tune. Yes, it's a little sappy, but that's exactly the point, and fits the character.
While Unfinished Song is being billed as a feel-good movie about British pensioners entering a choral competition, it's really about learning to live out life's twilight years without regret. It's raw, emotional and sentimental, so don't forget to bring the tissues—and lots of them.
Director: Paul Andrew Williams
Writer: Paul Andrew Williams
Starring: Terence Stamp, Vanessa Redgrave, Gemma Arterton, Christopher Eccleston
Release Date: June 21, 2013
Others Tagged With