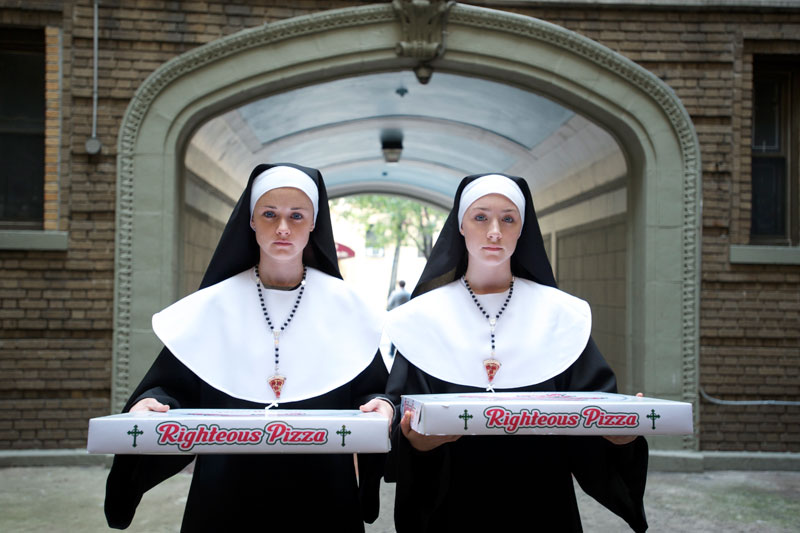 Violet & Daisy is a cinematic pop mashup replete with references to comic books and Harajuku girls, following the exploits of two teenage assassins, Violet (Alexis Bledel) and Daisy (Saoirse Ronan). The duo kills for hire in order to make their rent, indulge in sweets and buy the latest fashions. They instantaneously turn from shotgun-toting killers to tricycle-riding, patty-cake-playing girls, over-exaggerating the stunted emotional growth of these characters.
Essentially, the film is Tarantino-ultralite—just without the crisp dialogue, graphic violence or much of a plot. But thanks to the cinematography by Vanja Černjul and the production design by Patrizia Von Brandenstein, Violet & Daisy looks better than the action onscreen.
Billed as a "hybrid of New York City crime fable and existential coming-of-age drama," the film is the directorial debut of Academy Award-winning screenwriter Geoffrey Fletcher, who won for Precious, adapted from Sapphire's novel Push. Like Precious, Violet & Daisy focuses on teenagers in New York, but that's where the similarities end. Whereas Precious takes a gritty look at life in the city for an abused and battered girl, the New York in Violet & Daisy is a dreamlike, yet sterile place. While each of the girls' futures are uncertain, we at least get a fully developed character in Precious—something that's missing from Fletcher's latest offering.
Though they'd like a break from work, the two hired guns take on a job specifically to buy the latest Barbie Sunday dresses. Sunday is their Taylor Swift-like idol (a small role played by Cody Horn), and the cancellation of her upcoming concert perturbs them more than their most recent killing spree. They think their latest job should be a piece of cake. They lie in wait at the target's apartment, then promptly fall asleep on the sofa. When Michael (James Gandolfini) comes home, he does something unexpected: He throws a blanket over the assassins, essentially tucking them in. When they awake, they're even more shocked when he offers them fresh-baked cookies.
It turns out that Michael's not surprised they've come to kill him. In fact, he'd like them to do it since he's living a sad existence. His life's biggest regret is his estrangement from his daughter, who's about the same age as his killers. A huge part of the film takes place in his apartment, where the three talk about life and other things. He wants to impart nuggets of wisdom on these two girls, who are serving as proxies for his daughter.
While we've seen Gandolfini on the opposite end of this hit man genre, he manages to bring a bit of Soprano braggadocio to his performance as someone who's not afraid to die. Bledel's Violet is definitely the tougher talking among the two hit-girls. Her emotional growth from the encounter with Michael is not as marked as it is on Daisy. Ronan's subtle performance as a teen murderer going through a crisis of conscience is one of the more captivating to watch in the film. (Unfortunately, the film's great supporting actors like Marianne Jean-Baptiste and Danny Trejo aren't given much to work with.)
Fletcher tries to combine the genres of fantasy, fable and existentialism in Violet & Daisy, and while the premise is creative and admirable, the end result is a disjointed film that's probably about as satisfying as a Barbie Sunday concert.
Director: Geoffrey Fletcher
Writer: Geoffrey Fletcher
Starring: Saoirse Ronan, Alexis Bledel, James Gandolfini
Release Date: June 7, 2013
Others Tagged With