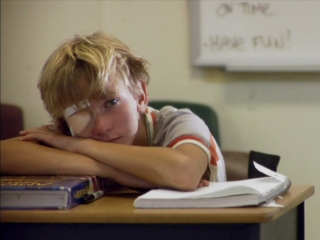 It's immediately apparent that 11-year-old Stephen (Eric Baskerville) is one of those kids. Seemingly born luckless, there's nothing particularly wrong with him but there's also something not quite right. Incapable of ingratiating himself to anyone, he's grown accustomed to following in others' wakes. And when he suffers a gruesome freak injury at the outset of writer-director Matthew Petock's debut feature, it hardly comes as a surprise. Despite having known Stephen for only minutes, we understand that this is exactly the sort of thing that happens to him.
The other members of Stephen's family bear less conspicuous scars from their misfortunes. Minus a father figure, 15-year-old Marc (Parker Lutz) turns to his dirtbag boss for romantic advice. At his urging, he pressures a shy girl (Catherine Andre) into becoming his girlfriend. Seeing how easily she acquiesces, he continues to wear down her resistance. Meanwhile, the boys' thirtysomething mother, Sheryl (Sayra Player), can only dream of such attention being lavished on her. A fixture at the social mixers held in a rural Virginia community centre, she makes a practice of drinking a little too much and losing her nerve.
Having debuted on the festival circuit in 2011, A Little Closer occasionally recalls David Gordon Green's George Washington, employing similarly lush lensing courtesy of Daniel Patrick Carbone but dispensing with the overt lyricism. And if this year's The Kings of Summer celebrated the season's capacity for storybook adventure, Petock's film reminds us that it can also be a time defined by drudgery. Each member of this family is caught in an uninspired routine, with Stephen daydreaming through summer school, Marc hosing down used cars and Sheryl toiling as a housekeeper.
Much like Carbone's directorial debut, Hide Your Smiling Faces (which premiered at this year's Tribeca Film Festival), A Little Closer provides a perceptive study of the dynamics between two brothers when one is on the cusp of adolescence and the other caught in its thrall. While it's evident that Marc is driven solely by his red-lining libido, Stephen is guided by more complex and sometimes conflicting impulses. In one scene, he's cajoled by some young thugs into hurling rocks at abandoned cars before tagging the vehicles with spray paint. Without Baskerville uttering a word, we watch his delight over the temporary acceptance that the wanton destruction has earned him become desperation as he immediately fears losing the foothold he's just established.
Time and again, Petock's characters achieve their immediate aims only to have their newfound sense of empowerment overwhelmed by their longstanding insecurities. Never is this tendency more captivatingly portrayed than in a masterfully staged scene in which Sheryl is finally escorted onto the dance floor by a new admirer (Chris Kies). As the music plays, she slowly eases into his embrace. However, as the camera holds on Player's face, we see trepidation assume control of her as she considers what will happen once the song fades out.
As a director, Petock's greatest attribute may be the patience he displays in allowing scenes to languidly unfurl with silences rather than dialogue often conveying the key concessions and decisions that are being made. As a writer, he thoughtfully explores both the intimacy and incremental progress alluded to in the film's title. After mapping out different courses by which each character travels through the film, he allows them to reconvene in a graceful denouement having somehow grown closer and taken a collective step forward.
Remarkably assured in terms of both tone and craft, A Little Closer suggests that Petock is poised to take a great leap forward with his next feature.
Director: Matthew Petock
Writer: Matthew Petock
Starring: Sayra Player, Parker Lutz, Eric Baskerville
Release Date: June 25, 2013 (VOD)
Others Tagged With