Arsenio Hall Talks Late-Night Return at TCA Press Tour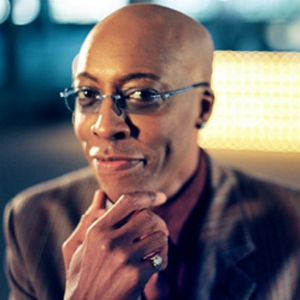 From 1989 to 1994, Arsenio Hall's late-night talk show was the place for iconic moments. Generation X remembers candidate Bill Clinton playing the saxophone and Magic Johnson revealing he was HIV-positive on Hall's show.
Hall returns to the format that brought him fame with a revival of The Arsenio Hall Show, which makes its premiere in national syndication on Sept. 9. Speaking with television critics assembled for the semi-annual Television Critics Association Press Tour in Beverly Hills, Hall acknowledged that the late-night landscape has changed dramatically in the almost 20 years since his first show went off the air. But, he promised essentially the same show but with "less hair and less shoulder pads."
"You know, it's me, kind of the same guy, being put into a whole generation of new talent and new opportunities" he said. "I'm coming back because I love to make people laugh. If you're looking for a message, you can go to Western Union. I'm not really that guy."
Since he left the late-night game, the world has gone digital. No more booking guests via fax or having to use "three People magazines to confirm" a story. "I can't wait to write jokes and do comedy and prepare interviews in this digital world. It's incredible," he said.
The digital world also means it is even more difficult to get people to tune in. "One of the biggest challenges…is to get people to even make an appointment to watch TV and not say, 'I'll watch Fallon yodel tomorrow,' because you have that ability to Google anything and find anything that's been on."
And just as he offered an alternative to Johnny Carson many years ago, Hall believes he'll once again bring something new to late night. "I found people that maybe wanted something that didn't exist on the Carson show. And that's what I'm going to do this time around: try to find those who don't have a host."
Got news tips for Paste? Email news@pastemagazine.com.
Others Tagged With