Catching Up With Dale Earnhardt Jr. Jr.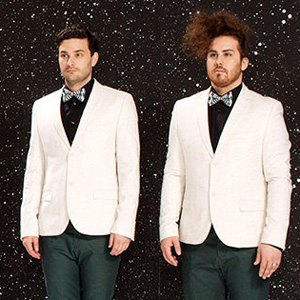 Although it's only been a few years since Dale Earnhardt Jr. Jr. dropped its fantastic debut, It's a Corporate World, the band has been gearing up hard for its second offering. Their sophomore album, The Speed of Things, is set to be released this fall via Warner Bros. records.
In the meantime, frontman Daniel Zott made an appearance on Arrested Development, spending his on-screen time arguing with Michael Cera over his off-tempo woodblock playing. But in real life, Dale Earnhardt Jr. Jr. just put out a new EP to tease the album, titled Patterns. The lead single, "If You Didn't See Me (Then You Weren't on the Dancefloor)," is a straight shot of aural sugar, an undeniable earworm of a track that should be making its rounds across radio waves and clubs alike nationwide. We spoke with Zott and Josh Epstein about new tunes, TV appearances and sticking to your guns on a major label.
Paste: How did the Arrested Development opportunity came about?
Daniel Zott: Mitch Hurwitz, the director, [saw a] shot from like a year or two back. I had shorter hair and glasses. And what's interesting is that I just showed up and my hair was totally grown out. I was way more scruffy and my glasses off, and when I showed up he didn't recognize me. He thought I was the wrong guy. So they had to figure out how to make me look like me, but it worked I guess.
Paste: Have you been looking for a lot of work on-screen?
Zott: I was just taking opportunities that were given to me that were a lot of fun. I'll take more if more of it will come. What's fun is Josh is really good with on-screen—he's actually way better than me. He's wittier than I am. So hopefully he'll get some…we are hoping that we can do more stuff like that because, you know, I think we're okay at it. But we'll see. You know, I don't do everything, but I do ones that I feel are fun and go well. I mean I love that show and I've watched every episode, so it was kind of a no-brainer.
Paste: You must have been pretty excited to get that call.
Zott: Heck yeah, I didn't believe it. First of all, I didn't believe they were making another season. You hear about it but then you kind of doubt it, but once I got that call it was like two things at once. It was like, guess what, we're actually going to make this and I'm going to be in it.
Paste: Were the producers aware you were in Dale Earnhardt Jr. Jr.?
Zott: I don't know if he necessarily knew that. I don't really know. He might have known…I just was very thankful and just did my job, and hopefully I didn't ruin the scene. So, it worked out, man.
Paste: What was it like arguing with Michael Cera over music?
Zott: It was really fun, man. You know, the thing that stood out to me was I had never seen like a really good actor do their thing, so it was unreal to watch that, and it made me appreciate that form of art a lot more. He would walk up to me and start reciting the lines. It was so natural, I thought he was trying to have a conversation with me, and then I'd midway through realize, 'Oh my god he's acting. I have to say my lines.' I would get caught off guard because he'd dive right into it. He was so natural. It was really fun to watch, and it made me realize that I'll never be a good actor because I cannot memorize that many lines, and I just can't do what he does. But it was cool to see that.
Paste: Can you tell me how it's been introducing your new songs?
Zott: Yeah, we've been pleasantly of surprised, when we first went out for our Horse Power EP, no one really knew the songs, and people had fun, but it wasn't like this. We are going out there and we are playing six new songs. Two of them are from the new EP and a bunch of other ones from the album that's about to come out later this year. "If You Didn't See Me (Then You Weren't On The Dancefloor)," it's like a crazy—I don't know how to describe it. I just feel like I'm at a massive party karaoke sing-along. It's really fun though. So it's been really enjoyable to, right off the bat, play these songs and have a crazy good reaction to them. It feels—after years of working on the songs and finally getting to go out and play them, it's a good feeling.
Josh Epstein: So far it's been awesome….The thing that makes me feel the most uncomfortable [at a live show] is when I watch a band and people only cheer for their old songs and people don't cheer for their new songs. The first show that we played after releasing some new songs, you know people are excited to hear songs that they are familiar with, but the biggest cheers that we've been getting have been for the new songs. That's actually been really encouraging, and it kind of feels almost like a moving organism as opposed to sort of relying on past moments of glory. It's been very exciting.
Paste: Has adding a fourth member freed up the way you're doing things in the studio?
Zott: Yeah, I think in general, we haven't really thought about how to do the songs live when we record them. We're just recording them. So I don't know if it influences the recording, knowing we were going to have another hand.
We didn't make the record thinking about it but it definitely has freed us up to—you know, a big thing for me everything that's like—the electronic beats, we have a drummer who plays along with that and does his own electronic stuff too, and then we have someone always playing bass, and before sometimes it would be a synth that was in the track, and now it's played, and it gives it such a great live feel. It does free me up for a couple songs to just run around and enjoy singing and dancing and not having to stay behind a keyboard or stay behind a guitar. So I really enjoy that freedom a lot.
Paste: We've heard the new EP, but can you tell me a little bit about what audiences can expect from the new full-length?
Zott: Yeah, I think it's a lot like the Patterns EP in the sense that there are very engaging and dancy-type songs and they are more towards that pop feel that we've just always been doing, but I feel it's just a clarified, more mature vision of it. But then there's also the songs that like—sometimes Josh and I get weird, and we're cool with that too. We like covering all the different bases. And we think that we're good at it, and we thing that we can do it, so we try to portray all of those different elements on the record.
So there's some of that stuff and then there are some songs that take a really long time to develop and are darker lyrically. There's a lot more deep stuff in it. But I think that people who liked the first record, you're gonna like this record for a lot of reasons, but you're going to also think there's some growth. I think we've just made better music where it sounds better sonically. We're getting better at recording. I mean we did it all ourselves again—me and Josh and then my friend Ben West helped us produce it and he did some stuff on our last record too. He had a bit more of a hand in it this time, and I think it definitely shows because of that.
Epstein: I think that the EP is a really good overview of elements that we are drawing from on the new record. There's "If You Didn't See Me" and then you know there's "Dark Water," so I think it's kind of like that, it kind of captures this essence that the record draws from, and part of it is in the same vein as "If You Didn't See Me," but there are also tracks that are six minutes long and take their time developing. I think in general, it's a way more cohesive record than the last record, like the last record really was scatter-brained. It was the two of us getting together whenever we had time with other shit that was going on, and you know, just like working on whatever song we thought to work on at that time, and I think making this one was actually like a process of making a record, where we were writing songs that sounded alike and keeping things going throughout the record and I think generally it's way more cohesive and it's a more palpable experience than the first one.
Paste: Do you prefer working out of your home studio?
Zott: I mean, we do prefer it that way, but I think you have to fight for that. You have to really believe that you can do something well, and you have to prove that you can do it well. I think with the first record, there was a little bit of that going on, where they signed us after we had already made the record and they were willing to put it out as is, and they were building a trust with us. And so when this record came around, they were thinking about going somewhere else, you know, maybe we should have someone else produce it or mix it but we kept proving to them that we could do this and that. We're growing and learning ourselves and maybe we can be the next big producers or the next big songwriters.
So it's really cool to me that they've shown us so much trust. And even though we do have to fight for it in a lot of ways, just being like "Listen, trust us, we know what we're doing. We want to mix it." And eventually they liked it. There's a lot of pride that comes with that. I'm really happy with it, and I'm really happy that we stuck to our guns and said that we could do it and that we delivered on it. It's a good feeling when you're on a major label and you can do that.
Paste: So you fought for the self-production, but in the end you brought them something that fit the bill.
Zott: Yeah, I guess it's one thing if we fought for it and then they thought it was trash, but we did what we wanted to do, and at the end of the day they're super happy. They think we have quite a few singles. They love the whole record. They love all the different lyrics stuff on the record too. They've really been unbelievable.
Paste: You said the album includes a lot of different elements. Do you think it's easier to write a more direct song like "Dancefloor" or the slow-building tracks?
Epstein: I don't know, I think we are little different. I think Danny probably gravitates toward a longer form, and my songs are very direct, but lyrically, I think Danny is more direct…I mean we both have our hands all over each other's songs so much that it's hard to say who did what. I think Danny's more of a laid-back guy in general, so he's more into things that are longer, and I'm more into like tidy, concisely wound packages.
Others Tagged With