Catching Up With Daniel Ellsworth and the Great Lakes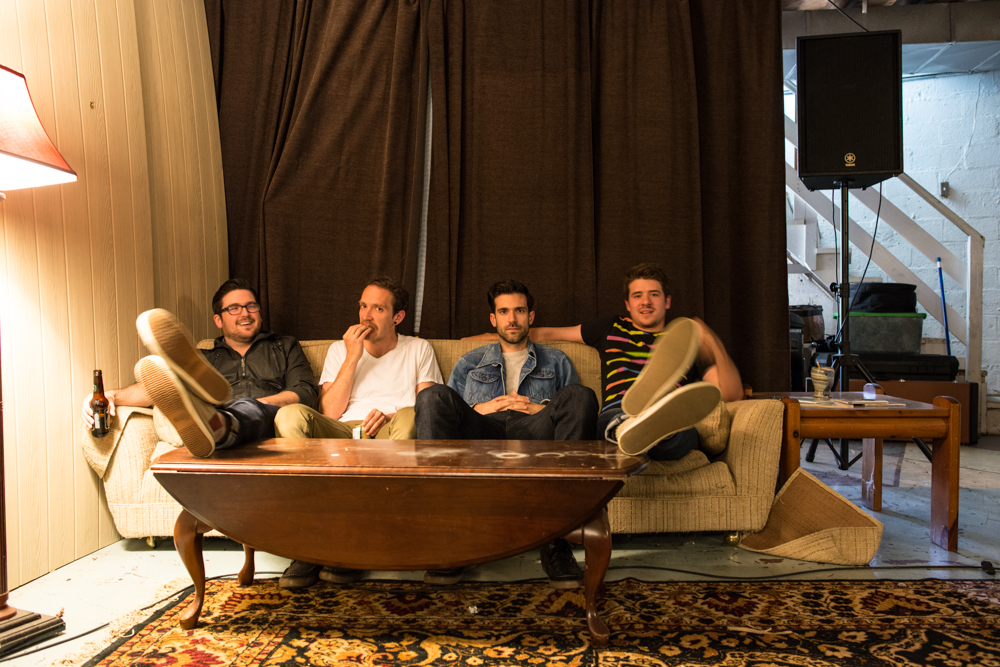 There's very little you can guarantee in life, but one of the surer bets is that Daniel Ellsworth and the Great Lakes will make you dance. Whether it's around at a show, in your living room or at a stoplight when you think no one is looking, the Nashville indie outfit's contagious sound has a way of getting those feet a-moving and that head a-bobbing, whether you like it or not.
Lately they've been sequestered in a nondescript studio in Nashville proper, holed up with copious amounts of coffee, bourbon and cheap lime-flavored beer recording their next album. We caught up with them on one of the last days of actual recording, where they were about to put to tape some large group harmonies with a small army of friends and family.
Paste: So you just about wrapped up in the studio—was this recording experience any different from the norm? How so?
Daniel Ellsworth: Definitely. We were much more confident as a band going into this record than we were on our first record. That's not to say that we weren't confident on our first record, but it was at a new level. We came in having much more of a sense of direction than we did previously. It was also the first time that I felt really strongly about everything we were doing the entire time. We were playing really well and everything was sounding amazing. Working with Vance Powell [Jack White, Raconteurs, The Dead Weather, The White Stripes] was like magic. That guy is a wizard. A total badass. The combination of him being so badass and us being really prepared made the process really seamless.
 
Marshall Skinner: We decided to do the record on 16-track tape and record completely live. No click, no metronome, no quantizing. We want people to make the connection to our live performance, and by recording and releasing a record that is tracked very similarly to how we perform live, we feel it best represents our vision for our music.
Timon Lance: It was pretty different in the sense that at least three of us wore pants the whole time. I don't know for sure, but I think Vance [Powell] intimidated us in that way; we kept our clothes on and Joel didn't bite anyone. We also tracked this album live to magnetic tape. All of the basic tracking was done at Sputnik Sound in Nashville, the Great Lakes in one room, Daniel isolated in another. There should be some great video footage of that whole process coming out later this summer.
Paste: How is the new material different from the older stuff? Why?
Lance: Comparing the new songs to the previous album, Civilized Man, this was a heavy, collaborative effort. It was heavy in the sense that all of us were insanely focused during the process; like, we were Jessie Spano caffeine pill-focused. We were incredibly prepared to do this thing. The songs reflect what we've been doing the last year, personally and musically, and capture the "live" sound that we've developed while touring. We're a live band. This record breathes that way. Also, Joel Wren played the shit out of the drums on every track. In related news, some of my hearing has turned up missing.
Ellsworth: Our first record was really a hybrid of older material I had written, and newer material that we wrote/arranged as a band. Because of that, that record has a lot of stylistic diversity. That's just a fancy way of saying that it lacked some direction. We were a new band and we were trying to figure out what that meant. The diversity on that record is actually something that I love, because in it, I can hear the foundations of a new band figuring out who they are—but this time around, we knew we wanted to be more focused, to have more direction. I think that happened naturally, because we were writing everything together this time around.  We were building everything as a band.
Joel Wren: Yeah, the new material is 100 percent us as a band. Timon would suggest a drum part for me, I would suggest something for Marshall to play on bass, etc. With all of us being so involved in the writing process, we're hoping for a very strong, cohesive sound on this new record. We've also toured a lot more since the release of Civilized Man. Our live show has become so much of who we are and what we do, that we had to find a way to get that to come across on this record. Hence, the beer and whiskey at 9 a.m. on our tracking days. 
Paste: When you sit down to write a new song, what is the process, and what do you try to convey? What part comes first?
Ellsworth: This time around was an entirely new process for us. I was coming to the guys with bits and pieces of progressions and melodies, and then we would take those and build the songs from the ground up as a band. After we had the songs where we wanted them musically, I went back and wrote all the lyrics. If you play the new record backwards, it's instructions on how to make a ham sandwich.
 
Wren: Once a couple of us are familiar and happy with our specific parts, we figure out if that's a verse, chorus, maybe a bridge, whatever, and then move on to another part. Once we nail down all the song elements—a section, b section, verse, bridge, chorus, etc.—we then decide on intros, outros and transitions. I just wanna make music that we enjoy playing live and that other people enjoy listening to whether it be in a live setting or on a recording. Yes, I realize how cheesy that is.
Paste: When can we expect it, and does it have a name yet?
Lance:  We're still discussing the name of the album, album art and design. If I had to leak a hint on the direction we're thinking, it would probably be "Jumanji."
Ellsworth: We don't know for sure yet—we're hoping for a fall release, but that's still up in the air. Album title? We're thinking Hot Lettuce. Either that or Probably Pants.
Paste: What's next? I know you're headed to North By Northeast, will you be touring up and back? Any national support tour for the album coming?
Skinner: The sky is the limit. I mean, we're trying to put this record into peoples' hands, and touring is the best way to get your music out there.
Lance: Yes, we are touring up and back from NXNE. We're performing in most of the Great Lakes region, including Chicago. Then on to NYC, performing in several cities down the East Coast to Florida. As far as a national tour in the fall, yes, yes, yes. We will be doing a West Coast tour during all of September. After that we'll be back to the Midwest and northeast in October. Touring is one of our favorite things, and it's really helping Marshall grow up into an adult, too, which is a plus. It's going to be a busy 2013, but the more dates the better. Lots of Red Bull and PEZ will be consumed, I can assure you.
Ellsworth: After the album is released, you can be certain that we'll be touring until we can't see straight. Or until the wheels fall off the van. Or until liquor stores run out of whiskey.
Paste: You guys are from Nashville, but aren't decidedly of the traditional "Nashville vibe," i.e. country or honky-tonk type music. How did you arrive at your style?
Lance: We all arrived in Nashville with pretty specific musical identities, and they're all fairly different. That's probably the case with a lot of bands. I came with a goofy mix of '50s and '60s rock and roll and a lot of old country and folk-blues stuff. The other guys brought some heavier-hitting influences or jazz or pop-based stuff. Where all of that meets, I suppose, is this danceable and somewhat dark and introverted rock music that's pretty easy to identify with. When people ask what kind of music we play, I usually just tell them "rock 'n' roll." A lot of times it's referred to as "indie rock," whatever that means to you. I like either label. 
Skinner: We pushed ourselves to find our niche here. Our most popular single off of Civilized Man was "Shoe Fits," and it really influenced us to find that energy in that song and bring it to every performance. Once we developed that, we tried to bring that live energy back into our writing process, and I think that has really influenced our current style. 
Ellsworth: I'm not exactly sure, to be honest. It's not something that we really think about.  When we all sit down together, this is just the music we write. Musically, we all come from pretty diverse backgrounds, and everyone brings a wide range of influences into their playing. Our first record had some Nashville influence—there's a little bit of honky tonk in there, maybe even a country tinge here and there—but we've definitely ventured further away from that on our newer stuff. We've been referred to as indie-rock, rock and roll, or my personal favorite: indie/synth/folk/popsters. I don't know if we're any of those things—or maybe we're all of those things. Whatever we are, we just hope that people like it.
Paste: What inspires or influences you?
Lance: Speech, jokes, good stories. I often try to imitate the human voice with whatever instrumental part I'm writing. Feedback, effects, bent notes and messing with pitch, those sort of things help get to that. The speaking and singing voices are incredibly dynamic, and it's a challenge to create something that's comparable. If I create a guitar sound that makes me think of Tom Waits' vaudevillian growl or Jack White's quivering vibrato, something like that, then, mission accomplished.
Skinner: I'm inspired by people who do this every day. People who work hard to try and create something to share with people, regardless of medium. I love photography and graphic design, and I know a lot of people in those worlds, so it inspires me to see them creating as well as my bandmates being musically creative.
 
Ellsworth: I like bears a lot. And a nice moderately priced whiskey.
Wren: I think just TV.
Paste: Last words for the Paste audience?
Ellsworth: Sorry about the length of our band name. Be yourself. We love you. 
Lance: Each vinyl copy of the new record might contain a lock of Daniel's hair.
 
Wren: Listen to Peter Gabriel.
Skinner: What do you want on your tombstone?
Others Tagged With