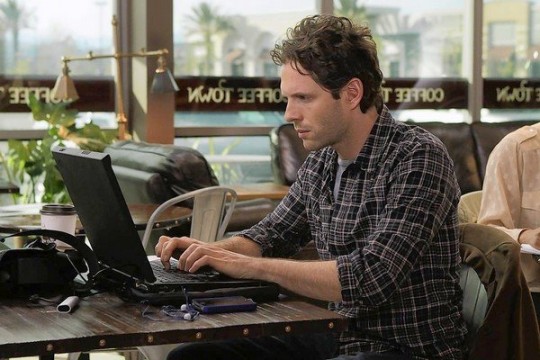 Coffee Town is an office comedy that's not set in an office. Written and directed by Brad Copeland (Arrested Development, My Name is Earl), the majority of the film takes place in a coffee shop, where freelancers, flex-timers and the un- and under-employed gather for the free wi-fi and something akin to human companionship—all for the price of a cup of joe.
Thanks to corporate downsizing of the past few years, it's a much different working world than the ones seen in Office Space (1999) or, more recently, at The Office. In the modern, more caffeinated workplace, the workers are siloed, focusing only on their computer screens. The most interaction between patrons occurs when there's a need to reach for the power outlet at another table.
It's at Coffee Town that we meet computer administrator Will (Glenn Howerton). Working from home wasn't convenient when he had a roommate (Jake Johnson, in a cameo role), but even though his roommate has since passed away, Will still walks the three blocks to the shop, giving him some sort of routine and a place to hang with his buddies Gino (Ben Schwartz) and Chad (Steve Little) while messing with the barista, Sam (Josh Groban).
In a complete 180-degree turn for Howerton, who is best known for playing the self-absorbed and narcissistic Dennis Reynolds character onIt's Always Sunny in Philadelphia, Coffee Town's Will is a really nice guy—but Gino and Sam are idiots. The former is a cop who only became one to pick up girls; and the latter works in an office across the street from Coffee Town. Though not a smoker, Sam hangs out at the cafe during his multiple "smoke breaks." He starts smoking Newport menthols to keep fooling his boss about his time away from the office.
Will pines away for one of the shop's regulars, Becca (Adrianne Palicki), but he's too shy to make a move. He's also being challenged by Sam for her attention. The scenes between Howerton and Groban are some of the film's funniest, with Groban playing a snobby barista-slash-indie rock musician who, as Will explains, "sees people like me as parasites … squatters … in his house of free wi-fi." The two play coffee house games, with Will switching up his regular drink at the last minute or Sam forgetting Will's name and simply drawing a phallic symbol on the cup.
A crisis looms when Coffee Town's owner chooses this particular location to turn into a flagship cafe/bistro. Will refuses to let his office go without a fight—and plans to stage a robbery so that they'll choose another, "safer" location. Nothing could possibly go wrong with that plan, right? Especially when Gino the cop helps plan the break-in. Without giving too much away, the plan goes expectedly awry.
There are several elements going for Coffee Town—Howerton and Palicki are appealing enough, and Groban is a natural at playing a terrible indie musician-coffee snob—but the film doesn't go far enough in exploring these relationships. We'd prefer to have seen more competition and banter between Sam and Will or a little more depth to the relationship between Will and Becca, besides the pining and nervous glances.
The film also has some random elements—a dead roommate, a night of clubbing and taking ecstasy—that don't quite seem to fit. And, as the first feature-length film release from the comedy brand and website CollegeHumor, bro humor abounds. A number of jokes are slightly off color, skirting all sorts of lines—race, sexuality and Down Syndrome are not off limits.
Still, the exploration of the coffee shop as one of the few places left for human contact in an increasingly virtual world is an interesting premise, even if the film fails to fully explore it. Ultimately, Coffee Town feels more like a developing pilot for a TV show than a feature film, more Americano than straight expresso.
Director: Brad Copeland
Writer: Brad Copeland
Starring: Glenn Howerton, Ben Schwartz, Adrianne Palicki, Josh Groban, Steve Little
Release Date: July 9, 2013 (VOD)
Others Tagged With