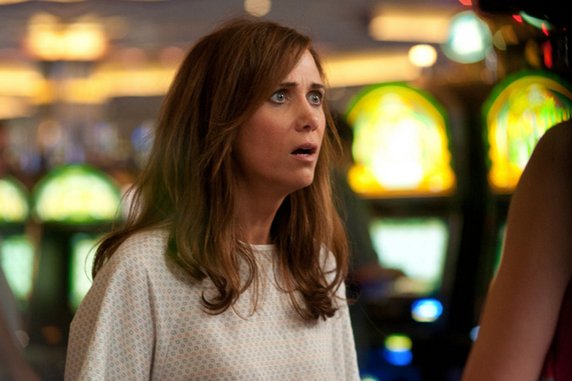 We might expect a film called Girl Most Likely to start with a prologue in high school, or at least a montage of yearbook photos illustrating our protagonist's accomplishments and aspirations as she heads into adulthood before flashing forward to her inevitably disappointing life. But this Kristen Wiig comedy starts earlier than that, at a rehearsal for a junior-high production of The Wizard of Oz, where young Imogene takes issue with the climax of the classic text: Why would Dorothy want to go back to drab, dusty old Kansas anyway?
The scene is an apt setup, establishing Imogene's vocation as a playwright and a narrative metaphor about a woman who comes to learn there's no place like home (in her case, tacky Ocean City, N.J.) after visiting Oz (glamorous New York City). (For more visual cues, keep an eye out for Imogene's red footwear throughout.) Unfortunately, the title, changed from simply Imogene after Lionsgate and Roadside Attractions picked up the movie at Toronto, also exposes the script's sloppy seams. The new title certainly describes the film's themes about untapped potential, but it also draws on that high-school yearbook association without delivering on it. Yes, the title was tacked on long after the film was finished, but the whole project could have used another pass before picture lock.
Despite that explanatory opening scene, we still don't get a clear picture of Imogene (Wiig), or more specifically her goals and dreams, when we meet her as an adult. In fact, we don't see her at all, as the opening credits roll over footage shot from her first-person point of view for no apparent reason (other than very subtle bookend images of her applying lipstick in a mirror at the beginning and end of the film). What we do glean is that she seems well-off, her boyfriend's kind of a cad, and she's awkward in that delightfully Wiig way around her girlfriends.
In short order, she gets dumped for reasons that are as frustratingly vague to us as to her and fired from her job writing blurbs about plays for a magazine. It seems her cleverly vicious takedown of a Tony-winning production didn't meet the publication's needs, but it's unclear how long she's been at the gig or how long she's been screwing up. We do learn, because she says so, that she once won a playwriting grant and was named a playwright to watch, but she seems resigned that that part of her life is over now.
As a result, the stakes are low when she stages her suicide in an attempt to lure her ex back into her arms and is sent to live with her wacky mother, Zelda (Annette Bening), whose foibles are again described rather than demonstrated. Imogene flops around her childhood home, scheming to get back to New York, but without a clear goal for once she gets there, it's hard to figure out what to root for. Along the way, she learns her dad's not dead as she's been told but alive and well and a successful author—upon which news she doesn't, you know, Google him but goes to the library to check out his book. It seems she's technologically stuck back in the 1990s along with the wardrobe she's salvaged from her mother's basement (actually a nice touch that adds to the social anxiety of every scene she's in).
Meanwhile, Imogene discovers that a few things have changed at her mother's house since she last visited several years ago: Zelda has a much younger boyfriend named—get this—George Bousche (Matt Dillon), who claims he's a samurai warrior in the CIA; she's rented out her daughter's room to young, handsome Lee (Glee's Darren Criss), who sings in a Back Street Boys cover band; and Imogene's brother Ralph (theater actor Christopher Fitzgerald) has retreated even further into his literal shell.
Fitzgerald has channeled something really special in his portrayal of Ralph, a seemingly slow sibling who's actually a closet genius—sweet, sensitive, unconditionally loving. This writer could watch his adventures with his Human Shell (based on the anatomy of his beloved mollusks) all. day. long.
Girl Most Likely is benignly amusing, and much of the assessment above is admittedly nit-picky, but like for Imogene herself, expectations are high for the film, Wiig, and directors Shari Springer Berman and Robert Pulcini (of the innovative American Splendor)—and the result, disappointing.
Directors: Shari Springer Berman, Robert Pulcini
Writer: Michelle Morgan
Starring: Kristen Wiig, Annette Bening, Matt Dillon, Darren Criss, Christopher Fitzgerald
Release Date: July 19, 2013
Others Tagged With