Join Paste and Leagues July 9 in Seattle for the American Family Insurance Dream Show
Paste Magazine is inviting you to be our guests next week in Seattle for an exclusive private show.
Nashville band Leagues, featuring Thad Cockrell, will be playing a show at Nectar Lounge in Seattle on Tuesday, July 9 (doors at 7PM). Layering Thad Cockrell's vocals with sounds from guitarist Tyler Burkum and drummer Jeremy Lutito yields a result that's impossible to ignore. Since their debut album You Belong Here was released in January of this year, things have been happening quite quickly for the Nashville band.
Between winning new fans at every tour stop and their single "Spotlight" making our own list of the Best Songs of 2013 (So Far), it's obvious that the band's onto to something new, despite each individual's rich background in the industry.
Opening for Leagues will be Young Evils, a Seattle band that represented the state of Washington in our 50 States Project, where Ryan Bort wrote: "Fronted by the boyfriend/girlfriend duo of Troy Nelson and Mackenzie Mercer, The Young Evils play catchy, sugar-coated pop gems highlighted by a contagious band chemistry and beautiful vocal harmonies. Their music is like medicine, and it's hard not to feel like everything is going to end up being alright after administering a few doses. Since releasing their debut full-length Enchanted Chapel in 2011, they've been making their way around the country, including stops at CMJ and SXSW."
American Family Insurance believes your dreams matter. Just share your dream with us on our RSVP page, and join us in Seattle.
To join us, you MUST RSVP, but there is no charge to come to the show!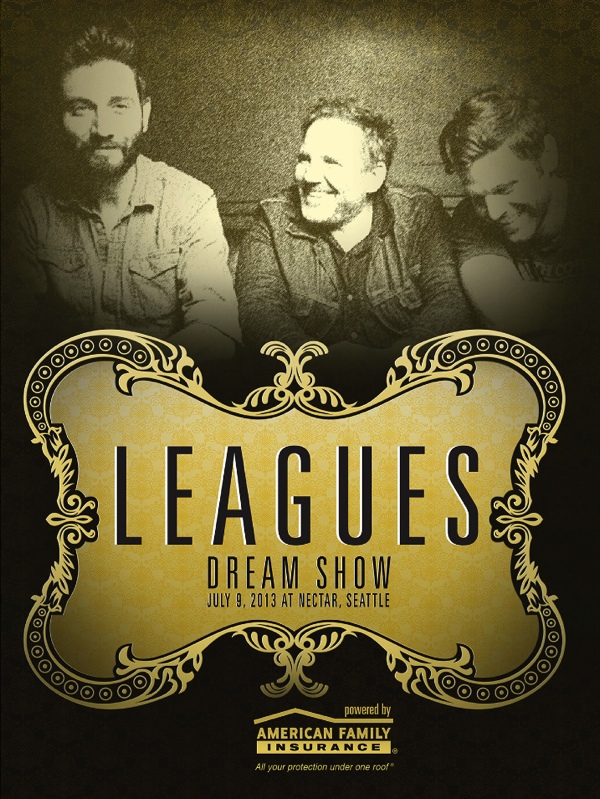 Others Tagged With