Otis Redding: The Complete Stax/Volt Singles Collection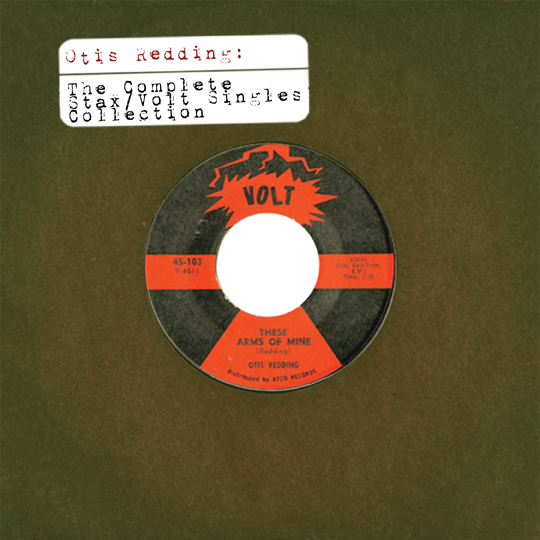 "The Glory of Love" is not a very good song. Not the Peter Cetera hit, although that's no masterpiece either. I'm talking about the song by C&W songwriter Billy Hill, which has been covered by Benny Goodman, Count Basie, Peggy Lee, Eddy Arnold and, most recently, Paul McCartney. With its twin melodic lines—"That's the story of, that's the glory of love"—and its oppressively chipper tempo, it's certainly catchy in a nursery rhyme sort of way, yet it's supremely saccharine and just plain dopey. So why would someone like Otis Redding, at the height of his esteem, choose to cover this song out of the thousands in the American pop canon? It's hard to imagine anyone save Hill himself thinking it was worth the great singer's time, even if they didn't know how limited his time was.
But here's the catch: Otis Redding absolutely kills it. He transforms "The Glory of Love" into something moving and even sublime. As Steve Cropper's guitar traces tears down your cheek, as Isaac Hayes and Al Jackson Jr.'s snare clicks out a tempo about twice as fast as the song demands, and as the horns offer sympathetic punctuation, Redding testifies mightily to the glory of love. It's soul music, but the process of repetition, variation and elaboration is more akin to jazz. He teases out the song's central ideas, however corny they may be, until they yield something meaningful, but as the song builds and builds, it never reaches a climax or epiphany. Rather than cut loose, the musicians hold back. This is why Redding was such an immense figure in pop music in the 1960s and why his death was such a tragedy: He could plumb even the fluffiest pop song and locate a kernel of honest-to-God wisdom.
Stax released "The Glory of Love" as a single in 1967, with Redding's "I'm Coming Home" on the b-side. It was a small-ish hit for the singer and a minor addition to his catalog. No one's version is especially well remembered, and even this one, arguably the definitive version, is rarely anthologized. That's what makes the new 3xCD The Complete Stax/Volt Singles Collection such a welcome addition to Redding's catalog of reissues. Rather than just collecting his most popular hits or shaping his recordings into a story that makes more sense in retrospect than it would have at the time, this box set throws the a- and b-sides together in chronological order.
So, we get familiar hits like "Hard to Handle," "Dock of the Bay," and "Try a Little Tenderness" sitting alongside lesser-known releases like "Amen" and "I'm Sick Y'all." The hits sound fresh in this company, as The Complete Stax/Volt Singles Collection shows the full range of Redding and the Stax stable of musicians. "I'm Sick Y'all" is a sick, nearly lewd groove that features the singer's voice dancing around the horns, almost provoking them. "Demonstration" is nimble and almost impossibly light on its feet, while the down-and-dirty live take on "Papa's Got a Brand New Bag" gives James Brown a run for his money. Redding never misses a beat.
Tracing his career from "These Arms of Mine"/"Hey Hey Baby" in 1962 through "My Girl"/"Good to Me" in 1972, The Complete Stax/Volt Singles Collection covers a 10-year period, but Redding was only alive for half of it. After he died in a plane crash in 1967, Stax/Volt continued releasing singles from its archives, including a pair of sweet Christmas tunes and a commanding cover of Jackie Wilson's "(Your Love Has Lifted Me) Higher and Higher." Unfortunately, there are no new liner notes explaining why he chose these songs or how much forethought he gave to his interpretations. That's not a complaint. By letting the music speak for itself, this box set refuses to render Redding a historical figure, but instead keeps him squarely in the present tense of these songs. That's a form of living forever.
Got news tips for Paste? Email news@pastemagazine.com.
Others Tagged With