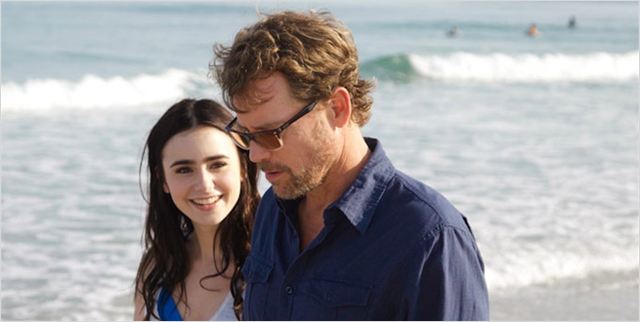 Bill Borgens (Greg Kinnear) is Stuck in Love. It's been three years since the successful novelist's wife Erica (Jennifer Connelly) left him, yet he lurks outside her new home, seeking signs of trouble in her marriage to a much younger man, and still sets a place for her at the dinner table each holiday. He is screwing his very-married neighbor Tricia (Kristen Bell), but, in the true test of his mental state, he hasn't written a word since Erica left.
His grown children are handling the divorce nearly as badly. Nineteen-year-old Sam (Lily Collins, somehow managing to stay snow white despite playing a character who grew up in a beach house) blames her mother for breaking up the family and hasn't spoken to her in a year. Sam's first book is a scarily cynical take on love and romance, and she is so determined not to fall in love (and risk getting hurt) and to dissuade admirer Louis (Logan Lerman)—"I'm like a unicorn to you," she actually says—that she's off-putting and eminently unlikable for major portions of the film. (What Lou sees in her remains a mystery to the end.)
Meanwhile, on the opposite end of the emotional spectrum, high-schooler Rusty (Nat Wolff) is hopelessly smitten with bad-girl Kate (Liana Liberato)—a familiar scenario with unexpected developments. "A writer is the sum of their experiences," his father tells him. "Go get some." Rusty does, with devastating consequences.
Over the course of a year, from one Thanksgiving to the next, the Borgens see their respective responses to Erica's betrayal challenged—in some cases reversed, in others upheld.
There's something indulgent about writing about writers. "Write what you know," they say. Well, writers know writing, a situation that limits the scope of stories (or at least results in an inordinate number of them written about writers and writing compared to the breadth of the human experience). First-time writer-director Josh Boone's Stuck in Love is especially stuck on writing—centering, as it does, on a family of writers—and a love of literature. Here is a worldview that places particular importance on one's favorite book (or favorite song or favorite TV show) as a measure of who one is and whether a couple is compatible. Life—messy, painful life—is merely fodder for the work.
A side effect of Boone's literariness, though, is a keen eye for the weird envious vibe among writers—no one in Sam's family reacts graciously to the news that she sold her book—and a sharp ear for dialogue, each conversation a well-crafted philosophical exchange of ideas. Boone has also assembled a hip soundtrack that gets the party started with Ed Sharpe & the Magnetic Zeros' "Home" and culminates with singer-songwriter Elliott Smith's haunting "Between the Bars," with Bright Eyes' Conor Oberst contributing a couple of songs and other members of the band composing the soundtrack.
Boone gives into his fanboy fantasies with a phone call from a certain popular genre writer that's even more fantastical than a 19-year-old selling her first novel to Scribner. But, otherwise, his semiautobiographical film is a confident, at times wonderfully nuanced, and often well-paced rewrite of his own parents' divorce, using montages to skip over what's familiar to get to the stuff that's new.
Director: Josh Boone
Writer: Josh Boone
Starring: Greg Kinnear, Lily Collins, Jennifer Connelly, Kristen Bell, Nat Wolff, Logan Lerman
Release Date: July 5, 2013
Others Tagged With