The History of Future Folk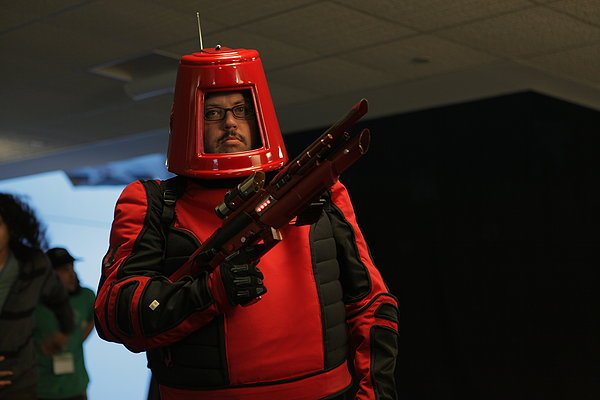 It seems that some extraterrestrials not only come in peace but also in two-part harmony.
Granted, that isn't how things start out in The History of Future Folk. As we're introduced to General Trius (Nils d'Aulaire), he's a lone figure on a Brooklyn dive bar's stage. With a banjo slung across his crimson spacesuit, he proves a particularly confessional songwriter, singing wistfully of his homesickness for the "magic sponges and sulphur pits of doom" found on his planet, Hondo. Meanwhile, the assembled hipsters can only fold their arms and roll their eyes. Stardom doesn't come easy for spacemen.
Back at his modest home (where he's known as "Bill"), Trius finds a rapt audience in his young daughter (Onata Aprile), who never tires of hearing how her father found his way to Earth. Originally intending to detonate a doomsday device, the feared warrior fell in love with our music and deemed it reason enough to spare humanity.
"Engage," Trius whispers to himself before that opening number. Staying true to its main character's word, the highly amusing Future Folk is at its most charming when it's depicting the persuasive power of music. In the film's funniest visual sequence, Trius—in full spacesuit—involuntarily shimmies to the muzak playing in a big-box store. In its most unexpectedly touching, he beams The Chordettes' "Lollipop" into the cosmos in hopes that it'll dissuade his people from mounting another offensive against Earth.
Of course, that hope proves futile, and the cherubic Kevin (Jay Klaitz) is dispatched from Hondo to eliminate him. Fortunately for Trius, it takes but one banjo medley to disarm Kevin in every respect. With adversaries transformed into collaborators, the duo hits the stage under the collective name Future Folk and set about making converts with "Space Worms," a song capable of burrowing its way into your brain like Wrath of Khan's Ceti eels.
Given that d'Aulaire and Klaitz have been playing shows as Future Folk for almost a decade, it's hardly surprising that their songwriting is significantly more accomplished than John Mitchell's scripting. Whereas tunes like "I See Stars" are sturdily constructed, a plot concerning a more menacing alien assassin and a comet on a collision course with Hondo is slapdash at best. Nods to The Blues Brothers will be spotted by viewers who are desperate to see them. However, the perfunctory fights and chases devised by Mitchell and co-director Jeremy Kipp Walker feel obligatory rather than inspired. And while the stakes here are nothing short of the fate of mankind, there's rarely any sense of urgency to the low-budget action.
Ultimately, what distinguishes Future Folk is its complete lack of cynicism. There's an earnest goofiness to the enterprise, with d'Aulaire and Klaitz each capably embodying one of those attributes. Keeping his extraterrestrial origins a secret from his frustrated wife (Julie Ann Emery) and torn between allegiances, the goodhearted Trius has the weight of two worlds pressing down on him. Conversely, Kevin is an endearing innocent, radiating impish glee and delighting in every new discovery. As he careens giddily from scene to scene, his delirium proves wholly infectious.
In a summer that's seen the Last Son of Krypton—our supposed interstellar savior—snapping necks and devastating cities, there's much to admire about visitors from beyond who believe that the answer to our problems might arrive courtesy of just the right chord progression.
Directors: John Mitchell, Jeremy Kipp Walker
Writer: John Mitchell
Starring: Nils d'Aulaire, Jay Klaitz, Julie Ann Emery, April L. Hernandez, Onata Aprile
Release Date: June 4 (VOD)
Others Tagged With