Watch a New Elysium Featurette With Matt Damon, Jodie Foster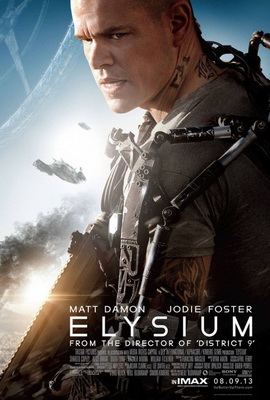 A few months ago, we got the first trailer from Neill Blomkamp's upcoming sci-fi thriller Elysium. It looks bigger than Blomkamp's previous effort, 2009's District 9, and with the star power of Matt Damon and Jodie Foster, it just may become a summer blockbuster when it's released in about a month.
Yesterday, Tri-Star Pictures gave us a deeper look into the world of Elysium, releasing a short featurette with Blomkamp, Damon and Foster explaining the inspiration behind the film and giving a closer look at the futuristic world it portrays. The clip shows off the film's astounding visual effects, and it even delves into the social inequality that the movie seeks to expose.
"The inspiration for Elysium was really a film to try to turn the metaphor of the haves and the have-not's into an environment that the extrapolation of extreme wealth and extreme poverty was visually represented for the audience, and you could go to those two places and exist in them," Blomkamp said in the video.
The film takes place in 2154, when the Earth (and all of the poverty, sickness and waste that's a part of it) has been abandoned by the wealthy for a utopian space station called Elysium. Damon plays Max De Costa, a man who's been left behind with the rest of the poor. De Costa learns that he will die in the next five days unless he gets access to some of the medicine that the citizens of Elysium enjoy in abundance up in their heavily protected wonderland.
Elysium is out in theaters on Aug. 9. Catch the featurette below.
Got news tips for Paste? Email news@pastemagazine.com.
Others Tagged With