Radiohead Catalog "Wreaks Havoc" on Chipotle Interior Design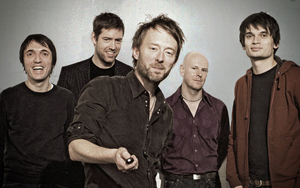 You're in line at Chipotle ordering a burrito with extra guac. Everything is cool, food is on its way. But then, you hear it: Radiohead. It's all so wrong: Jonny Greenwood's blipping electronics, Thom Yorke's falsetto croon. It sounds downright criminal between Chipotle's concrete floors, large windows and tasty Mexican offerings. Well, this is the case according to Chipotle sound programmer Christopher Golub.
Golub is the man behind Chipotle's in-store playlists (Note: There is a guy behind Chipotle's in-store playlists). And now, in an interview with Westword, the music curator has made it clear that the fast food chain will probably never feature Radiohead tunes because the band's sound "wreaks havoc" with the store's interior design.
So if Yorke's voice doesn't make the cut, then what does? Golub says his monthly 500-song playlists are exclusive only to songs with "texture of sound."
"You know that if you go into a store, you've got the small, hard surfaces. You've got concrete floors, a lot of windows, hard walls and a lot of cooking gear and tile. So that doesn't work with certain songs." Obviously.
Looks like those of you who were hoping to enjoy a giant burrito while listening to the sweet sounds of "All I Need" are out of luck. That is, unless the band dedicates the song to a burrito stuffed with adobo-marinated chicken or organic avocado.
(Via: NME)
Got news tips for Paste? Email news@pastemagazine.com.