15 Great New and Upcoming Comic Books for Kids
Though comics are often written off as "kid stuff," the True Believers among us know that's not quite true, especially in light of Paul Pope's recent revelation in San Diego. Pope recounted the time he was told by a DC Comics honcho, "We don't publish comics for kids. We publish comics for 45-year-olds. If you want to do comics for kids, you can do 'Scooby-Doo.'"
It's sort of true. Try explaining to your 4-year-old the implications of alternate timelines and parallel universes. Or maybe how Doctor Octopus manages to implant his mind into Spider-Man's body, while the ghostly consciousness of Peter Parker, who died trapped in the shell of Otto Octavius, still lingers around in Superior Spider-Man.
Children may not appreciate the bleakness of The Walking Dead or the moral overtones of the X-Men, but it can't be denied that the overarching comics format is perfect for kids. The vibrant colors, terse dialogue, action, and fantasy make reading fun. Plus, the exhilaration of watching the good guys escape sticky situations and foil dastardly schemes can wrangle even the most distracted attention span. With the rise of tablets and apps like comiXology, access is even easier than ever. And, as a certain wheelchair-bound professor would surely tell you, the trick to raising gifted youngsters is forging good habits early.
It may be a long road to your kid's first Comic Con, but new all-age titles like Itty Bitty Hellboy, which hits shelves today, show that there's still a chance to hook 'em early. So for the geek parents out there itching for some Dynamic Duo cosplay with their little boy (or girl) wonders, here are some modern and upcoming comics (in addition to the one we reviewed last week) sure to teach the next generation the true meaning of Wednesday — New Comics Day!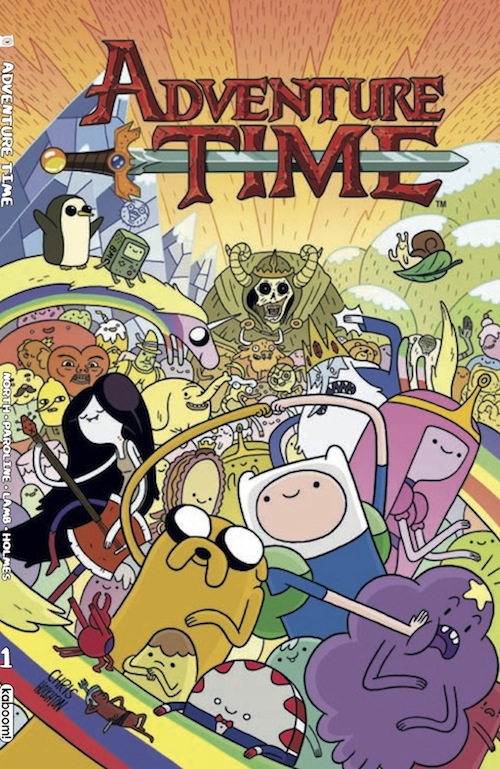 Adventure Time
Writer: Ryan North, Others
Artists: Braden Lamb, Others
Publisher: Boom! Studios
Yet another all-age series sure to be as much fun for your inner big kid as for your actual little kid. Join Jake the Dog and Finn the Human on their awesome adventures in the land of Ooo. Whether you're a fan of the popular show from Cartoon Network, or a newcomer, there are fist bumps and battle burns aplenty. Especially fun is Jake the Dog's putty-like body, which can stretch or mold into various forms, including a muscle suit for Finn when it's go time. Also, Boom! Studios recently followed up the success of Adventure Time with a well-received adaptation of Regular Show, another Cartoon Network crowd pleaser.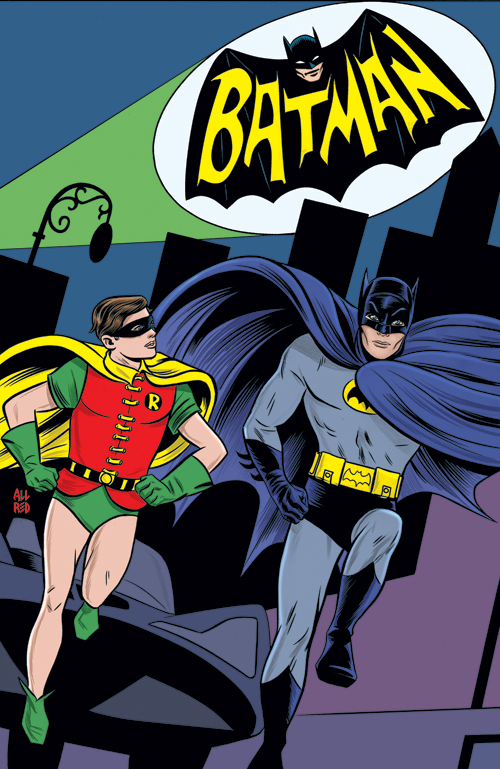 Batman '66
Writer: Jeff Parker
Artists: Jonathan Case, Others
Publisher: DC
While your kids surely won't appreciate the camp or wall-climbing gags that made the '60s Batman a classic, they're bound to appreciate a good BAM! or KA-POW! This homage to the Dynamic Duo of Adam West and Burt Ward pits Batman against yesteryear incarnations of fiends like the Joker, the Riddler and the Penguin. But perhaps the best part of this series (which releases weekly on digital platforms) is how well it harnesses the binary medium to imbue a sense of motion and time with each page turn. Rather than viewing one page at a time, or jumping from static panel to static panel, the comic comes to life by revealing motion lines or speech bubbles in the order they're spoken. Holy Technological Advances, Batman!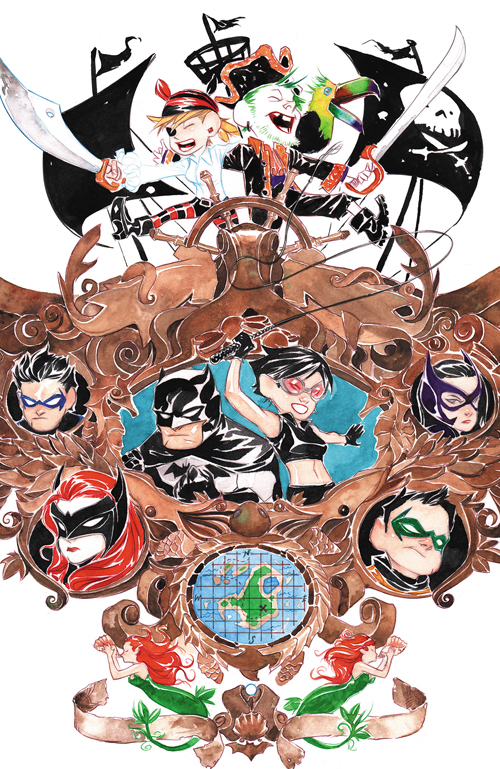 Batman: Li'l Gotham
Writers: Dustin Nguyen & Derek Fridolfs
Artist: Dustin Nguyen
Publisher: DC
Though it started out as a few holiday specials, Batman: Li'l Gotham recently expanded into a full monthly (and bimonthly on digital platforms) series. It maintains the holiday theme throughout, hitting everything from St. Patrick's Day to Chinese New Year, Cinco de Mayo to Gotham Comic Con. Watch Li'l Bats tackle such major issues as trick-or-treating and Valentine's Day jealousy. Plus, the water color aesthetic is both youthful and reminiscent of the Gotham City noir that we've all come to know and love.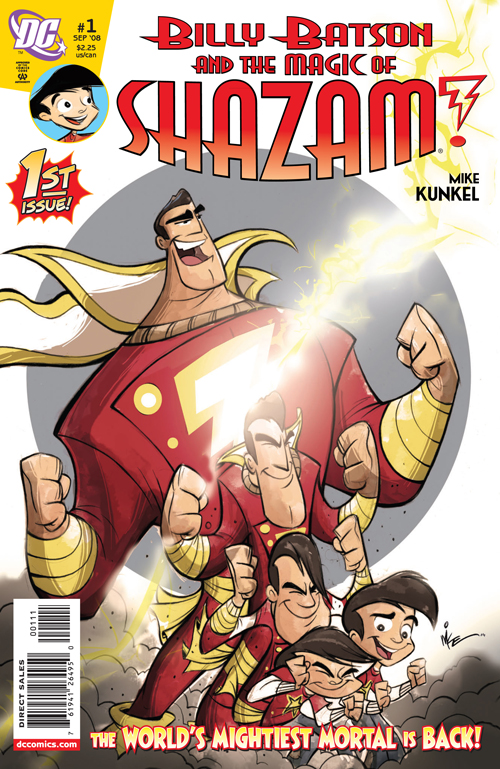 Billy Batson and the Magic of Shazam!
Writer: Mike Kunkel, Art Baltazar, Franco, Others
Artists: Mike Kunkel, Mike Norton, Others
Publisher: DC
He's pretty much the best character for kids, because he is one. When young Billy Batson says the magic word — SHAZAM! — he magically transforms into the mighty Captain Marvel. With the overall feel of a Saturday Morning Cartoon, young Billy has to balance school, work, and tending to his little sister, who with a little magic of her own becomes his sidekick, Mary Marvel. This isn't just a passive read either. The first three pages of dialogue are in code that needs to be decrypted, using the Wisdom of Solomon and a supplied key.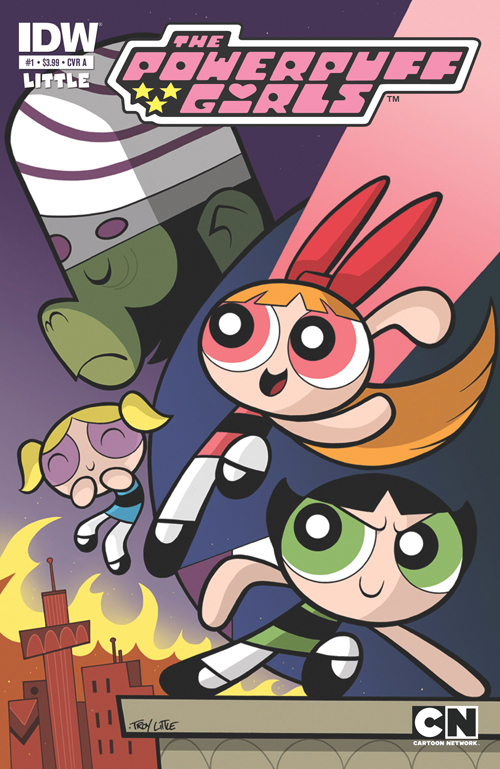 New Cartoon Network Series From IDW
Publisher: IDW
IDW recently entered a partnership with Cartoon Network for several new titles based on some of the channel's classic shows. It's hard to believe it's been 15 years since Bubbles, Blossom, and Buttercup first thwarted Mojo Jojo, but the Powerpuff Girls are back and so is their cutesey brand of whoop-ass. Powerpuff Girls will be the first of the series to hit shelves in September, followed by Samurai Jack in October, which picks up Jack's journey to his own time right where the TV series left off. Other titles, including Johnny Bravo, Dexter's Laboratory, Ben 10, and Generator Rex, won't be far behind.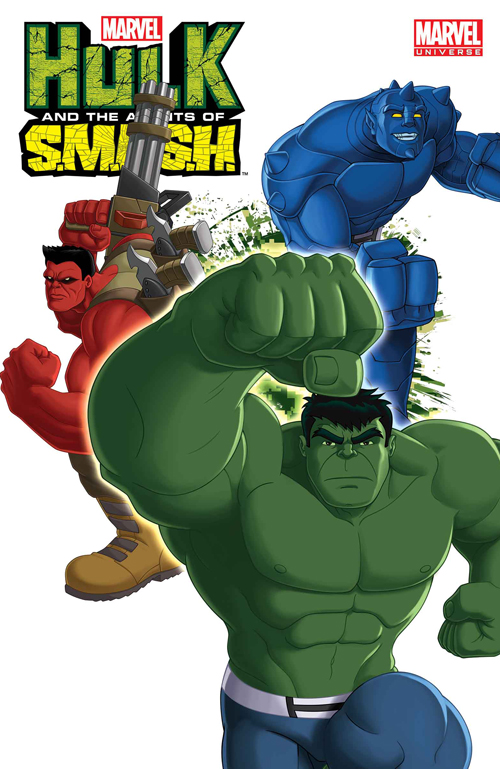 Hulk: Agents of S.M.A.S.H.
Adapted by Joe Caramagna
Publisher: Marvel
If there's one thing kids are great at, it's breaking things. With that in mind, enter the smash-iest crew around with Hulk: Agents of S.M.A.S.H., debuting in October as an adaptation of Marvel's newest animated series. Set up like a reality show to prove Hulk is more than just a monster, the Jade Giant joins his gamma-drenched pals, She-Hulk, Red Hulk, Skaar, and A-Bomb to tackle problems that can only be solved by brute force and outlandish feats of strength. And also teamwork. But mostly brute force.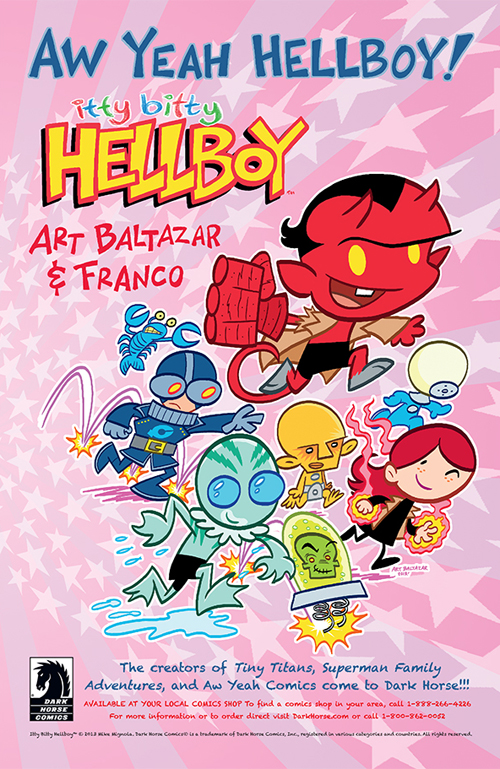 Itty Bitty Hellboy
Writer: Franco & Art Baltazar
Artist: Art Baltazar
Publisher: Dark Horse
It's everybody's favorite demon with a giant stone hand, except itty bitty. With Hellboy celebrating his 20th anniversary this year, this anticipated all-ages comic from Art Baltazar and Franco Aureliani — the team behind DC's Tiny Titans — may spur a whole new generation of paranormal investigators. A far cry from bashing the things that go bump in the night, this series of micro-stories features Hellboy and his buddies from the BPRD playing in box forts and grossing each other out. Hell, demons, and sundry monsters may not be be your first thought when it comes to comics for little kids, but Itty Bitty Hellboy is as clever and fun as it is bizarre. Although it was originally slated as a 3-book miniseries, the fan buzz has been so positive that Dark Horse recently upped the run to five.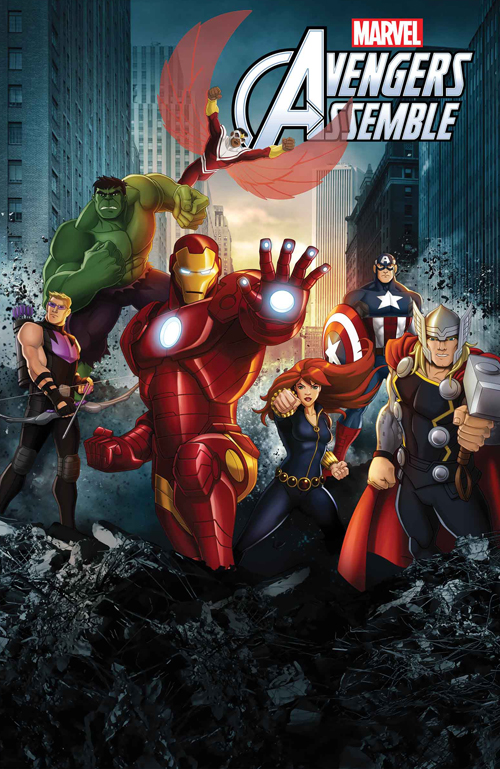 Marvel Universe Avengers Assemble
Adapted by Joe Caramagna
Publisher: Marvel
Maintaining the television-print synergy, this title will hit shelves in October to continue the animated series, replacing the Earth's Mightiest Heroes! cartoon. Along with the title change, the book incorporates a new roster to match that of the movie, also including Falcon, who will debut on the big screen in Captain America: The Winter Solider this April. But a rose by any other name, right? Kids will still get a major kick out of the adventures of Hulk, Thor, Captain America, Iron Man, and the rest of the team as they ward off Earth's most evil foes. You can especially look forward to the Hulk/Thor exchanges, which series writer Joe Caramagna has pointed to as some of his favorite moments.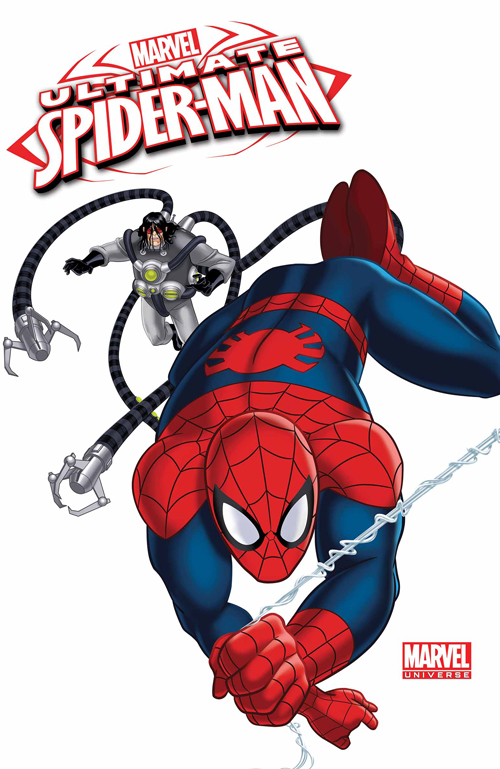 Marvel Universe Ultimate Spider-Man
Adapted by Joe Caramagna
Publisher: Marvel
Cartoons present an easy and engaging intro into the world of comics, which probably explains why so many of them are adapted. This print companion to Disney XD's Ultimate Spider-Man animated series teams Spidey up with Luke Cage, Iron Fist, Nova, and White Tiger under the tutelage of Nick Fury. Kids can read along as New York's favorite wall-crawler balances high school and S.H.I.E.L.D. training, all while protecting his fair city from the usual rogues gallery. Plus, the slapstick gags — and, of course, Spidey's famous wisecracks — will keep the kiddies chuckling between lessons about teamwork.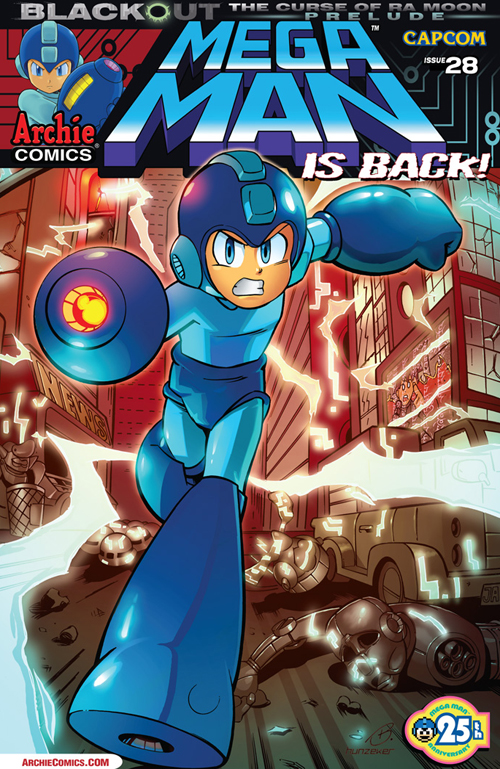 Mega Man
Writer: Ian Flynn
Artist: Jamal Peppers, Jim Amash, Others
Publisher: Archie Comics
It started with an android named Rock, and his little sister, Roll (see what they did there?). But when the evil Dr. Wily hatched one of his nefarious plots, Dr. Light had to transform his robo-assistant into the battle-ready Mega Man. Mega Man is one of the most enduring characters to come out of video games, and it's easy to see why: he's a robot with a cannon on his arm, who spends his time protecting the world from mad scientist plots. With the help of his sister and their fellow bots, Guts Man, Cut Man, and Bomb Man, the series isn't short on action. It's also at a good jumping-on point, fresh off of a Sonic/Mega Man crossover. Oh, and he has a cannon on his arm.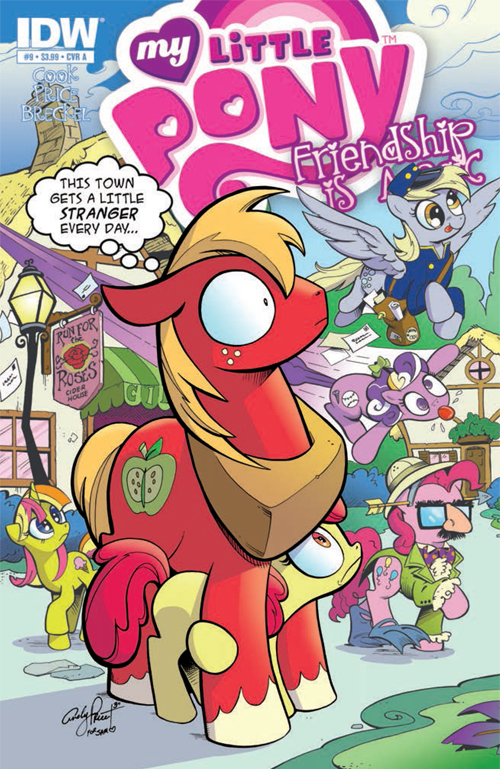 My Little Pony: Friendship Is Magic
Writer: Katie Cook, Heather Nuhfer
Artists: Andy Price, Amy Mebberson
Publisher: IDW
Not all comics contain super heroes and arch-villains — sometimes there are just magical ponies. And why not? Little girls (and, sometimes, grown men) need equine adventures, too. Much like its Hasbro siblings of the '80s, My Little Pony was a line of toys that spawned TV, movie, and, of course, comic book adaptations. Welcome to Ponyville: it's as witty as it is colorful, and loaded with a diverse cast of personalities, from the hard-of-hearing old ponies to the mischievous young fillies. The plots aren't terribly complex, but that's exactly why this book exists: to be fun.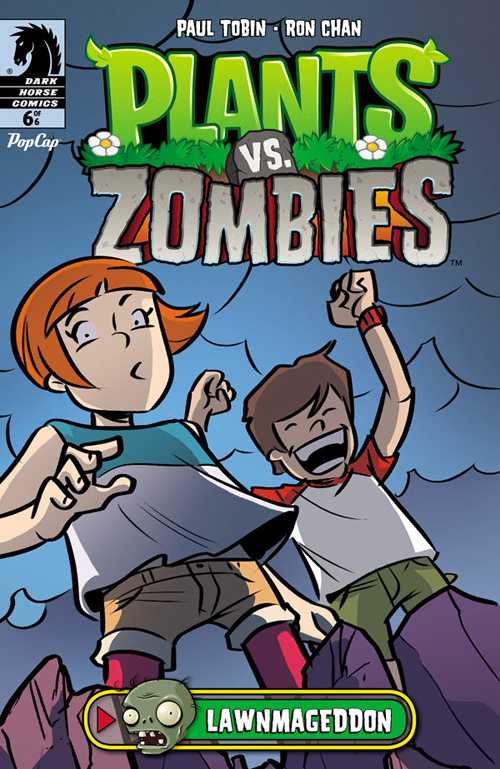 Plants vs. Zombies: Lawnmageddon
Writer: Paul Tobin
Artist: Ron Chan
Publisher: Dark Horse
Nate, Patrice, and Patrice's uncle, Crazy Dave, have to mobilize an army of Dave's super plants to fend of hordes of zombies and save Neighborville. Based on the popular mobile games in which players collect sunshine and shoot clumsy zombies with projectile plants, this comic is as much fun as the game. If you think plants can't fight zombies, you haven't seen an angry Peashooter in action. The zombies aren't so much gruesome as cute, and despite their constant search for brains, it doesn't seem like they ever find any. Also, there's a tree house.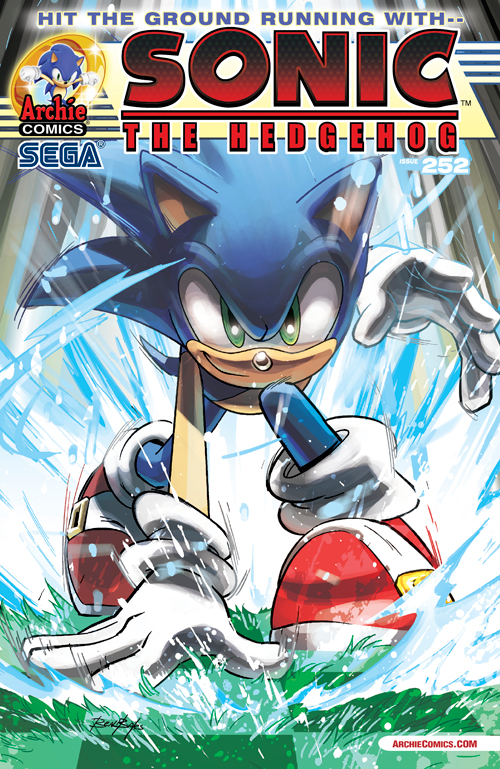 Sonic the Hedgehog
Writer: Ian Flynn
Artists: Ben Bates
Publisher: Archie Comics
There's just something about a blue hedgehog who runs really fast and has a penchant for chili dogs that kids go bonkers for. Sonic and his buddies have been dashing Dr. Robotnik's egg-based plots since 1991, but the universe has expanded over years and the speedster remains a source of kid-friendly adventures to this day. In fact, this series by Archie Comics even has the distinction of holding the Guinness World Record for longest running comic book based on a video game. And if the kiddies really dig the Blue Blur, there are other series like Sonic Universe and Sonic Super Digest for them to rack up like so many golden rings.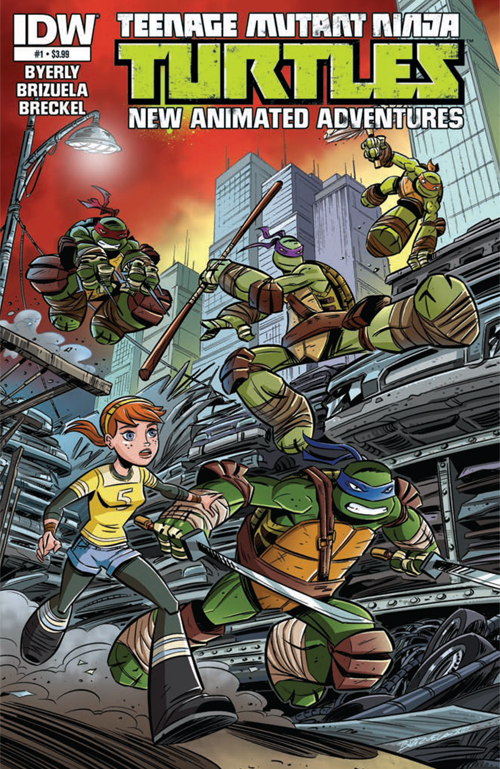 Teenage Mutant Ninja Turtles New Animated Adventures
Writer: Kenny Byerly
Artist: Dario Brizuela
Publisher: IDW
IDW's bread and butter, it seems, is in the continued comic-book-ification of your childhood. The imprint currently publishes ongoing series based on Transformers, G.I. Joe, Ghostbusters, and Doctor Who, making it easier than ever to push your interests onto your kids. There is a middle ground, however, and it takes the form of Teenage Mutant Ninja Turtles New Animated Adventures, based on the current Nickelodeon show. You'll probably end up having as much fun reading this one to your kids as they will shouting "Cowabunga!" and karate-chopping phantom Foot Soldiers. It has all the hallmarks you'd want if you were a fan from back in the day — April is plucky, Raphael is mouthy, and there's pizza and dopey banter galore. Artist Dario Brizuela also does a great job keeping the visuals light, while still maintaining that level of grit that comes with life in the sewers.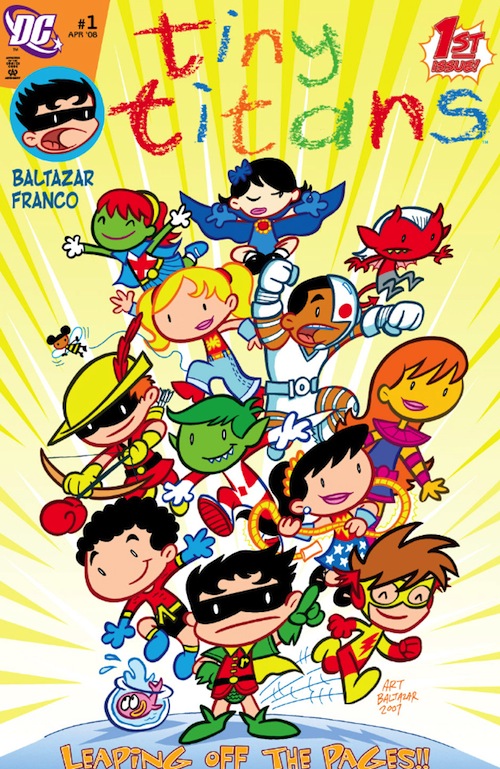 Tiny Titans
Writer: Franco & Art Baltazar
Artist: Art Baltazar
Publisher: DC
Though it ended its run last year, you really can't beat a team of teensy heroes led by Robin including the likes of Kid Flash, Aqualad, Wonder Girl, and Speedy among many others. Creators Baltazar and Franco achieve a brilliant balance of kid content, adult wit, and a slew of funny references. Through a series of small vignettes, readers watch the Titans navigate life at Sidekick Elementary — Batgirl thinks Robin is cute, Wonder Girl doesn't know what to wear, Plasmus drops his ice-cream, Rose is embarrassed by her father Principal Slade, and just about everything else kids can relate to.

Images: Batman '66, Batman: Li'l Gotham, Billy Batson and the Magic of Shazam!, and Tiny Titans courtesy of DC Comics; Marvel Universe Avengers Assemble, Marvel Universe Ultimate Spider-Man, and Hulk: Agents of S.M.A.S.H. courtesy of Marvel Entertainment; TMNT New Animated Adventures, My Little Pony: Friendship Is Magic, and Power Puff Girls courtesy of IDW Publishing; Adventure Time courtesy of Boom! Studios; Itty Bitty Hellboy and Plants vs. Zombies courtesy of Dark Horse; Sonic The Hedgehog and Mega Man courtesy of Archie Comics.
Got news tips for Paste? Email news@pastemagazine.com.