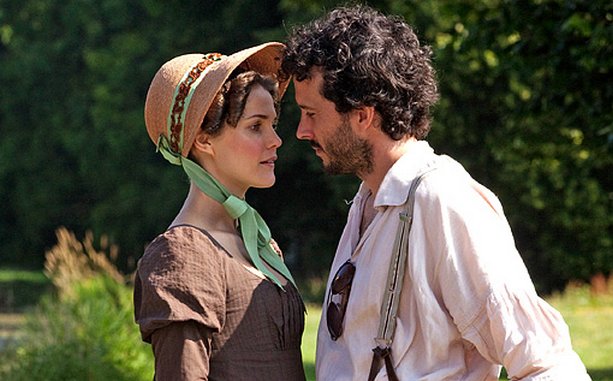 Obsessive fans can be intriguing main characters, but they can also be easy targets for ridicule. We see them in many walks of life, and their unnatural exuberance for seemingly trivial matters—Star Wars, Phish, the royal family—helps them stand out from the crowd, but if a filmmaker isn't careful, their passion can also seem weird and pitiful. How do you spotlight a fan's quirky fixation without making him or her seem pathetic in the process?
The overriding problem with Austenland is that this conundrum is never sufficiently addressed. Based on Shannon Hale's 2007 novel, this romantic comedy concerns Jane, an American office drone who's had terrible romantic luck but finds solace in the world of Jane Austen, longing for her own Mr. Darcy to sweep her away. Because Jane is played by Keri Russell, she has plentiful amounts of adorableness, but director and co-writer Jerusha Hess takes Jane's fandom for granted, never examining it in any really compelling way. Hess doesn't humiliate her protagonist, but she doesn't seem to understand her, either.
That's no small hiccup considering that Austenland follows Jane as she empties her meager bank account to fly to the English countryside to visit the titular theme park where Austen acolytes can role-play in a real-life Pride and Prejudice. Giving up her cell phone and donning a corset, she meets a fellow vacationer (Jennifer Coolidge) who is dubbed Miss Elizabeth Charming—everybody who visits Austenland receives a 19th-century-sounding name—and begins to interact with the park's actors, including a Darcy-like twit (JJ Feild), but soon falls for Martin (Flight of the Conchords' Bret McKenzie), a simple groundskeeper who offers a dose of reality amidst all the manufactured fantasy.
Hess, who has co-written her husband Jared Hess's films like Napoleon Dynamite and Nacho Libre, makes her directorial debut here. Austenland doesn't have the off-the-wall oddness of her previous films, although the movie does possess a noticeably loopy vibe. (Much of this comes from Coolidge, whose Charming doesn't seem to have much knowledge of Austen's books but sure likes mangling British expressions and drinking.) On the whole, Austenland tends to be rather toothless. Its locale sets up so many intriguing possibilities about the value of fantasy in our romantic lives. (As part of their entrance fee, guests at Austenland get to be pursued by a set of dashing, amorous Austen-literate actors, although these romances can't cross over into sex. It could almost be an English Heading South.) But Hess keeps everything disappointingly chaste both hormonally and intellectually: What has the potential to be a sharp and/or kinky satire about people's willingness to lose themselves in art and storybook courtship gets reduced to a relatively safe rom-com.
That sense of safeness extends to the casting of Russell. Although the former Felicity star has had some nice big-screen moments in indie dramas such as The Upside of Anger and especially Waitress, she's never exuded much fire (her recent turn in the FX drama The Americans notwithstanding). In Austenland, that could work for her—rather than being the typical movie version of the "girl next door," Jane really is a wallflower—but as the character is conceived, Jane is too put-upon, too woe-is-me to elicit much rooting interest. There's a dullness to her that's not redeemed by wit or, more importantly, a strong emotional connection to Austen's work that would suggest unexpected depths beneath her pretty, quiet surface. Aside from mooning over her life-size cardboard display of Colin Firth as Mr. Darcy from the BBC's Pride and Prejudice, Jane doesn't externalize precisely what it is about Austen's novels that speak to her. Watching Austenland, you don't get the impression that Jane was dealt a bad hand being born 200 years too late—she probably would have been a pushover in any era.
Austenland has its share of gentle laughs, and its generous use of knowingly cheesy '80s ballads ("Lady in Red," "Bette Davis Eyes") suggests that one shouldn't take this silly, disposable bauble too seriously. The cast responds in kind. James Callis, probably best known as Gaius Baltar from Battlestar Galactica, lightly hams up his performance as an effete Austenland cast member who's assigned to woo Charming but can't quite stomach the idea of kissing her. Feild is predictably stiff and blandly dashing as the Darcy substitute, and McKenzie oozes the kind of casual, natural charm that this movie with its strained humor needs more of. Russell can be offhandedly sexy and funny in her role, but not often enough. She's quite fetching lip-synching to Nelly's 2002 "Hot in Herre," however. It's anyone's guess what Austen would have made of that.
Tim Grierson is chief film critic for Paste. You can follow him on Twitter.
Director: Jerusha Hess
Writer: Jerusha Hess, Shannon Hale (screenplay); Shannon Hale (novel)
Starring: Keri Russell, JJ Feild, Bret McKenzie, Jennifer Coolidge, James Callis, Georgia King, Rupert Vansittart, Ricky Whittle, Jane Seymour
Release Date: Aug. 16, 2013
Others Tagged With