Breaking Bag: Paste's Breaking Bad Mailbag (8/30)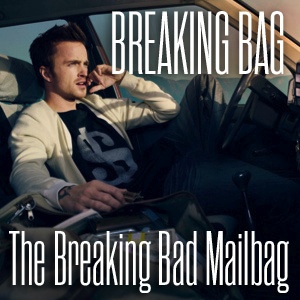 Josh and Shane will be running a Breaking Bad Mailbag each Friday so we can all get our BB fix before the new episode airs. To get in on the action, send your questions, theories, rants, and whatever else to BreakingPaste@gmail.com—or leave them in the comments—and stay tuned for the email exchange recaps on Mondays.
Thanks for joining us for Week Two of the Breaking Bad mailbag. This week is super special for us, because Josh and I didn't have to use our own questions to complete the post. Hurray for participation, gang. Let's start this week's fun with a good old-fashioned conspiracy theory that has me very, very intrigued.
What about Marie being the one to kill Walt? She certainly has her reasons.
—Tina P.
My first thought was that I loved the idea, but that it was absolutely never going to happen. Then, I really started thinking about it, and it seemed less and less crazy all the time. Think about it. Who better to kill Walt than a person who took a journey to her own dark side (the kleptomania) and then returned? Also, if Walt kills Hank or even Skyler, doesn't that create a perfect revenge narrative? When you factor in how savvy Marie has been lately, trying to get Hank to tell Gomez and Ramey about Walt while he dodders around trying to bring the case in himself, you get the sense that she's capable of decisive action. As conspiracy theories go, this one's a grower. My odds of Marie killing Walt went up from about one percent to…oh, 16 percent, and that was just in the course of writing this email. Tina, you might be a genius.—Shane

There's a scene at the car wash where Walter is bathed in shadow and Skyler is half in the light. Does she still have good intentions? Is she setting Walt up?
—Justin W.
Does Marie wearing black and Hank wearing purple during the meet up represent a shift in who wears the pants in this relationship?
—Justin W.
These questions from Justin both intrigue me in light of the very convincing Internet theory that Walt will murder Skyler and Jesse because he takes on their characteristics the same way he has for his past victims. Is Breaking Bad going full Sopranos and giving us visual cues that hint at future plot developments? If so, the Marie and Hank diner outfits play into something we discussed above—Marie wearing black, the color of mourning and death, and Hank wearing a weaker purple character. It characterizes her as someone who is both a witness and an agent of death—she will suffer a loved one's loss, and possibly avenge it. And it characterizes him as a future victim. So, again, maybe a long shot, but there's evidence for the idea that Marie kills Walt to avenge Hank.
As for the first question, I honestly don't see Skyler setting up Walt. It would be too easy as far as resolutions go, and I don't think we've seen her show the strength or morality to take a stand this late in the game. I think her hope is that the cancer gets Walt and his money stays with the family.—Shane

I wonder why Saul, after getting extremely uptight and bent out of shape when Jesse lights up a joint in his office, telling Jesse that the person picking him up will not tolerate or allow Jesse to bring the weed to Alaska, does absolutely nothing when Jesse calmly puts the remaining weed his pocket.
—George
Looks like somebody forgot his Breaking Bad "Suspension of Disbelief" goggles!—Shane
Well, he actually does do something about—having Huell subtly switch out his weed for a pack of cigarettes, unintentionally tipping Jesse off to his having done it once before. That's how Jesse realizes that Walt was behind the poisoning of Brock—#1 on our list of Walt's Most Heinous Acts.—Josh

Ugh, there is just something slightly lovable about Todd. Maybe he just appears so dumb and apathetic that I don't want to hate him?
—Bethany J.
In all seriousness, I like Breaking Bad Todd more than I liked Friday Night Lights Landry. And I'm horrified at what that says about me. In my defense, I just really didn't like Landry, and the idea that he would make a 36-yard field goal in the mud is absurd. I'm not alone in this!
But the moral of the story is this: If you see Bethany or I on the streets after dark, run in the opposite direction.—Shane
Shane, when you have clear eyes and a full heart, you can accomplish anything—even the world's biggest train robbery.—Josh

I am not actually sure that is gasoline that Jesse is pouring in Walt's house. It very well could be methylamine. This would explain why we see signs saying the place is contaminated in the flash forwards.
—Jay M.
We already know from the beginning of this half of the season that the White household is ransacked and abandoned, but not burned to the ground. So what is going to come from that gasoline scene?
—Kerrance M.
A couple people called me out on this from last week's review. I thought the house looked kinda fire-scarred in the flash-forward scene—at least like maybe it had burned a little before the fire department saved the structure—but looking back, I'm probably wrong. Also, Jesse has shown little regard for things that cost money, so it would make sense that while destroying Walt's house, he's also hitting the drug operation right where it hurts—in the pocketbook. It would also be rather savage, considering Skyler or the kids could come home first and poison themselves by inhaling. But maybe he wants to hurt Walt's kids after Walt poisoned young Brock. It's all possible.—Shane
I can't imagine Jesse going after Walt's children. If there's one thing that Jesse has always done through this series is show a true compassion for kids—from the kids Gus' lackeys were using to deal to Brock to his own not-so-innocent little brother.—Josh

As I'm sure many other followers of Breaking Bad have wondered, who does Walter White intend to be the target when he shoots his big machine gun? I'm sure I'm not the only one who's concluded that a likely foe would be Todd's uncle and his gang of skinheads. No one else previously introduced in earlier episodes is likely to require such massive artillery to vanquish.
An M60 is not the sort of weapon suitable to use against one or maybe two people at the most, So that would rule out Jesse, Hank or even Saul. But against a gang of skinheads with connections to peckerwood prison gangs, an M60 machine gun would be an ideal weapon. The only question remaining is who will guide the ammo belt as the gun is fired.
—John L.
First, "Peckerwood Prison Gang" would be an excellent name for a band. In fact, I think "Band of Horses" is a perfect candidate. With their scruffy, rural, tatt00ed style, they look like they could be a group of inmate-musicians who are allowed to play in the cafeteria once a month.
That being said, yes, my guess is that Todd and the Skinheads will have to be dealt with en masse, and it will be bloody. Using an M-60 for a single kill is, as John points out, like using an axe to kill a mosquito. There's going to be an old-fashioned shootout, and that will be Walt's weapon of choice.—Shane

I'm pretty sure the opening scene was more significant than you think. I see Todd and his racist uncle as loose canons. Todd talking in public about the train heist was pretty stupid, and the other bit about the dude wiping blood off his shoe in the bathroom…the paper towel didn't completely flush (or it didn't appear that way). I feel like that is foreshadowing for the kind of carelessness that will get their operation busted for good.
—Susan M.
Look, Susan, nobody said Todd and the Skinheads are going to do this the smart way. All we know is that they're going to do it the Peckerwood way. That includes bloody towels on a restroom floor and public boasting about robbing a train. That, to me, is America. Love it or leave it, am I right? (Note: I'm not right.)—Shane

Lydia, Todd and the bikers kidnap Walter Jr. and force Walter Sr. into cooking his 99.1% blue ice for the Czechs…. or the kid dies. That's my story and I'm sticking to it.
—Peter I.
Again, not bad. The scene with Todd calling Walt on the pay phone and casually inviting him to get back in the meth game makes me think we just saw the first tiny snowflakes that will trigger an eventual avalanche. Future invitations, I'm guessing, won't be so polite. Todd tried to convince his skinhead pals that he's the man to cook, but if there's one thing we've learned, only Walt can brew up that pure blue ice. I can pretty much guarantee that Walt will make at least one more foray into cooking, and I'm also pretty sure that one or both of his kids will be subject to threats or actual violence of some sort. This theory just combines those two near-certainties. Welcome to the Reasonable Conspiracy Theory Club, Peter. Grab a tinfoil hat on your way in.—Shane

I have watched Breaking Bad from the very first episode that was aired, but I simply can't find the wherewithal to watch these final episodes. I will perhaps sometime soon, and then again I might not. I am refraining from reading your reviews for that reason, but I feel like I need to say the following. I suppose I started losing interest a couple seasons ago and began not caring what direction the story took. I connected deeply with the original concept of the show, but as it evolved I no longer recognize it and as I guess have ceased to care as a result. It was like a show that was about a regular guy, which somehow morphed into a wannabe Scarface…Walter White was once a character similar to Tony, a regular guy with serious problems—somewhere along the line, the powers that be lost sight of that and we are left with Walter White standing in a storage space with a giant brick of money and the disconnect is apparent—the aspect that drew you in at the beginning is completely gone… "I don't even know this person," you say. Most of us have been there at one time or another and that's where I'm at with Breaking Bad. I'm sure many of you are not there with this show, but I've moved on to new loves and much happier for it.
—Keith T.
I tend to agree with Keith here. I somehow lost connection also with Walter. In fact, all of the characters seem to have become one dimensional. I also like how the writers started with the perfect blend of absurdity and darkness. Now it's just darkness. . . and flat.
—Brent B.
This is a super tricky point, and a good one, from a couple Facebook commenters. Those of you who have been reading our email recap reviews probably know that I'm less enthusiastic about Breaking Bad than 99 percent of the universe and most other TV critics, which is a strange place for me because I'm almost always on board with the universally acclaimed shows. If anything, I'm too enthusiastic; I sometimes forget to maintain a critical distance when something really captures me. But Keith here hits at something that's been giving me trouble for a while, which is that I don't really get or identify with Walt, and, truth be told, I don't care what happens to him. A lot of people view this as a positive—we're watching a guy transform into a monster, and we never really know what he's thinking or planning.
Increasingly, though, I see it as a negative. The two Walts we ever see are Megalomaniac Psychopath Walt, who will do literally anything to survive, and Family Walt, who kinda sorta seems like he still cares about his wife and children, and can interact with them in ways that don't feel totally phony. I can't remember a TV "villain" who didn't have at least a modicum of humanity, and increasingly I'm seeing Walt's lack of what I'll call gray behavior—neither totally evil or totally banal—as a writing weakness. In real life, even the worst people have sympathetic moments that draw us in, and in my mind the best TV characters follow a similar arc. We never stopped feeling things for the Tony Sopranos and Al Swearingens and Marlo Stanfields, even at their worst, and that was a triumph of drama. With Walt, I feel like I'm watching a robotic creation, and I could frankly care less whether a robot lives or dies.
THAT BEING SAID…I won't pretend for a minute that I'm not entertained. And even though Walt's fate doesn't matter me, I still care deeply about my man Jesse. If he dies, I'm going to pour methylamine all over my television as a sort of angry tribute.—Shane
Here's where Shane and I differ. Yes, it's an accomplishment that we still care about Tony Soprano and Al Swearingen after all the heinous acts they commit. There's a humanity there, and to be able to see humanity in our enemies—whether we're talking about a villain on TV or a murderer on death row or a Taliban fighter—is a good thing. But I'm thankful that Breaking Bad doesn't follow that now-common TV trope of the anti-hero who we love despite his flaws. We've seen that in some great shows, and we'll continue to see it in more. Vince Gilligan has given us something refreshingly unique and probably more realistic. Evil is a real thing, and it crops up in our life in places where people don't expect. And when you start down that road, self-preservation is a strong motivator. So evil acts beget evil acts. Once he starts cooking meth, so many of the evil acts that follow are the only choice he has if you take "dying," "going to jail" and "leaving his family destitute" off the table. That doesn't make them the right choices, but it does make them feel real. Should we always "relate" to the villain and let their charms work on us like they work on their victims? I don't want all TV to be like Breaking Bad, but I love that it's not like all TV.—Josh Jackson
Thanks to all for reading and writing in. If you want to get in on the mailbag action, drop us a line at BreakingPaste@gmail.com, and make sure to check in Monday for our email recap.
Others Tagged With