Catching Up With Josh Duhamel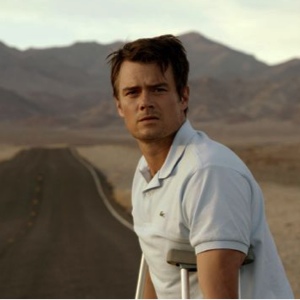 It's always exciting when an actor starts to break away from a particular type of role to which audiences might have him pegged. Josh Duhamel just starred alongside Julianne Hough in Safe Haven, and he may be best known for his role as Captain Lennox in the Transformers trilogy; still others might find him most recognizable as Fergie's husband. But with this weekend's release of the Goetz brothers-directed thriller, Scenic Route, viewers will have a difficult time pinning down this actor. Duhamel gets dark, dirty, and downright indie, and Paste got the chance to talk with him about his dramatic on-screen transformation in the new film.
Duhamel:You're my last interview of the day so this better be good.
Paste: (laughs) I'll do my best, I know you've had a long press day. One of my favorite parts of Scenic Route is the opening conversation between your character Mitchell and his best friend—Dan Fogler's character, Carter. There's this question of art versus practicality, and the two of you have this heated debate about following your dreams versus following a paycheck. Does that particular conundrum speak to you on a personal level at all?
Duhamel: Well, that's a really good question and you get a bonus star for paying attention (laughs). A lot of people—especially young people—have great dreams and ideas about what they're going to do with their lives and how they're going to set the world on fire. Then disappointments happen and life happens and you look back and realize that you haven't done the things that you said you were gonna do. I can understand both sides of Mitchell and Carter's argument. Mitchell wasn't going to just be a deadbeat his whole life, chasing pipe dreams. And Carter, being the stubborn guy that he is, wasn't gonna quit, no matter what.
Personally, I don't know what else I'd be able to do if it wasn't something in the arts. If I had to sit in a bank and crunch numbers I'd be terrible at it! So I didn't really have that choice. And that was my attitude coming to this town [Los Angeles]—that it's either this or nothing. And it was that kind of desperation that got me here, although I still have a long way to go.
Paste: Your last film was Safe Haven. I'm sure there are similarities between the movies, but this definitely feels like a jump. Were you on the prowl for something different when you signed up for Scenic Route?
Duhamel: Yes, I've been looking for a role like this my whole career. When you first start out in this business, you kind of have to take what you can get. Some people are lucky and get a really cool, edgy part that sets them on that track. I started in soap operas and went on to television, primetime shows, and then went on to romantic comedies. I did Transformers, and people kinda saw me as one thing, so it's always been a struggle to prove to people that there's more to me as an actor.
When the [Scenic Route] script came along it was terrifying because it was so much; it was really, really dense. And it was going to require a tremendous amount of preparation and rehearsal, but that's truly what I love about what I do. When I'm creatively inspired I get so much joy out of it.
With Safe Haven—sure it was a Nicholas Sparks movie and it was a love story, but I was able to find something really interesting in my character which made it exciting for me. That's why I love doing this. Figuring out what makes a character tick—it's like cracking a code.
Paste: What's interesting about Scenic Route is that it's a dark film, but it's also really intimate. Can you talk a bit about working so closely with Dan Fogler and what the actual filming process was like for the two of you?
Duhamel: It was gonna take somebody like Dan to fill the other half of this bill, because it couldn't just be a good actor. It had a to be a good actor with real commitment and an understanding of what it would take to pull this off. We had to come to the shoot totally prepared because we didn't have the time to work some things out on set. So Dan and I spent a lot of time rehearsing together several weeks before we started shooting. And we actually drove out to Death Valley in my truck, going over lines. Every night, we'd sit out on the porch and discuss the scenes from the day and rehearse for the next day. It was an intimate sort of thing; [because of the story] you had to know this guy inside and out. And we became really good friends because of it.
Paste: At the end of the film, there's some real ambiguity as to how things end exactly, but maybe that's just from the audiences perspective. For you, is it ambiguous, or do you have a very clear idea of what happens to your character?
Duhamel: I would say no, I don't. But I have my theories on it. It was always meant to be kind of ambiguous. The Goetz brothers did a great job of walking that line between reality and imagination. The optimist in me says that we make it out.
Paste: And you have a new film in the works with Hilary Swank, right?
Duhamel: Yes, it's a movie called You're Not You. It's about a woman who suffers from ALS—Lou Gehrig's Disease. Like Scenic Route, it's about how something terrible can happen and bring people closer together. It's a heavy film, but it's very good.
Paste: Thanks again so much! I know this is an exciting time, with you and your wife expecting your first child together.
Duhamel: Yes, in about two weeks! I am really excited.
Paste: Well congratulations, and best of luck to you both!
Others Tagged With