Download This: 7-Minute Workout
An app for people who don't have time to exercise
Fitness and health trends come and go—but it's pretty clear that the last couple of years have belonged to Paleo diets and high-energy CrossFit workouts. I've dabbled in both, but using 7-Minute Workout was my first real foray into committing to a fast-paced exercise regimen. So far, I'm happy to report that it's been a great introduction.
7-Minute Workout does exactly what its name suggests: the app gives you a daily workout session that lasts just seven minutes. When I tentatively hit "Beginner" and filled out my short profile, I was pleased by the app's simple, easy interface. There are plenty of similar apps with better designs, but 7-Minute Workout is exactly what you want in an app that you don't spend a lot of time looking at.
The best part is that as you go day by day, the app remembers where you left off and starts you right up without having to go through any menus. You can also look back through your workout history and see exactly when you exercised last and how many days you've skipped.
Once you begin your first workout, you're greeted by a friendly female voice who will act as your guide throughout your sessions. A lot of times these kinds of virtual trainers can be silly or just downright rude (looking at you Wii Fit), but Lolo has managed to actually make theirs helpful. When she says "Good job! You did something good for your body today!", I really found myself believing her. Each exercise also comes with a full-motion video that plays as you go and shows you how to perform the exercises. As someone who didn't know what "Prone Iso Abs Planking" would have meant otherwise, the videos were extremely helpful.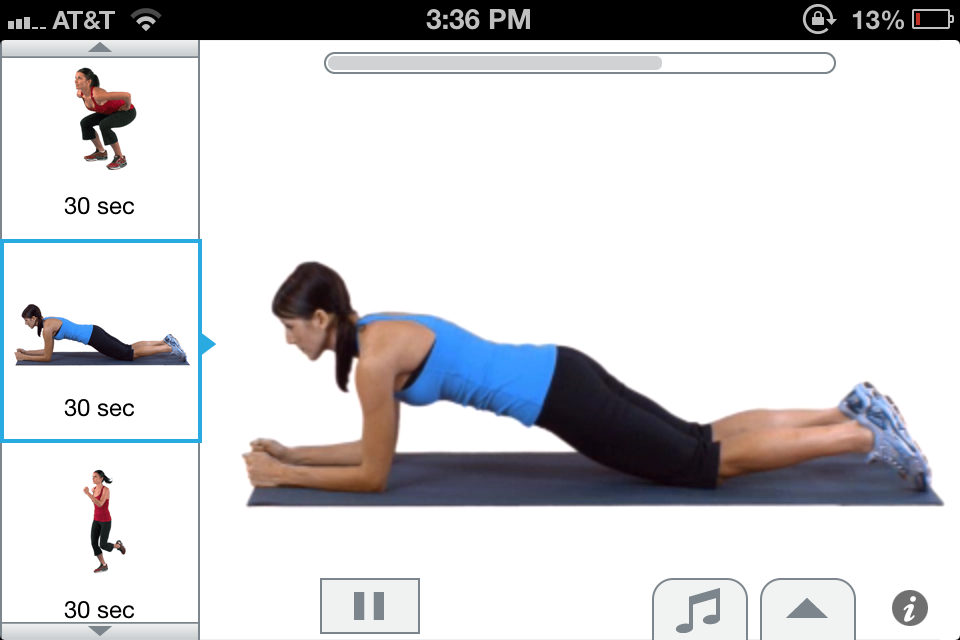 The exercises themselves should be familiar to most people. You'll be doing Forward Bodyweight Lunges, Prone Iso Abs Planking, Push Ups and everything in between. Although there's plenty of exercises to choose from using only your body weight, if you have equipment such as a medicine ball or dumbbells, you'll get even more exercise options. Each seven-minute session is broken up into a series of 30-second workouts with 10 seconds between each to catch your breath and get ready for the next.
Overall, the exercises felt balanced and I never felt overwhelmed by my lack of experience (although it's hard to judge because of how out of shape I was when I started). The routines are based on the "Scientific 7-Minute Workout" published at the New York Times, which are meant to give you "the benefits of longer endurance training in less time". While I can't comment on the science, when I'd wake up the next day I certainly felt like I'd exercised for longer than seven minutes.
The app is a perfect solution for a someone who is too busy to make it to the gym. If that's you, know that 7-Minute Workout won't waste your time—just remember to stretch first.
Platform: iOS
Price: $1.99
Download now: iTunes
Others Tagged With