Five Men's Runway Trends Turned Ready-to-Wear
Time to dust off those full-fur jackets, capes and cobalt-blue suits to embrace the 2013 men's fall runway looks—or just invest in some of our ready-to-wear basics that embrace the more socially acceptable side of the trends we spotted on the runways.
The Trend: Big Plaid and Hiking Boots
On the runway: Hackett and Hermés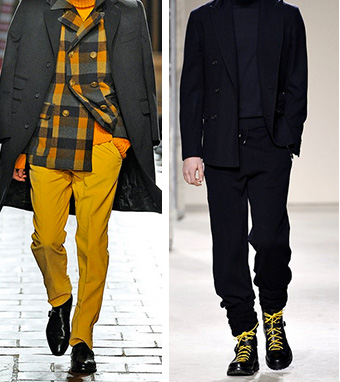 Our Picks
You don't have to go all-out with a hiking boot. Picking a leather boot with some unique finishes like bright laces and brass grommets can dress-up the regular hiking attire. Pair big patterns with dark slacks and a comfy essential tee from Everlane.
1. Plaid Flannel Long Sleeve Button-Up | American Apparel | $62
2. Reserve Twill Pants | Brixton | $68
3. Newby Jump Boots | Clarks | $134.99
4. The Men's Crew | Everlane | $15
The Trend: Gray on Gray
On the runway: Viktor & Rolf Monsieur

Our Picks
We were never totally sold on the denim on denim trend, but wearing all gray seems feasible in the real world. Pair your grays with some dark brown shoes and a bold cobalt blue shirt underneath.

1. Wallace & Barnes Slim Workman's Utility Jean in Charcoal | J. Crew | $158
2. Chambray Long Sleeve Button-Down | American Apparel | $35
3. Slub Henly T | Gap | $24.95
Baseball Jackets
On the runway: Oliver Spencer

Our Pick
We prefer the classic baseball jacket that doesn't try to pretend it's something else. Choose classic accents like striped collars and cuffs.
Varsity Jacket | Shades of Grey by Micah Cohen | $268
The Trend: Bright Blue
On the runway: Rake

Our Pick
Don't be afraid to sport these cobalt blue cords out of the house, just pair them with a neutral button-up.