Lollapalooza 2013: Catching Up with Eric Church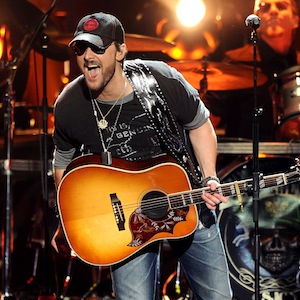 Eric Church is already a household name to country fans, selling out arenas nationwide with his recent Blood, Sweat & Beers tour, but Church has also developed a unique following among listeners who aren't singularly country fans. His live show is one of a kind, feeling more like a powerful rock show than anything twangy, and his appearance at Lollapalooza (followed by a sold-out late night set at The Metro) along with an upcoming date at Austin City Limits only confirms that Church has something that appeals to music fans of every taste. Paste got the chance to catch up with Church just before his rousing sets in Chicago this weekend, and the singer/songwriter discussed his old-school influences, his songwriting process and the way his live show fits with festival audiences.
Paste: So you've been out on tour with Kenny Chesney this summer. How has that been going?
Eric Church: I've been on a lot of tours, and this is my favorite one to be on. It's crazy, to be in stadiums. I wasn't sure I was gonna like it when I first said yes to it, just because it was so big and I just wasn't sure I would have that point of connection with the fans. But it's just been a lot of fun to go out there and see what kind of event it is and the kind of party that it turns into.
Paste: It seems like your influences are a little more old-school than that, though. Who would you say are some influences, or songwriters that you admire?
Church: Kris Kristofferson, I've said it many times. He is the end-all, be-all. I had heard "Sunday Morning Coming Down," I had heard Cash's version, but I never really heard that song until I heard Kris' version. And because it came from his pen, I believed every line of what he was singing. You know, I could feel it. When he said "I woke up Sunday morning with no way to hold my head," I believed it. That has never really changed for me since I was younger, once I discovered Kris Kristofferson. I got into a lot of singer/songwriters, and it really ran the gamut whether it be country or rock.
Singer/songwriters is really where my soul is musically. I grew up on country, I grew up on a lot of classics, but I'm a child of the '80s so I also grew up on rock 'n' roll. I mean I grew up on AC/DC, Metallica. I grew up in that era. So there's a lot of that that comes out in my music and in our live show.
Paste: Speaking of these kind of cross-genre influences, you're set to play Lollapalooza and Austin City Limits, both festivals that don't traditionally have a lot of country artists on the lineup. What about your music or your live show do you think fits with an audience that may not traditionally be full of country fans?
Church: The thing about a lot of our stuff when people see it live, it's a very in-your-face, rock 'n' roll type show that I go back to. It's not me trying to be that because I think that's what will appeal, that's what I grew up on. It's certainly a fabric that makes up that makes up the clothes of what I am. On the country side, I would say the lyrics lean more towards country. But from a musical standpoint, I think we're going to rock as hard, I think we're going to rock harder, than the so-called "rock guys" that are there.
In the digital age, there's so many different ways to get your music out there. I don't really see any more of "Oh, that's a country act" or "That's a rock act" or "That's a rap act."
Paste: So at festivals like Lollapalooza, do you approach your performance any differently, knowing you may not be playing to primarily country fans?
Church: We are who we are. I love these festivals, because from a discovery standpoint what I love about music is finding stuff you don't know about. We've played festivals in the past, and I found stuff I didn't know about that I've liked. It's just that sense of discovery. I think the fans and the people that come to the festival, they're just that kind of fan. They're the kind of fans that I relate most to, because they don't really put the genre barrier up. They're just out there looking for good music. Looking for unique stuff, cool stuff, different stuff. I think for us, it would be disingenuous for us to go out there and be something we're not. Whether you love us or hate us, we're gonna show you what we are. They can decide the rest. In the past, it's always turned out okay for us, and we've been the only country act on a lot of these bills. It's always turned out okay if we just do what we do.
Paste: What makes a show a success for you?
Church: It's about there being some moment in the show where you know you're going to remember that moment. I've had that happen to me a couple of times, both on the stage and in the crowd. There was one moment that you look around and it's almost like time stops. It's like a snapshot, like "I will always remember how I feel right now. I will always remember the people that are around me, I will always remember this moment. It'll live forever." And I think that's ultimately what any performer, or audience member, that's what they're there for. They're there for something that they know they'll remember for the rest of their days.
You know, I'm older and I've been doing this a while. When I was younger, I didn't take the time as much to just let the show evolve at a slower pace to where I could enjoy some things. So I've learned that.
Paste: Can you tell me a little bit about what the writing process is like for you?
Church: It's pretty brutal on the road. You know, normally what I do is I take blocks of time. I'll come up with ideas on the road, thank God for my iPhone or I probably wouldn't have a career. I write a lot of stuff down on it until I get the chance to sit down and write it. But I'll take a month, two months here and there and I'll just disappear. I'll go off my cell phone, my TV, no connection to the world and I write songs. I've done that a couple times over the past year, just disappear for a while. And it helps me kind of clear out and process what's next.
I love the songwriting, I'm a songwriter first and foremost. I don't like what it takes for us to make a record. I hate the record-making process, because what I put myself through. I think in order to make the kind of record that we want to make, you have to really explore the depths of everything that you are. I think in going through that process and making sure that you get the song from its creation point of writing it to exactly what you want it to sound like recorded… But on the tours, when you go out there and you play that song and people sing it back to you or people are relating to it, then all that creative that you went through it makes it worthwhile.
Paste: So this aversion to the recording process, does that have anything to do with your decision to release a live album?
Church: We were going to do the live album later on—it was something I always wanted to do. But our career has grown since Chief hit, and we went from playing bars and clubs to playing arenas. I didn't want to get too far removed from what made us who we were. It wasn't arenas, you know. It was those bars and those clubs. So I decided to move it up the timeline, to go ahead and put the live record out now, before as a band and as a crew we got too far away from our roots there. So we went back to a small little club in Chattanooga, the size of the places we used to play, even a little bigger than some of the places we used to play. We just booked two concerts, Monday and Tuesday night, and we didn't really have a plan other than that we had recording equipment there. We went out and we played our show, and it was very much like it used to be when we were starting out. I just didn't want that moment in time to be too far in the future, I wanted to have something that was very special.
Paste: Is there anyone that you'd like to collaborate with in music right now that might surprise people?
Church: I mean the obvious one is Springsteen, just cause the guy has done a lot for my career. But there's a lot of them. I mean I love Bob Seger, I love Bob Dylan. I'm going to get to do a thing pretty soon with Gregg Allman, I'm going down to do a thing with him. My favorite one thus far was that I got to go up and play with Levon Helm before he passed away. I got to go up and jam with him and hang out with him and play some songs. The Band and Little Feat, they were my two acts growing up. I loved Lowell George, love Levon Helm. So to get to go up and to play with him, and to get to talk to him, is just something I'll never forget.
Others Tagged With