Mitch Hurwitz at Work on Arrested Development Movie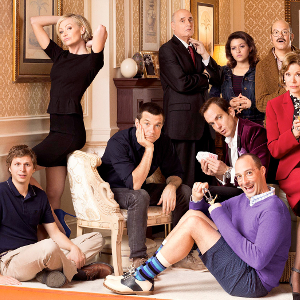 Although we were in the dark about how the cult-favorite show would return after its fourth season on Netflix, Arrested Development creator Mitch Hurwitz has shed some light on what he hopes will be the Bluth clan's next step: a feature film.
"I can't get into much more detail because I don't want to scare anybody off," Hurwitz told Rolling Stone. "I don't want to be presumptuous about it. I don't own the property outright—it's a 20th Century Fox property. But everybody seems really into it and really eager to make a movie." 
The main reason cited for selecting the medium over TV is mainly for scheduling reasons, noting the six-month commitment for a TV season against a four- or five-week shoot for a film. Excited fans, don't blue yourselves just yet. As this hype-cycle went last time around, nothing is confirmed from 20th Century Fox, which owns the title. Only time will tell whether Hurwitz will get a green light and align the cast's schedules.
"Right now, I'm trying to do something else for Netflix and a movie project and things," Hurwitz said in the same interview. "I'm always sort of superstitious about talking about this stuff before it happens. It's the best way to guarantee it doesn't happen."
But as Hurwitz told Paste in July, a movie release might not be as streamlined as last May's unveiling of season four on Netflix.
"I don't have a timeline yet. We're going to not do what we did last time which is keep saying, 'It's coming. It's coming. It's coming.' If there is more, I promise you we'll put a date out there. In fact I think one of the reasons we eventually said—I mean there were a few reasons—but one of the reasons we eventually said 'Okay, let's do this as a mini-series, as an anthology series' was to kind of manage expectations that had built up over the time for the movie. But also to give the fans something more satisfying than 90 minutes of content because we had promised them for so long that it was coming."
Read the full Rolling Stone article here and our recent interview with Hurwitz here.
Got news tips for Paste? Email news@pastemagazine.com.
Others Tagged With