Smuttynose/Stone Cluster's Last Stand IPA Review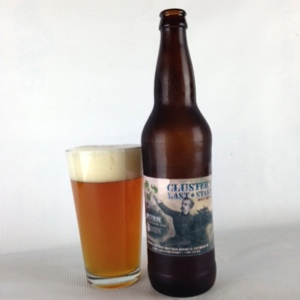 Centennial. Cascade. Chinook. Nelson Sauvin. Simcoe. These are the hop varietals currently en vogue at craft breweries across the nation (the hip hops?). But what about the hops that came before? The Kool Herc of Humulus lupulus? What about Cluster?
Smuttynose Brewing Company in Portsmouth, N.H., and Stone Brewing in San Diego have come together to honor that early American hero, the oldest American hop that was widely used in beer before Prohibition—Cluster.
Cluster is a star in Stone brewmaster Mitch Steele's book IPA: Brewing Techniques, Recipes and the Evolution of India Pale Ale that inspired the collaboration. Steele brewed in New Hampshire before taking a job at Stone.
The Cluster, Bullion and Brewer's Gold hops used in the IPA are mild compared to some of the hop bombs being dropped on beer drinkers lately, but it's still very flavorful. Part of that comes from a complex maltiness (it has an alcohol by volume of 8.4%—technically making this an Imperial IPA). But it's also pleasantly floral on the nose and finish that makes me think our forefathers weren't afraid of a bitter bite to go along with the hardships of, you know, founding a nation.
Even though this is brewed at Smuttynose, the Stone-ness comes through in the hop punch. We figured these old fashioned hops would be a little more genteel. Not so. We've never had Cluster hops, and while that's not the only hop in the beer, we'd not be opposed to seeing some other experimentations with it. Or more great puns in beer names.
Breweries: Smuttynose Brewing Company, Stone Brewing Co.
Cities: Portsmouth, N.H.; San Diego, Calif.
Style: IPA/Double IPA
ABV: 8.4%
IBU: 62
Others Tagged With