The Moondoggies: Adiós I'm a Ghost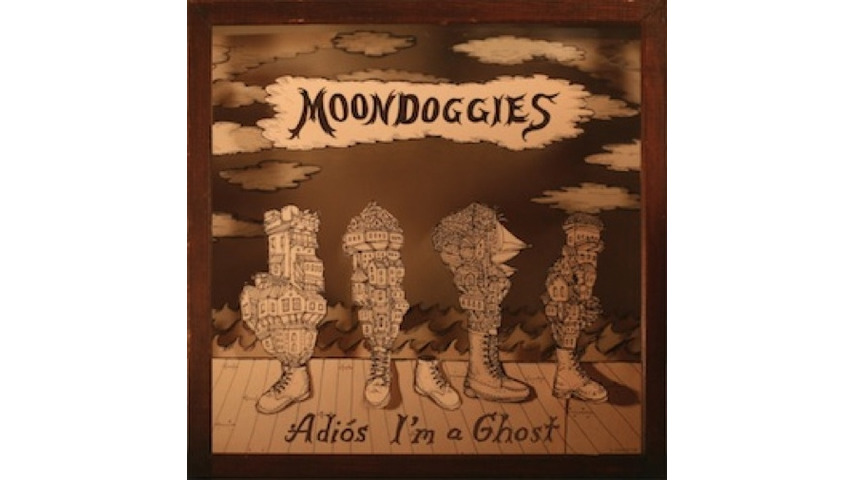 Adiós I'm a Ghost begins with a strange juxtaposition. The album starts with a quiet, harmony-laden instrumental intro that, after about 30 seconds, abruptly gives way to the furious, propulsive "Red Eye."
It's an excellent summation of the band itself. Veering effortlessly between haunting, atmospheric numbers and brassy, Americana-inspired rock (sometimes within the same song), Seattle's The Moondoggies' third release is the soundtrack of a broken heart attempting to repair itself by simply moving forward and rocking as hard as it can. Led by lead singer Kevin Murphy's highly emotive voice, however, Adiós I'm a Ghost manages to retain its humanity and emotional center even in the most blistering of numbers. It's enough to safely place the band head-to-head with the likes of their contemporaries, including Dawes, Blitzen Trapper and The Head and the Heart.
While many of the songs approach or move past the five-minute mark, the result, unlike other similarly themed neo-Americana bands, rarely ever feels like overkill. Just when you think the band has settled into a favorable groove, as with "Midnight Owl" or "Back to the Beginning," the song will suddenly switch it up and head in a different direction.
After the opening punch of "Red Eye," "Annie Turn Out the Lights" serves as a nice palate-cleanser. A steady, yet lovely track, "Annie" highlights the band's effortless skills when it comes harmonies.
The sparse "Pride" serves as perhaps the album's most heartbreaking track. Over a delicately plucked acoustic guitar, Murphy takes on the persona of a man undone by his sense of pride. "The winter months came and the chill set in/ spent a northwest winter wonderin' how you've been," Murphy sings as the rest of the band harmonizes like far-away ghosts behind him.
"A Lot to Give" is a curious track. Feeling like sludge rock filtered through a My Morning Jacket-esque aesthetic, the song pounds along with several complementing guitars before concluding with some strangely muted drum work. Though certainly fascinating in its own way, the six-minute production remains perhaps the only track where one begins to feel the length. Especially when sandwiched between the aforementioned "Pride" and the equally lovely, mid-tempo number "Stop Signs," "A Lot to Give" feels like a whiplash-inducing detour.
Others Tagged With