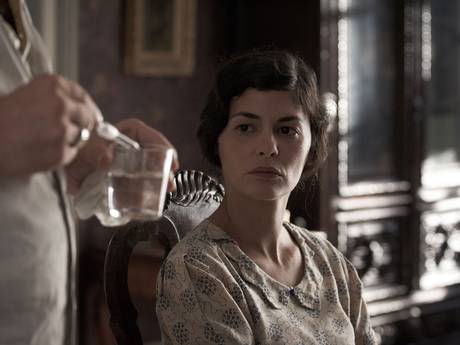 Shot while he was undergoing radiation for the cancer that would eventually kill him, the final film from Claude Miller (A Secret) also deals with illness—both real and imagined, physical and mental.
Audrey Tautou stars as the title character in this adaptation of François Mauriac's 1927 novel, Thérèse Desqueyroux, as a provincial housewife in the pine-swept country of southwestern France. She fancies herself worldly because of all the books she reads and approaches her marriage to Bernard (Gilles Lellouche), heir to another wealthy landowner, pragmatically: "I'm marrying you for your pines, too," she says during their courtship.
Miller and co-writer Natalie Carter's script gets a little heavy-handed conveying Thérèse's intellect. Her in-laws complain that she has too many ideas, she "thinks too much," she's "too strong-minded," with few examples to back it up other than her casual bookishness. Thérèse herself hopes that "Marriage will save me," but just when you're throwing up a bit in your mouth, it becomes clear that this is the point: Marriage won't save her. Unfortunately, she has to make profound sacrifices to learn this for herself.
A dozen years since Amelie, Tautou is stretching credibility as the ingénue in the movie's early scenes, when Thérèse can't be much older than 20. The actress' age and experience serve the character well, though, just a year into her marriage, when she discovers the dangerous side effects of her hypochondriac husband's accidental overdose of prescribed arsenic. Thérèse has realized that her naïve sister-in-law Anne (Anaïs Demoustier) is the worldly one after all, having discovered forbidden love in the arms of a wealthy, educated boy her parents suspect of being a Jew.
Meanwhile, Bernard is no longer Thérèse's liberator but her oppressor, his handsome virility rendered grotesque by his voracious appetites, and his disingenuous concern for her well-being disguises his obsession with her pregnancy. But Thérèse's motive for poisoning him and her master plan remain unclear, even to her, as narrative subtlety has eluded the filmmakers in the initial development of her character. Thérèse is quite challenging to portray on film, actually, because she's so internal—the shtick threatens to grow dour and whiny. But mostly there's a mystery and an acknowledgement that there's not always a concrete reason why.
Interestingly, Mauriac's book starts with the outcome of Thérèse's trial and flashes back via internal monologues—a structure the author borrowed from moving pictures. In his film adaptation, however, Miller opts for a traditional linear arc, though this necessitates fading in and out on scenes whose sole purpose is to fill in character gaps rather than move the story forward.
Bathed in that rich golden light that only bourgeoise country folk know, with a score composed of classical piano music, Thérèse marks a satisfying, if not exhilarating, final entry in a French master's oeuvre.
Director: Claude Miller
Writers: Claude Miller, Natalie Carter
Starring: Audrey Tautou, Gilles Lellouche, Anaïs Demoustier, Catherine Arditi, Isabelle Sadoyan, Francis Perrin, Jean-Claude Calon, Max Morel, Françoise Goubert, Stanley Weber
Release Date: Aug. 23, 2013
Others Tagged With