Daft Punk Cancels Colbert Appearance, Host Still Gets Lucky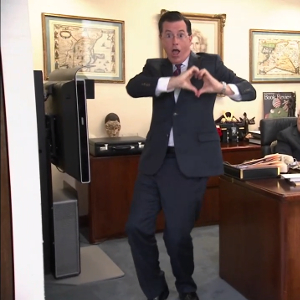 Until last night, everyone thought we'd wake up to glorious videos of Daft Punk performing their smash-hit "Get Lucky" on The Colbert Report today. Last Monday Stephen Colbert randomly appeared on Late Night with Jimmy Fallon for a brief dance session to "the song of the summer of the century" before casually sauntering off. Days later Colbert announced that the robotic duo would be making a rare TV appearance on Tuesday's show. However, at the start of last night's show Colbert announced that due to contractual obligations with MTV, the band would no longer be performing.
Colbert unveiled that Daft Punk wasn't able to perform due to a scheduled "surprise appearance" at the MTV VMAs, despite the fact that the show doesn't air until Aug. 25. Apparently Daft Punk was contractually obligated not to make TV appearances leading up to the VMAs.
"If Daft Punk were on my show then people wouldn't tune in to see them on the VMAs almost a month from now," Colbert said. "That's how music works! You love a band, you see them once and then you never want to see them again. That's why after The Beatles went on Ed Sullivan they dropped off the face of the Earth."
But instead of drowning in his sorrows, Colbert danced away his disappointment with the help of some hilariously placed cameos. Rather than ruining any of the surprises you can check out the Colbchella dance marathon below.
Got news tips for Paste? Email news@pastemagazine.com.
Others Tagged With