Au Revoir Simone: Move In Spectrums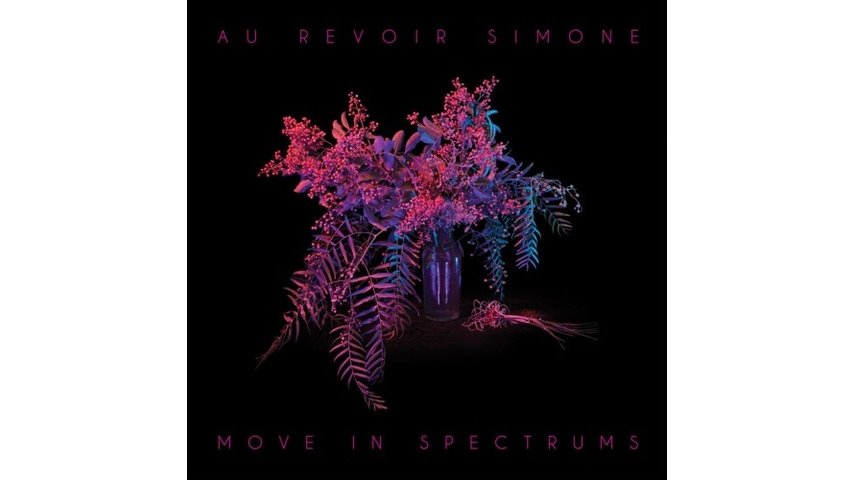 It's been four years since New York outfit Au Revoir Simone graced the indie scene with Still Night, Still Light. Self-released, the band's sophomore effort established the all-female keyboard-armed trio as a force of spiraling synths, digital beats and swooning vocals. Still Night, Still Light may have gone under the radar for many, but the album was a hidden gem of quality songwriting that simultaneously tugged at your heartstrings and punched you in the gut. In a time of music that favored gluttonous instrumentation and saturated sampling, it proved how much could be done with so little. It was soft-spoken yet startling, sophisticated yet seditious. And, understandably so, it opened doors for the band, as they soon collaborated with the likes of Air and Johnny Marr and became a favorite of many, including renaissance man David Lynch.
However, after the trials and tribulations that usually accompany an expansive worldwide tour, the band went on hiatus and underwent hell-bent self-reflection, not knowing what the future of Au Revoir Simone would hold—if it would indeed hold anything. Heather D'Angelo went back to school to earn a degree in environmental biology; Erika Forster released a solo EP as Erika Spring, and Annie Hart toured with other bands such as Uninhabitable Mansions and Pursesnatchers. It wasn't until the three came together to score a short film by Giada Colagrande for Miu Miu that they even considered reforming and recording together again.
The result of that eventual reformation is Move In Spectrums, produced by Violens' Jorge Elbrecht. The album finds the band where they left off—but also taking their brand of electronic beats and harmonized synthwork to the next level. Move In Spectrums toys with sounds, pushing further into a sonic experimentalism that the band hasn't dabbled in until now. The trio finds new ways to interweave their dueling keyboards while also exploring new avenues in approach and arrangement. And while the quality of songwriting and hooks are still intact, the band's sound feels richer, fuller, more capable of achieving a diversified offering rather than the one-size-fits-all mentality of past work.
The first single, "Somebody Who," is jumpstarted with a more lively beat structure and a more subdued keyboard melody before melding the two into a catchy-as-hell chorus; "We Both Know" begins with an intricate beat pattern before a reverbed guitar line and demonic piano enter the mix, backed by the ever-present texture of keyboards; the chorus on the excellent "The Lead is Galloping" feels like it could easily be sampled by anyone from Kanye to Rhianna; "Boiling Point" starts with a soft and subtle arrangement before bloating into a finale of heavy-bass synth with dark intentions; and songs such as "Love You Don't Know Me" and "Just Like a Tree" are content to let the vocals take a backseat while the music steps on the gas.
But luckily for us, Au Revoir Simone are able to achieve this level of sonic diversity and experimentation without ever straying too far from their roots or own sensibilities. While the approach feels more varied, more sonic, more introspective and imaginative, those familiar with Au Revoir Simone's sound will have no trouble diving in. The point here is that there's progression without perverseness, evolution without elusiveness. The women don't break their own rules; they bend them—and to stunning effect.
Others Tagged With