Audio Pioneer Ray Dolby: 1933-2013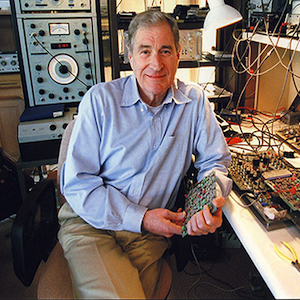 Ray Dolby, the influential American inventor and sound pioneer who founded Dolby Laboratories, has died at the age of 80. A statement released by his company stated that Dolby passed at home in San Francisco. He had suffered from leukemia and Alzheimer's Disease.
"Today we lost a friend, mentor and true visionary," said Kevin Yeaman, President and CEO of Dolby Labs. Mr. Dolby's contributions to modern sound engineering cannot be understated. He founded Dolby Laboratories in 1965 to pursue his goal of making audio quality crisper and a more prominent part of film. His sound engineering was featured in Stanley Kubrick's A Clockwork Orange, Star Wars, Close Encounters of the Third Kind, and earned him two Oscars and a Grammy. President Clinton awarded him the National Medal of Technology, and in 2012 the theater that serves as the venue for the Academy Awards was renamed the Dolby TheatreSM.
"Ray really managed to have a dream job," his wife Dagmar Dolby said. "He could do exactly what he wanted to do … and in the end, [he] build a very successful company." His success is obvious: Dolby amassed a fortune topping $2.4 billion to go with the countless awards and distinctions he had accumulated throughout his lifetime.
To say Mr. Dolby improved upon the standards of audio quality would be a serious understatement; his Dolby Digital surround sound system, now considered an essential component to the home theater system, created the very idea of making sound a fully immersive experience. The IMAX theater, which places the same seriousness toward impeccable sound quality, has become today's benchmark for viewing action films.
"To be an inventor, you have to be willing to live with a sense of uncertainty, to work in the darkness and grope toward an answer, to put up with the anxiety about whether there is an answer," Dolby once said. Mr. Dolby is survived by his wife Dagmar, two sons and four grandchildren.
Got news tips for Paste? Email news@pastemagazine.com.
Others Tagged With