Brew Dogs Series Premiere Review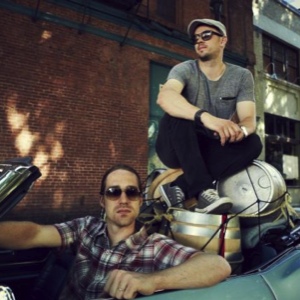 Craft beer as reality TV is an idea aligned with the explosion of interest in craft beer and the increasing number of breweries nationwide. It's been tried before most notably by Discovery Channel with Brew Masters, the 2010 show in cooperation with Dogfish Head Brewing. It was canceled after one season, thanks to both low ratings and reported pressure from a large beer company who threatened to pull advertising from Discovery.
So it's with interest that we viewed the premiere of Esquire Network's new Brew Dogs. In the three years since 2010, craft beer has gone mainstream-ish. The show's stars, Scotsmen James Watt and Martin Dickie, bring an evangelist's sensibility to their celebration of craft beer—part of their hope is to convert "craft beer virgins."
Each episode's premise is seemingly simple: Visit a town with a thriving craft beer scene, Anthony Bourdain-style and brew a crazy beer celebrating that scene. What makes the show work are the charming antics of Watt and Dickie, whose Scottish brewery BrewDog is known for a rather extreme approach to beer and an in-your-face punk ethos. The show intersperses educational elements with spontaneous attempts by the brewdogs to convert unsuspecting targets into craft beer lovers—you see them approaching middle-aged ladies, residents of a senior citizens' home and random folks in a train station.
The pilot heads to San Diego, which many—including me—consider America's best beer city. Greg Koch, founder of Stone Brewing, joins the hosts for much of the episode, working with them to design and brew their tribute to San Diego, an IPA made with sea kelp, inferno-like chili peppers and rosemary. Oh, and they brewed the beer on a train trip along the Pacific coast using a system hand-built into a vintage train car for no other reason than it hadn't been done before. It appears we'll see a similar concept in future episodes.
Segments included Watt and Dickie visiting a local chef and competing for her vote as they each paired beers with her dishes. Props to the show for being a reliable guide as they featured the best of San Diego beer, including beers from bigger breweries like Stone and Green Flash, with equal time for beloved smaller shops like AleSmith, Lost Abbey and Port Brewing. The show provides a useful guide to the local scene, choosing and ranking a top five beer bars and breweries to visit. The scenes on the train used overlay graphics to give viewers an easy to follow 101 on how beer is brewed.
What makes the show work is not the reality tropes like the big reveal at the end (the kelp-chili pepper-rosemary IPA was unveiled with Koch before a crowd at Stone's World Bistro & Gardens) but rather the quick pace of the editing and the likability of the hosts. We Americans are suckers for an accent, though in this case, the Scottish brogue is a bit hard to keep up with at times, and they know it.
The whole here is greater than the sum of the parts and assuming viewers can find the brand new Esquire Network, the show improves on Brew Masters by being more broadly appealing, less earnest and funnier. Recommended for all beer lovers and for the beer-curious.
Others Tagged With