Ben Lovett's Communion Launches Club Night Series in Nine U.S. Cities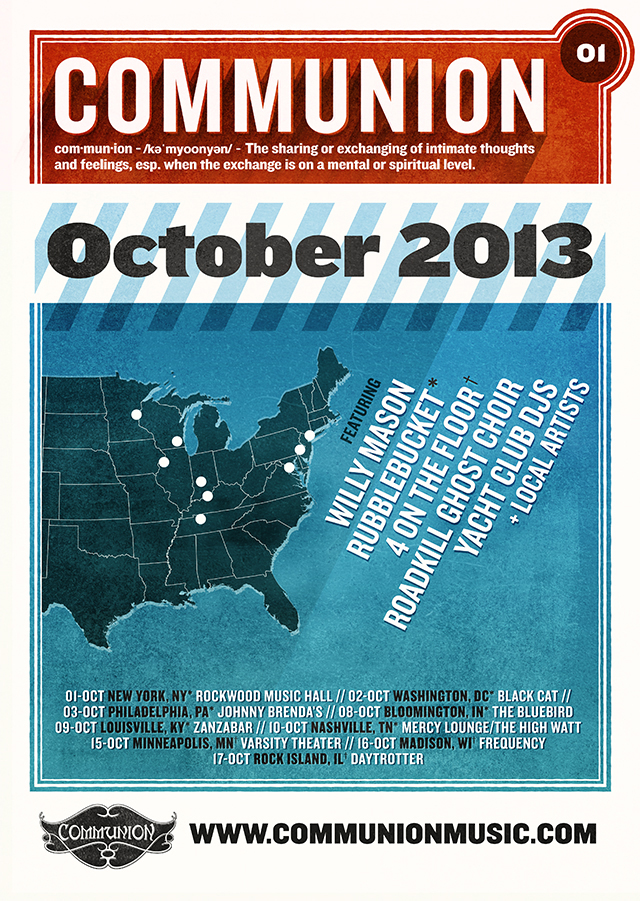 On Communion's Austin to Boston tour in 2012, Ben Lovett was far from his usual spot, stage right. The Mumford & Sons keyboard player stood at the back, manning the merch table during gigs in which his fellow musicians performed. And on the road, he sat in the front seat, driving a 1960s Volkswagen camper van halfway across the country with Ben Howard, Nathaniel Rateliff, The Staves and Bears Den in tow.
A year and a half later, Lovett is preparing for Communion's newest venture with the same spirit—a mix of grassroots intensity, unwavering selflessness and giddy idealism. He is booking groups, promoting gigs and figuring out where artists will stay on the road. "I went through the band's riders yesterday and figured out what sort of beer they're going to want to stay," he says lightheartedly. "It's a full service. There's no way you can hide away from responsibility, especially when we've got such a small team and it's all together."
Lovett, former Cherbourg bassist Kevin Jones and producer Ian Grimble formed Communion at London's Notting Hill Arts Club in the summer of 2006. At the time, the company functioned as a string of monthly club nights that highlighted local acts. In 2009, Communion expanded to include a record label and incorporate elements of production, publishing and promotion. The new initiative, however, seems more like a return to form, as Communion launches a monthly club night series in nine cities across the U.S. starting tomorrow, Oct. 1.
The inaugural club night series will include live music, DJs, and local pop-up shops at nine different venues between New York City and Minneapolis. And the music will encompass all genres, from Rubblebucket's indie dance to Roadkill Ghost Choir's folk rock to Willy Mason's country blues. Twangy rock and rollers the 4onthefloor and Aussie duo Yacht Club DJs will join, as well. Not every band will play in every city, though, as Lovett is quick to explain that this is not a tour. He clarifies, "It's better to think of it as simultaneously, there are a lot of events starting out that are going to be monthly." While a few of the larger aforementioned bands will perform every date, Communion tried to book shows with local artists in mind.
For a born-and-raised Londoner who only moved to Brooklyn a few months ago, Lovett's understanding of local club culture and geography is quite impressive. As such, he describes curating Communion's club nights like "an import-export model" citing specific American cities as examples. "There's two sides to it," he begins. "We're bringing music in from all over the world into towns that at this level don't really get to see these bands, whether it be Louisville or Bloomington. These smaller towns normally have to wait until bands have a higher profile. But also, we're trying our best to encourage local talent to have more of a platform. Because what often goes on is that a band from say, Madison, Wis., is that there's nowhere for them to actually have their music heard in Madison and what they end of doing is either traveling to Minneapolis or Chicago or even to New York or L.A."
By bringing bigger acts to smaller towns, as well as highlighting local musicians and independent shop-owners, Communion ultimately hopes to establish a brand identity in each community with these monthly recurring events. Its ongoing residencies in New York and Nashville have already attracted devoted regulars and Lovett wants locals in the other seven cities to follow suit. "We're going to try our best to make it the place to be once a month in each of the cities. We want it to become an important part of the community," he says determinedly. "There is the new music aspect of it, but then it's also good hang that people can go and catch up. It became such an important social side of all the cities that we've launched it in."
And as for being on the other side of the stage, Lovett maintains, "I love it! I absolutely love it. There's a real romanticism to that and it doesn't disappear. I'm only 26 years old, there isn't like a point where I feel like it's a backwards step…It's the same rush for me. It's just more people. The details are the same."
Next month, Communion will return to these nine cities with a new lineup to be announced soon. Check out the October dates below.
October
1- New York, N.Y. Rockwood Music Hall **2-** Washington, D.C . Black Cat
3- Philadelphia, Penn. @ Johnny Brenda's
8- Bloomington, Ind. @ Bluebird Theater
9- Louisville, Ky. @ Zanzibar
10- Nashville, Tenn. @ The High Watt/Mercy Lounge
15- Minneapolis, Minn. @ Varsity Theater
16- Madison, Wis. @ Frequency
17- Rock Island, Ill. @ Codfish Hollow Barnstormers
Got news tips for Paste? Email news@pastemagazine.com.
Others Tagged With