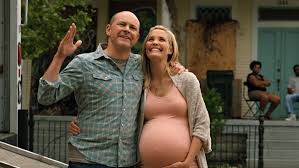 Robert Ben Garant and Thomas Lennon, two of the co-creators and stars of Reno 911, bring their special brand of subversion to the screen with the horror comedy Hell Baby. The film stars Rob Corddry and Leslie Bibb as a newlywed couple who move into a run-down house in an equally run-down neighborhood of New Orleans. When things start looking strange with the sonograms of the expectant couple's twins, and ghoulish figures randomly manifest in the house, the Vatican sends in two chain-smoking, badass exorcist priests to investigate, played by Garant and Lennon themselves.
Given the talent involved, it's a project that sounds promising (if maybe more than slightly derivative), but it winds up an unfortunate misfire. For one thing, the awkward, character-based humor that works on Reno doesn't translate nearly as well in this genre. There are a lot of drawn-out beats and trailing conversations that completely sap any momentum and tension, crucial elements for horror. The audience doesn't go on a thrill ride so much as a series of disjointed pit stops. Garant and Lennon's sense of structure is also as slack as the pacing; the exorcist priests get mystifyingly little screen time, and don't actually arrive to confront the haunted household until the climax.
That's not to say there aren't some highlights—Keegan Michael Key of Comedy Central's Key and Peele acquits himself well in a running bit as a creepy neighbor with a Kramer-esque habit of making himself inappropriately at home; Human Giant alums Paul Scheer and Rob Huebel are mildly amusing as the investigating police. But there's at least one gag that thuds hard for every legitimate laugh or shriek.
Not to harp on the comparison to Reno, but the story would likely work better as a TV series, with time for the audience to get accustomed to the otherwise nonsensical behavior of the more out-there characters. As it stands, Hell Baby is, at best, a listless renter for the curious, whose scariest part is the permeating sense that even the creators knew it could have been better.
Directors: Robert Ben Garant, Thomas Lennon
Writers: Robert Ben Garant, Thomas Lennon
Starring: Rob Corddry, Leslie Bibb, Keegan Michael Key, Robert Ben Garant, Thomas Lennon
Release Date: Sept. 6, 2013
Others Tagged With