Nashville Review: "I Fall To Pieces" (Episode 2.1)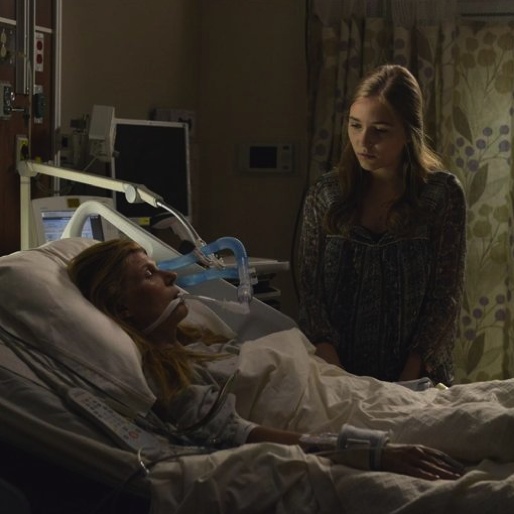 When we left the characters of Nashville last, things were bad. Deacon and Rayna were in a horrifying car accident (though a wasted Deacon wasn't the one behind the wheel). Gunnar had proposed to Scarlett. Peggy told Teddy she was pregnant. And all of this happened in the wake of a deadly shootout between Juliette's mother and her sober-companion-turned-conman. Suffice to say the plot went a little overboard, and it's going to take a hot minute to reel some of these intense story lines in.
The episode opens up two weeks after the accident. Rayna is in a medically-induced coma, and the doctors make it clear to her family that she's in critical condition. After a brief flashback to the golden days of Rayna and Deacon's relationship, him freshly out of rehab and a new homeowner ("You're not supposed to make big decisions right after rehab," mused Rayna). The bright sunlight, white curtains and heaven-like scene of this flashback only made the reality of a banged-up, self-destructive Deacon in the courtroom all the more jarring. We learn that he's falsely admitted to driving the vehicle and is on trial for what could be brought up to a manslaughter charge. Teddy Conrad isn't going to let him get away with causing the accident that hurt his (soon-to-be-ex) wife, so bail for Deacon is set at $1 million. Ouch.
Teddy's got his own mess of issues, though. His days of messing around with the undeniably insane Peggy have caught up with him (what is it with TV characters named Peggy and illegitimate children with their coworkers?). "I already have a family, Peggy," he spits at her when she implies she wants to keep the baby. At the doctor's office, we discover that Peggy has miscarried. Teddy, though, is too busy with his comatose wife and traumatized children to accompany Pegs to the OB-GYN, so she lets him continue to think he's got another one on the way. It's hard to believe Peggy hasn't been written out of the series yet, so we can only assume she has something even more unhinged up her sleeve for later this season.
She could probably benefit from Will's advice to Gunnar on dealing with a breakup: "You get drunk. You get loud. You get… busy." Will's character, played by the crush-worthy Chris Carmack, is still struggling to accept his sexuality and often over-does it with the womanizer facade rather than reveal that he is gay. One of Will's former love interests makes an appearance at the rebound party he throws for Gunnar, and Will blows up. After a brief and aggressive altercation between the two of them in the privacy of a laundry room, Will is cruel to him, exclaiming to one of the women at the party that this guy "made a pass at me." This was heartbreaking, but the writing felt a little bit forced.
Gunnar tries to follow suit with Will's on-the-surface womanizing ways, but even a gaggle of poorly-played party girls and a the couch-burning rager at his place can't stop him from moseying over to Scarlett's last night working at The Bluebird. Avery and Gunnar both spend the evening hoping to win Scarlett's attention and wind up looking a little bit desperate in the process. Despite the fact that Gunnar had an actual marriage proposal denied, Avery's right there with him on the pathetic scale after a decidedly awkward piano performance full of pensive stares. Can he just go back to being someone we can openly hate, already?
Fortunately, the Scarlett-Gunnar situation did yield the Civil Wars-y performance of "Why Can't I Say Goodnight," the one original track that really stood out on tonight's episode. A distant second is Juliette's rendition of "This Love Ain't Big Enough," a Rayna James cover she breaks out in a seemingly hollow tribute to her bedridden rival. The song choice there could relate back to the plot in several ways, from Rayna and Juliette competing for the love of country music fans to the staggering amount of romantic relationships shattered on the show recently.
Most shockingly, we discover through a series of flashbacks that on the night Maddie was conceived, Deacon had asked Rayna to marry him. Rayna accepted, only to discover the following morning that Deacon was blackout drunk when he'd made the proposal. The realization that his alcoholism was continuing to affect their relationship seemed to be enough to cement her decision to stick with Teddy Conrad.
Perhaps this guilt is what led Deacon to stick to his false confession, but ultimately Rayna awakens and testifies to the fact that she was driving the crashed vehicle. Deacon's freedom from charges doesn't solve everything, though; Maddie has confessed to Juliette that she thinks Deacon may be her father, so it's clearly not going to be long until Miss Barnes uses that information to her advantage.
Other promising plot points to come include the possible involvement of Rayna's father, Lamar, in the death of her mother, Scarlett's struggle to stay single, Will's struggle to stay in the closet and Rayna's proclaimation that, from now on, she will be leaving the past in the past. This was a solid episode that wrapped up a lot of last season's loose ends, despite a few cheesy moments, and it looks like Nashville has a tumultuous, dramatic season to come.
Others Tagged With