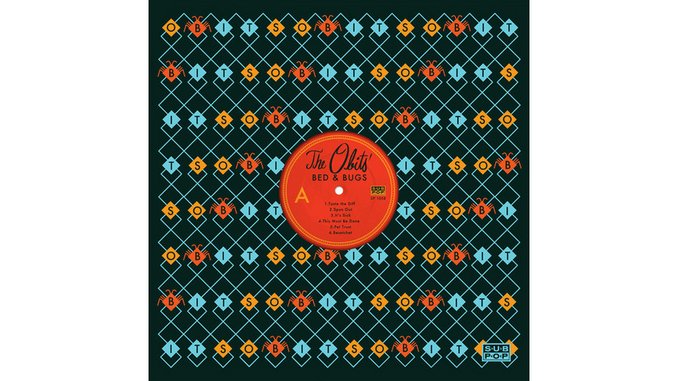 Like Deerhunter and Thee Oh Sees, Obits walk a fine line between ramshackle and sophistication, cerebral and visceral. They're essentially a garage rock band whose members can play their instruments. They also have an encyclopedic knowledge of music and a fine-tuned ear for sound—which is what makes them so good.
And, like those bands, Obits have flipped the script (or, at least, tinkered with it) over the course of their last couple of records. Their 2009 debut picked up where guitarist-vocalist Rick Froberg's previous bands Drive Like Jehu and Hot Snakes left off, with dual guitars intertwining like…well, a couple of hot snakes. On 2011's Moody, Standard and Poor they dialed back the fuzz a bit for a sparser, yet equally cranky half hour.
Bed & Bugs finds the Brooklyn four-piece getting a little weirder without venturing from their rusted guitar noise. And while there's plenty to like, the incongruity of these songs makes the record simultaneously intriguing and difficult to settle into.
"Taste the Diff" and "It's Sick" lash out with wiry guitars and big choruses. "Spun Out" goes surfing, while "Malpractice" dips its toe in the neo-blues swamp. Instrumental "Besetchet" and the prog-y folk of "Machines" are the only calm moments on Bed & Bugs, but seem to be present for that reason alone. The guitar interplay on songs like "Operation Bikini" and closer "Double Jeopardy (For the Third Time)" is gripping in the moment, but ultimately fades from memory. It's easy to overlook the vocals of Froberg, whose nasal rasp falls somewhere between John Fogerty and Dave Mustaine, and they continue to be as wonderfully unruly as the guitars.
Obits is a great band that has yet to make a great record. Bed & Bugs is uneven, bewildering and about four songs too long—but I don't think these dudes would have it any other way.
Others Tagged With