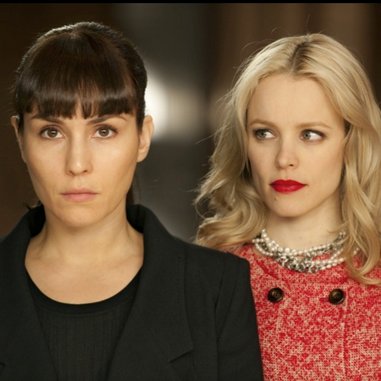 Less mysterious than confusing, Passion, writer-director Brian De Palma's latest thriller, attempts to translate the eroticism of Dressed to Kill and some of the psychology of Raising Cain to the 21st-century corporate world. The problem is, in the decades since those films were made, technological and viewer sophistication has evolved exponentially. Moviegoers are going to realize immediately that an email composed before the event to which it refers is never going to pass muster—and the author is savvy enough to know better. Unfortunately, this is just the most obvious flaw in a high-minded script about two ambitious, backstabbing bitches.
Sherlock Holmes: A Game of Shadows co-stars Rachel McAdams and Noomi Rapace reunite as icy blonde ad exec Christine and her secretive brunette protégé, Isabelle. (There's also a loyal redhead assistant named Dani, played by Karoline Herfurth.)
Gorgeously photographed by José Luis Alcaine (a frequent Pedro Almodóvar collaborator) and dressed in some scandalous lingerie by Karen Muller Surreau (who worked on Coco Before Chanel), McAdams captures the by-turns warm embrace and cold manipulation of a mentor who befriends her co-worker just to use her. With her eye on New York from her post at an international ad agency in Berlin, she casually takes credit for Isabelle's genius viral marketing idea.
If only it were that genius. De Palma admits he lifted the idea from a video he found on the Internet, and the spot looks like a sketch Isabelle and Dani put together for a presentation—not a final product. So when their bosses want to redo the ad with professionals—an idea to which Isabelle takes great offense—the viewer is thinking, "Um … yeah? So?"
Isabelle, on the other hand, is harder to get a read on—since she's so secretive, one supposes. She's an eager mentee who admires her boss, yet she's sleeping with Christine's dirtbag boyfriend, Dirk (Paul Anderson)—a move worthy of the schemer she becomes, not the fawning employee she starts out as.
As the betrayals mount in this toxic portrayal of female rivalry in which emotions reach embarrassingly histrionic levels, vengeance escalates to an act of violence revealed in the movie's trailer. Submerged in a dream world of skewed noir camera angles and lighting, the execution of the crime relies on complicated and unnecessary self-framing as well as complete chance, and the unsurprising reveal is disappointingly unimaginative.
But as ridiculous as these machinations are, De Palma juxtaposes the murder with an engrossing dance performance. As the violence takes place on one side of a split screen, Jerome Robbins' contemporary choreography for the Vaslav Nijinsky-Claude Debussy ballet Afternoon of a Faun fills the other. Even if the thematic nuances are lost on the audience—the composition is based on Stéphane Mallarmé's poem about dreams and desire, and the staging in a rehearsal studio (where the fourth wall would be a mirror) suggests Christine's self-obsession—the performance by dancers Polina Semionova and Ibrahim Oyku Onal is unnervingly intimate and aggressive, engendering the emotions the rest of Passion tries—but fails—to convey.
Director: Brian De Palma
Writer: Brian De Palma
Starring: Rachel McAdams, Noomi Rapace, Karoline Herfurth, Paul Anderson
Release Date: Aug. 30, 2013
Others Tagged With